The Phantom Empire
(1986)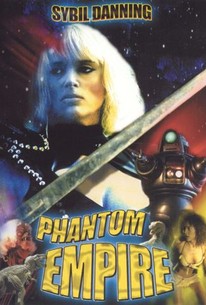 AUDIENCE SCORE
Critic Consensus: No consensus yet.
The Phantom Empire Photos
Movie Info
During a search for lost diamonds, a man discovers a mysterious world underneath the Earth's surface. This humorous tribute to old-fashioned Saturday matinee serials follows our hero as he battles against horrific mutants and romances the underground world's enigmatic female ruler.
Rating:
R
Genre:
,
Directed By:
In Theaters:
On DVD:
Runtime:
Studio:
American Independent Productions
Critic Reviews for The Phantom Empire
There are no critic reviews yet for The Phantom Empire. Keep checking Rotten Tomatoes for updates!
Audience Reviews for The Phantom Empire
An oddity. Fun, in a terrible way, but highly inconsistent, and it can't seem to either take itself seriously, or play up the camp, so it tries both ways, and the only successful part of that is the cast. Ross Hagen, doing his best Robert Preston impersonation, and doing a damn good one, is cigar chomping, with his gal, Eddie, the most hardcore cigar chomping person ever put to film, are loads of fun. The plot is awkward with lots of scenes being of fake danger, as in, they don't amount to anything, or advance the plot, simply an obstacle to never be mention again. Since this is how most of the movie goes, it's hard to really enjoy it overall. Certain scenes work, and whenever Eddie opens her mouth, usually with a cigar in it, it's a blast. However, the ending is so anti-climatic and the overall presentation such a message, there's no true fun to be had.
Bobby LePire
½
The Phantom Empire is another serving of 80's schlock horror/comedy from prolific cult director Fred Olen Ray (Evil Toons, Hollywood Chainsaw Hookers, Cyclone, and a hundred other films of this caliber). The story concerns a goofy cannibal cave mutant that appears in a park one day and kills a man. Pan to dead, prolific explorer's spoiled rich daughter (Susan Stokey) who enlists the help of adventurers Ross Hagen and Dawn Wildsmith, as well as an archeologist (the late Robert Quarry) and his intern (the great Jeffrey Combs!) to explore the caves in search of vast diamond riches. While on the search, they uncover more cannibalistic cave mutants, a long lost world, a busty alien queen (the beautiful Sybil Danning), sexy cavewomen (lead by my ultimate fantasy, Michelle Bauer), and more Planet of the Dinosaurs stock footage (seriously, this is about the 8th film I've seen this stock footage used). There's lots of bad effects, bad acting, and enough ridiculousness (all intentional thankfully) to have any fan of schlock and corny 80's movies getting some honest enjoyment out of. As the movie drew closer and closer towards the end, I was seriously sweating and on pins and needles over the uncertainty of either beauty, Danning or Bauer, revealing their sexy 80's bodies. While Danning remains relatively clothed throughout the entire movie unfortunately, we have the joy of seeing Bauer's top come off in a cavegirl on cavegirl fight. To add to the excitement, Bauer proceeds to run around topless (with titties flopping around all over the place) for the next several scenes, much to my delight. Sure, it's bottom of the barrel entertainment, but it's definitely of the so-bad-it's-good variety. Fun film.
Jason Duron
The Phantom Empire Quotes
There are no approved quotes yet for this movie.