Phantom of Chinatown
(1940)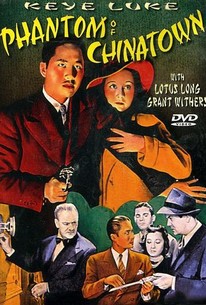 AUDIENCE SCORE
Critic Consensus: No consensus yet.
Movie Info
This is the final entry in the six-episode "Mr. Wong" series of mysteries, and it is the first time that Hollywood cast an Asian actor to play an Oriental detective. The role of Wong, previously played by Boris Karloff, was assigned to Chinese actor Keye Luke, the former 'Number One Son" from the "Charlie Chan" series. The story centers on Wong's search for both the killer of a noted archaeologist and a stolen Mongolian parchment.
Rating:
NR
Genre:
, ,
Directed By:
Written By:
In Theaters:
On DVD:
Runtime:
Studio:
Monogram
Audience Reviews for Phantom of Chinatown
5.5/10. The last entry in the Mr. Wong series, with Keye Luke replacing Boris Karloff. Typical of the numerous series of this nature, short, sweet and entertaining. Nothing deep or significant but it works.
James Higgins
When a famous archeologist and expert in ancient Chinese history is murdered during a lecture on his recent expedition, young Chinese/Amercian and recent Oxford graduate Jimmy Wong (Luke) teams with homicide detective Street (Withers) to solve the mystery of his murder. They soon find themselves snared in a web of international intrigue, involving agents of foreign powers, "eternal flames", secret imperial tombs, and dead men appearing to kill from beyond the gave. "Phantom of Chinatown" is the final entry in the "Wong" series, but it's presented as a prequel to all the previous movies, with the part of Wong recast as a younger man--and a honest-to-God Chinaman at that! I've previously praised this series of mystery films as being unique in the "Oriental Master Detective"/"Oriental Master Villain" subgenres, because the title character speaks perfect English--and even has a better mastery of English than many of the non-hyphenated American characteres. James Wong is also unique in that he seems equally loyal to both his American heritage and his Chinese roots, living with one foot planted firmly in both cultures... and accepted equally by both. The final Wong film is even more unique than the rest, because it is, as far as I'm aware, the only time a lead Asian hero or villain was actually played by an Asian actor! For all its unusual qualities, "Phantom of Chinatown" does suffer from the total disregard for story continuity that was a hallmark of many film series of the day. Although this is written as a prequel to the other films, the cars, the cloting--everything--indicates it's set in the 1940s rather than in the 1920s when it would properly have occured. Plus, Street certainly does age well... because although Wong was recast as a younger man, the actor who has played Street in all previous films was not recast. (And I won't complain about the fact that Lotus Long was back in yet another, different role, brining it to a total of three different characters she's played, two of who didn't live to the end of the film she appeared in.) Although certain aspects of this film make my inner continuity geek cry, it's a fast-paced pulp-mystery tale (that has a higher quotient of fantastic elements than previous Wong adventures), with some nice humorous moments and snappy dialogue. The plot twists are interesting enough, and the acting is good as well. The fact that the two lead Chinese characters are actually being played by Asians helps to lend a stronger sense of reality to the final cinematic outhing of James Wong. Phantom of Chinatown Starring: Keye Luke, Lotus Long, and Grant Withers Director: Phil Rosen
Steve Miller
Discussion Forum
Discuss Phantom of Chinatown on our Movie forum!