Phantom Punch
(2008)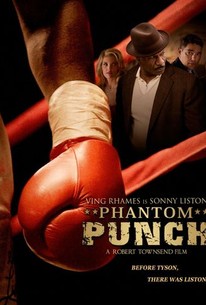 AUDIENCE SCORE
Critic Consensus: No consensus yet.
Movie Info
Cinematic heavyweight Ving Rhames steps into the boxing ring as controversial pugilist Sonny Liston in this sports biopic that begins as Liston realizes his talent for boxing as an inmate at a Missouri State Penitentiary, and follows his career to the moment it was effectively ended due to a devastating blow by powerful opponent Cassius Clay. Born into poverty, Liston was imprisoned as a teen for taking part in a gas station robbery, his skill for boxing uncovered by a Roman Catholic priest and helping the emerging athlete to secure an early release. Recurring bouts with racism, the mob, and the law ensured that Liston was never able to rest easy during his rise to become World Heavyweight Boxing Champion, with the notorious "phantom punch" delivered by Clay offering a painful capper to a turbulent career. Nicholas Turtutto, Bridgette Wilson-Sampras, and David Proval co-star.
Rating:
R
Genre:
Directed By:
Written By:
On DVD:
Runtime:
Studio:
Audience Reviews for Phantom Punch
½
Sonny Liston was a guy who rarely caught a break in life, death and now in this uneven and mainly mediocre biopic. And like that life, this mediocrity is a tragedy for what it could have been, because Liston's was a more fascinating story than many of the other boxing champions about whom great movies were made. This low quality is nothing to do with the acting especially, Ving Rhames who nails the part of Sonny, getting wellthe puzzling mix the real man had of gangster and softie. I suspect the problem lay in low budget that led to oversimplifying important passages in Liston's life. Nowhjere is this so evident as the back story of his suspicious death which is turned into mainly a simple act of jealousy. The malfeasance of the police investigation of the Bear's death is likewise compressed into a few closing minutes with flashed subtitles used instead of drama to convey what might have been going on. Likewise there is no exposition of the phantom punch" (in the rematch with Ali in 1965) which for reasons unclear the film-makers chose to use as a title. If you want a much shorter but thought-provoking experience learning about this tragic figure, have a listen to Mark Knopfler's ballad about him and save your time watching this disappointment.
Norman Dale
½
A flick that never scored a big release likely due to its interesting yet overly solemn story and obscene content, Phantom Punch may please a select crowd of viewers yet lacks the appeal it was capable of. Another biography of a somewhat forgotten celebrity from years before who should be remembered as well as anyone, the film provides a thorough look at the life of the late boxer Sonny Liston. The film arguably has a great deal to offer. Yet, by its conclusion, some may feel they have learned more information than they would have cared to, given the unsettling results. Filmed in Ontario, fans of Liston will get to know his personal life much better after an initial viewing and may even get more than they bargained for (or wished to know). Ving Rhames gives a decent performance as the legendary boxing champion and a watchable supporting cast (including Stacey Dash and Bridgette Wilson-Sampras added for good eye candy) make for an appropriate compromise for other areas in the film hard to watch (especially a rather unpleasant rape scene). Though some exciting boxing match scenes and stylish vintage atmosphere help the film in many ways, it ultimately leans to the unpleasant side of the main character a little too often and the questionable conclusion may be the dreariest part of all. The film as a whole will likely appeal to fans of the real Sonny Liston who has also been played by Michael Bentt, Marc Coddette, Steve Harris, Michael Anthony Williams and Roger E. Mosley in other films. But to get the best coverage of his specific story, this is your best choice, folks. Apparently due to lack of popularity, the film suffered some setbacks and was not released on TV or DVD until a few years after completion.
Jeffrey Leppart
Surprisingly good. I was especially impressed by the performance of Ving Rhames. Its entertaining and it gives a good view of Sonny Liston's life.
Bruno Lot
Phantom Punch Quotes
There are no approved quotes yet for this movie.