Pharaoh's Army
(1995)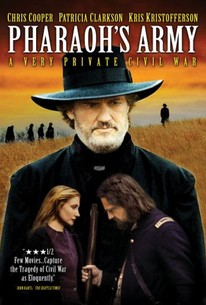 AUDIENCE SCORE
Critic Consensus: No consensus yet.
Movie Info
This fascinating historical drama, set in 1862 during the Civil War, chronicles the coming of age of a young Kentucky farm boy. The story begins in Meshack Creek, KY, a tense town where loyalties were sharply divided. Sarah Anders and her son were living there on an isolated farm while her husband was off fighting with the Confederates. They are one day jeopardized by the sudden arrival of Union-Army captain John Hull Abston and his ragged regiment. While they stay, Sarah and the captain begin a begrudging friendship based on mutual respect. Both of them have lost loved ones in the conflict, and the two are emotionally vulnerable. When one of the soldiers is seriously wounded during an accident, the regiment is forced to remain longer on the little farm. Conflict ensues between the captain and his men, when they keep stealing livestock from impoverished enemy farmers. Meanwhile the narrator, then a boy, is forced to use his gun against another human. ~ Sandra Brennan, Rovi
Rating:
PG-13
Genre:
Directed By:
Written By:
In Theaters:
On DVD:
Runtime:
Studio:
Lionsgate
Audience Reviews for Pharaoh's Army
Most Civil War movies emphasize reconciliation between the sides. This is a film about bitterness, hatred, and inevitable conflict. Its idea of the sides coming together is a Yankee soldier not shooting a child and a southern woman burying a dead Yankee by dumping his body in a sinkhole. This one is a keeper.
Sean Chick
I personally love this movie. All the characters were believable and so was the plot. That is a rarity among movies today that are too concerned with keeping the audience interesting with exaggerated plots and conflicts. They tend to have the opposite effect on me. Also, this movie didn't attempt to change your mind about which side of the Civil War was just by representing characters as ridiculous stereotypes. Simply because one side in a war might be carrying the banner of justice doesn't mean that everyone on that side was morally straight. Enlisted soldiers often join the militia for the wrong reasons even if the call to arms is just. The characters in this movie acted based on their prior experiences (deaths or other influences) and not on the basis that they must always do evil acts since they are on the "bad" side. This movie is a realistic representation of the Civil War with relatable characters. I highly recommend it.
John Jaquith
An absolutely fantastic film, which ranks among Ride With the Devil as the best civil war movies. The story itself is small and self-contained, yet speaks to the many of the emotions and issues at play during the Civil War which made it such a tremendously complex conflict. No black and white, just shades of gray.
Jeffrey Meyers
Super Reviewer
Pharaoh's Army Quotes
There are no approved quotes yet for this movie.
Discussion Forum
Discuss Pharaoh's Army on our Movie forum!