The Phenix City Story
(1955)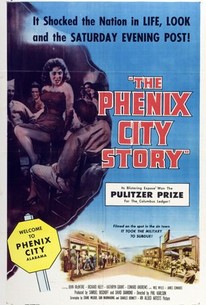 Movie Info
Based on a true story and featuring some of the actually people involved, this grim, violent crime drama is set in the title Alabama city that was in 1954 a modern-day Sodom and Gomorrah of organized crime, corruption and seamy behavior. The townsfolk, fed up they the tawdriness around them, elect a new attorney general, a man who vows to eradicate the gangsters and their filth. Unfortunately, the mobsters quickly murder the troublesome crusader. Fortunately, the attorney's straight-arrow son has just returned from the war and is only too happy to fill his late fathter's shoes. Despite the constant and potentially deadly obstacles presented by the mob, the iron-willed young man stands firm and eventually defeats them. Original versions of Phenix City Story feature a 13-minute preface that featured interviews with the people involved, including the widow of the murdered attorney general. In real life, John Patterson was later elected governor of Alabama, defeating, among others, future presidential candidate George Wallace.
Rating:
NR
Genre:
Directed By:
Written By:
In Theaters:
Runtime:
Studio:
Allied Artists
Critic Reviews for The Phenix City Story
Audience Reviews for The Phenix City Story
Boy, I've got to give this movie credit for sheer balls. This movie might beat out Night of the Hunter for most shocking depiction of violence in 1955 films- and I don't say that lightly! While its acting and storytelling are dated, it kicks into high gear with it's first genuinely (!) shocking murder depiction, and only seems to keep going from there. I was worried this was going to be one of those films that indulges in its depiction of thugs, or worse, preaches at your for two hours. But it managed to walk that fine moral line, most likely because it was based on true events. The most interesting takeaway of this movie to me was the question of what does it take? When the murder of a child isn't enough to get the town up in arms, where do you go from there? A fascinating if not oddly relevant film to watch in 2016.
Jenna Ipcar
½
The Phenix City Story is a powerful look into the social climate of the American south in the 1950's. The film starts off in a documentary style and then transitions into a traditional narrative, all the while feeling honest in it's telling of a small town taken over by crime. The Phenix City Story was controversial upon initial release and is just as gritty and effective 55 years later.
Jeff Dickerson
Hmmm. I don't know about this one. The Phenix City Story in itself was pretty decent. Said to have been based on a true story of citizens fighting against a tradition of vice and corruption, The Phenix City Story tells its story effectively and at some points gruesomely (you see kids getting killed in this movie--almost comically but still.) More of a crime documentary than the obscure film noir classic its made out to be, this isn't a bad movie. Some scenes are very well done even if elements of the story aren't fleshed out so well. The biggest problem I had with The Phenix City story was the opening 15 minutes of man-on-the-street interview footage with the actual people who lived through the story. I understand the desire to make the movie more authentic or real, but the hokey and heavy-handed interviews were a bit much. Overall, not bad...
Michael Gildea
Super Reviewer
The Phenix City Story Quotes
There are no approved quotes yet for this movie.