Phil the Alien
(2004)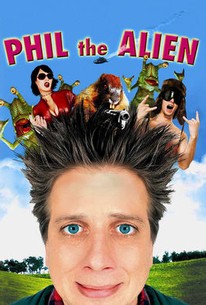 Movie Info
When an alcoholic extraterrestrial living in a small Northern Ontario town finds God, his spiritual journey leads him on tour with a local bar in the feature debut of director Rob Stefaniuk. Soon after crash-landing in a remote Ontario town, innocent alien Phil strikes up a warm friendship with an open-minded young boy and a remarkably intelligent beaver. A stranger in a strange land, Phil eventually begins to fit in by drinking plenty of hard liquor and jumping in on jam sessions with the local bar band. Beneath the picturesque natural wonder of Niagara Falls, the General (John Kapelos) at the "Top Secret American UFO Base" plots to bring Phil to his base for a series of grisly medical experiments. Informed by his friend the beaver that there is a ship in Niagara Falls which he could use to get back home, the drunken Phil continues to spiral into alcoholism before attacking a cigarette machine and getting sent to prison. Having found Jesus during his stint behind bars, a rehabilitated Phil sets out on tour with the bar band while attempting to dodge the bullets of the General's feared assassin Madame Madame (Nicole deBoer). ~ Jason Buchanan, Rovi
Critic Reviews for Phil the Alien
Audience Reviews for Phil the Alien
Not bad, not bad. This was Stefaniuk before Suck which probably deserves a similar rating. Funny at times but a wee bit inconsistent. Keep trying my man.
John Ballantine
Super Reviewer
Actually not bad. It was made by the guys I work with and I thought they did a good job with the low budget.
Discussion Forum
Discuss Phil the Alien on our Movie forum!