Phish 3d
(2010)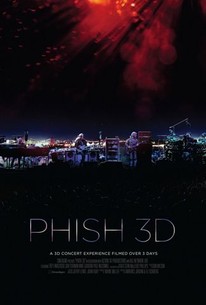 Movie Info
The movie features never before seen cover songs, and intimate footage of the band backstage and in rehearsals. Filmed in October 2009 at the band's Festival 8, more than 40,000 devoted fans watched as Phish combined two of their most beloved traditions - the multi-day festival and the Halloween album "costume." The band's highly anticipated "musical costumes" are concerts involving the performance of an entire album by another artist-in this case, Phish covered the Rolling Stones' album Exile on Main St. Phish 3D also features songs from the band's first ever full-length acoustic set, as well as performances taken from the six additional sets.
Rating:
NR
Genre:
,
In Theaters:
Runtime:
Studio:
Critic Reviews for Phish 3d
Audience Reviews for Phish 3d
i enjoyed this concert movie immensely. it got me thinking, what do i like better, film or music, music or film. i think the answer is - the combination. loved seeing the musicianship up close, especially trey on the guitar (damn, he's good). sharon jones sang on a few tracks that also had a brass section which was quite spectacular. the 3d was superfluous but didn't distract in any way. the theater was full when i saw it thurs night at ten pm and all the hippies were throwing around glow circle thingies and beach balls and people were dancing and shmoking in the aisles, which added to the live concert feel. i never understood the anti-phish sentiment among the hipster holier than thou set - they write some great melodies and lyrics and are all excellent techinical musicians. i look forward to seeing more imax concerts in the future (this one was a bit better than the u2 one).
Seth Lachs
Okay, so I haven't seen the movie yet, but I wanted to comment early, before the reviews are enveloped in hemp smoke and hellfire. It's not hard to imagine what this will be like: complex and delightful music, drug humor, and psychedelia. For fans like me, who have lost track of phish artistically and culturally since their breakup, the new film is a cool chance to reconnect with the band. We all know Phish puts out some pretty joyful stuff, but does it still fly on the same level? Some will say yes no matter what, some will say no because they don't like nag champa and frisbees. Either way it should be pretty fun for me, and if it's anything like Bittersweet Motel (the epic Phish documentary from the beginning of the epic 10s- which is how I will henceforth refer to the first decade of this century) it'll be more satisfying than a simple trip, which is usually pretty satisfying anyway.
chris olsen
½
If you dig the band, you'll obviously enjoy yourself, it's a solid representation of a Phish show and the closest to their concert experience on film with the use of 3D. The theatre was a blast, the crowd elevated it greatly
Brett Arnold
Phish 3d Quotes
There are no approved quotes yet for this movie.
Discussion Forum
Discuss Phish 3d on our Movie forum!