Phone Call From a Stranger
(1952)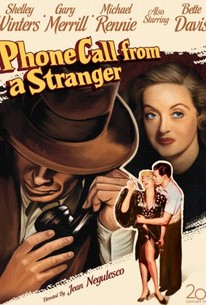 AUDIENCE SCORE
Critic Consensus: No consensus yet.
Phone Call From a Stranger Photos
Movie Info
In this sudsy drama, a man survives a terrible plane crash and afterward decides to contact the families of three of the victims to describe to them the last moments of their loved ones' lives.
Rating:
NR
Genre:
,
Directed By:
Written By:
In Theaters:
On DVD:
Runtime:
Studio:
Twentieth Century Fox
Audience Reviews for Phone Call From a Stranger
½
While Bette Davis doesn't appear till the last 15 minutes, it's still worth watching AFTER the half way point. The first half is small talk and a set up for the last half. Gary Merrill and Bette Davis were, in reality, married at the time of the film's production. [img]http://upload.wikimedia.org/wikipedia/en/e/ea/PhoneCallStranger.jpg[/img] After Merrill's wife Jane (Helen Westcott) admits to an extramarital affair, Iowa attorney David Trask abandons her and their daughters and heads for Los Angeles. His flight is delayed, and while waiting in the airport restaurant he meets a few of his fellow passengers. SEE the film here: http://www.youtube.com/watch?v=PMHt-Thp1Gk Gary Merrill as David Trask thinks he has problems until he explores the worlds of fellow air travellers who die in a crash. Thought provoking drama if you can get past the first half trip down memory lane of air travel as it used to be. [img]https://encrypted-tbn0.gstatic.com/images?q=tbn:ANd9GcRmBhZfewR3Ja9yHQwX41vC0eBi71KZXXlwslZFhqU_Pb0hPPDdYg[/img] Gary Merrill The title's meaning, if you care to know, is about a phone call from the stranger, Gary Merrill, who knew these passengers who died in a plane crash. He survived but makes a phone call out of conscious for the people he met in flight. [img]http://www.coffeecoffeeandmorecoffee.com/archives/phone%20call%20from%20a%20stranger.jpg[/img] The passengers meet A lawyer, Merrill is intelligent but not without marrital problems himself. The meetings set up by a phone call eventually lead to his rethinking his own problems. The last phone call was not from a stranger at all. REVIEWS by RT no-pros: 80% Although overstated at times, this film provides a fascinating journey into human character through a unique story line and develops more as a novel t... 70% Intriguing premise and well acted, especially by Shelley Winters. It is a little over dramatic at times but the story is still a good one. NOTES: 1 Hugh Beaumont (TV's father in Leave it to Beaver) has a small part in the film who is wrongly thought to have driven a car that kills him and 2 others. 2 The film was the third on-screen pairing of Merrill and Davis, following All About Eve (1950) and Another Man's Poison (1951). 3 When Gary Merrill's wife Bette Davis read the script, she suggested he ask director Negulesco if she could play the relatively small role of Marie Hoke, feeling "it would be a change of pace for me. I believed in the part more than its length. I have never understood why stars should object to playing smaller parts if they were good ones. Marie Hoke was such a part 4 In his New York Times review, Bosley Crowther said, "So slick, indeed, is the whole thing...that is the nature of the picture - mechanically intriguing but unreal." Gary Merrill as David Trask Shelley Winters as Binky Gay Michael Rennie as Dr. Robert Fortness Keenan Wynn as Eddie Hoke Evelyn Varden as Sallie Carr Warren Stevens as Marty Nelson Beatrice Straight as Claire Fortness Ted Donaldson as Jerry Fortness Craig Stevens as Mike Carr Bette Davis as Marie Hoke Helen Westcott as Jane Trask [img]https://encrypted-tbn0.gstatic.com/images?q=tbn:ANd9GcTGdiBIiM9KN1cPj429a8zQE5fmBgEGn8ooRlfcnhdzuw2kQq76[/img] Bette Davis with real life husband Gary Merrill Directed by Jean Negulesco Produced by Nunnally Johnson Written by Nunnally Johnson I. A. R. Wylie Music by Franz Waxman Cinematography Milton R. Krasner Editing by Hugh S. Fowler Studio Twentieth Century-Fox Distributed by Twentieth Century-Fox Release date(s) February 1, 1952 Running time 105 minutes [img]https://encrypted-tbn0.gstatic.com/images?q=tbn:ANd9GcQk9OAKi_J-0PY2Mxkg5ckJjpJJ8ofRHk6e-24uApQtoM843y6eNw[/img]
monsieur rick
A nice movie with good actors and an interesting story about life, love, and friendship. I really recommend seeing it.
½
Intriguing premise and well acted, especially by Shelley Winters. It is a little over dramatic at times but the story is still a good one. I never lost interest.
James Higgins
Phone Call From a Stranger Quotes
There are no approved quotes yet for this movie.