Pi
(1998)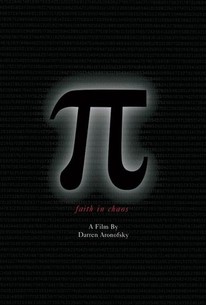 TOMATOMETER
AUDIENCE SCORE
Critic Consensus: Dramatically gripping and frighteningly smart, this Lynchian thriller does wonders with its unlikely subject and shoestring budget.
Movie Info
God and man and math: The tawdry meets the Talmudic in this complex thriller about a tortured computer genius trying to beat the stock market.
Audience Reviews for Pi
This cautionary parable brings up the age-old question of whether our drive for power through deeper knowledge of the natural world will also carry us to our personal or possibly collective annihilation. It reminds me of the revelation that it's not our fear of failure that prevents us from trying something, but rather our fear of success. What happens when our capabilities accelerate faster than we can understand them? We find out one possibility as we follow a man haunted with an obsession to discover the core numerical pattern behind all things and behaviors in the universe.
Matthew Slaven
Super Reviewer
½
It is a highly disturbing and bizarre film, yet despite its dizzying--and somewhat unnerving, off-putting tone--it is brilliantly and artistically constructed. Darren Aronofsky is able to bring to life a unique, engaging story while using elements of legendary filmmaker Roman Polanski's best films. Pi is able to achieve what many other so-called "psychological thrillers" are not capable of due to its fantastic cinematography--which creates an appropriately suffocating environment--and its ingenious film editing.
Matthew Samuel Mirliani
Super Reviewer
This gritty, low budget, black and white indie thriller is the debut of the maverick auteur Darren Aronofsky. Set in New York's Chinatown, the film follows a reclusive mathematician who, for the past ten years, has been working on cracking the code behind the numerical pattern of the stock market. The closer he gets to the solution, the more chaotic the world becomes around him. Dogged by both a ruthless Wall Street firm and some shady Kaballah sect intent on using him to decode the Torah, Max becomes increasingly detached from reality and sanity. This is a really stunning picture. I give it major props for having a unique vision, killer art direction and set design, and being done independently on the cheap. The math angle is a little out there, but not so obscure that it is impossible for a lay person to follow. Even then, this isn't a film for everyone, but if you like mind benders, borderline sci-fi thrillers, and enjoy seeing films about people who go nuts, then this is a film for you.
Chris Weber
Super Reviewer
Pi Quotes
| | |
| --- | --- |
| Sol Robeson: | As soon as you discard scientific rigor, you are no longer a mathematician, you are a numerologist. |
| | |
| --- | --- |
| Max Cohen: | When I was a little kid, my mother told me not to stare into the sun. So once when I was six, I did. |
| | |
| --- | --- |
| Max Cohen: | It's fair to say that I'm stepping out on a limb, but I am on the edge and that's where it happens. |
| | |
| --- | --- |
| Sol Robeson: | Have you met Archimedes? The one with the black spots, you see? You remember Archimedes of Syracuse, eh? The king asks Archimedes to determine if a present he's received is actually solid gold. Unsolved problem at the time. It tortures the great Greek mathematician for weeks - insomnia haunts him and he twists and turns in his bed for nights on end. Finally, his equally exhausted wife - she's forced to share a bed with this genius - convinces him to take a bath to relax. While he's entering the tub, Archimedes notices the bath water rise. Displacement, a way to determine volume, and that's a way to determine density - weight over volume. And thus, Archimedes solves the problem. He screams "Eureka" and he is so overwhelmed he runs dripping naked through the streets to the king's palace to report his discovery. |
Discussion Forum
Discuss Pi on our Movie forum!