Picasso and Braque Go to the Movies
(2010)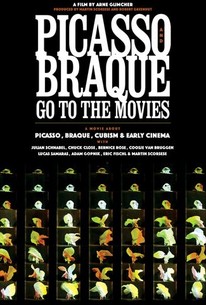 Picasso and Braque Go to the Movies Photos
Movie Info
Produced by Martin Scorsese and Robert Greenhut and directed by Arne Glimcher, PICASSO AND BRAQUE GO TO THE MOVIES is a cinematic tour through the effects of the technological revolution, specifically the invention of aviation, the creation of cinema and their interdependent influence on artists Pablo Picasso and Georges Braque. With narration by Scorsese, and interviews with art scholars and artists including Chuck Close, Julian Schnabel and Eric Fischl, the film looks at the collision between film and art at the turn of the 20th Century and helps us to realize cinema's continuing influence on the art of our time. --© Arthouse
Rating:
NR
Genre:
,
Directed By:
In Theaters:
On DVD:
Runtime:
Studio:
Critic Reviews for Picasso and Braque Go to the Movies
Audience Reviews for Picasso and Braque Go to the Movies
No Primary Sources I was torn by this. I mean, whether I was going to watch it at all or not. It's an interesting premise, but that said, I still just don't like Cubism. I went to a Picasso exhibit with my sister once, and we'd been there for perhaps twenty minutes before wondering why were there, as neither of us in fact like Picasso. I didn't even know who Georges Braque was. However, I do care quite a lot about the history of early cinema, and the description I got from the library was a bit vague as to exactly what the film was about. So okay, I watched it. It's true that I don't know enough about Cubism to be able to say for sure whether I believe its basic premise or not, but that's okay. That means we can use it as an object lesson about how to examine the premise in any work trying to prove a point. We can use it to figure out how to make a point, and how to determine if the point is convincing. It's not a hard lesson to learn, but it is an important one, and this is as good a place to go into it as any other. The premise is this. Both Pablo Picasso and Georges Braque, apparently good friends, though you couldn't prove it by me, were both heavily influenced in the development of Cubism by the films that were being made at the time, most notably the experimental work by such filmmakers as Georges Méliès. Certainly both men were of an age for it, having been born a little over six months apart in 1881 and 1882, respectively. Filmmaker Arne Glimcher presents a series of experts in both art and early film, including good ol' Martin Scorsese, to make the argument. Various paintings by both artists are shown. Many clips of early films, both French and American, are shown. A little historical background is given for just about everything--the men, the film, the art, and the distribution. We also see some of the works of the artists who are discussing the whole thing, so we can see how they were inspired in turn by Picasso and Braque, I guess. Okay, that's how it's presented. What does it have in favour of its premise? First, it's true that you can see the influence Picasso and Braque had on one another, to the point that I was not reliably sure which paintings were by whom unless they were actual famous Picassos that I'd seen elsewhere before and remembered. It is also true, though irrelevant, that you can seen the influence of Picasso and Braque on the more modern painters who are talking about the influence Picasso and Braque had on them. It's also possible to suppose that certain images seem to be repeated from clip to painting. We see large segments of some short (I assume it's a short, given the era) about an accordion and the sheer amount of paintings Picasso seems to have done of people with accordions or with the folds in their bodies made to look like accordions. There's a film historian who seems pretty certain, too. Is that it? Yes. The most important thing missing, I think, is any actual statements from Picasso or Braque. I'll admit that I'm not an art historian, leaving aside my dislike of Cubism, but I'm pretty sure both men spoke of being influenced by things like African tribal art, and no evidence is presented that either ever said they were influenced by Georges Méliès, Thomas Edison, or any other filmmaker. The accordion thing is definitely the weakest, of course, but essentially none of the discussion holds up to much in the way of scrutiny, at least not of its major premise. Yes, obviously, some of it is pretty non-controversial. You can see their influences on each other and on later artists. That's great. And some of the paintings do kind of look like some of the odder flim clips shown. However, that's not enough to base a premise on. It's possible that there is more true evidence than is shown here, but why wouldn't they show it? I do not deny that film has had a lasting influence on art over the last century or so. One need look no farther than Andy Warhol for that. However, I do not feel that this particular documentary has convincingly argued that these particular artists were influenced by film. Or at least, not at this stage in their careers. Picasso died in 1973 and Braque in 1963; there is very little doubt to me that they would come to be influenced by film like everyone else. It's all about the beginnings, though. I do not believe, based on what information is presented in the film, that there's any need to overturn the conventional notion that Cubism was based on Iberian sculpture and African art. Perhaps Georges Méliès is the secret missing link of Cubism, but I see no reason to believe that. Especially since Cubism is more than just Picasso and Braque in the first place, even in its earliest days.
Edith Nelson
½
Who knew film had such a huge impact on these two artists? Although, it should have been obvious as both film (at that time) and cubism captured the concept of reality and fiction intermingling.
Manisha Devi
Picasso and Braque Go to the Movies Quotes
There are no approved quotes yet for this movie.
Discussion Forum
Discuss Picasso and Braque Go to the Movies on our Movie forum!