Pigs
(1972)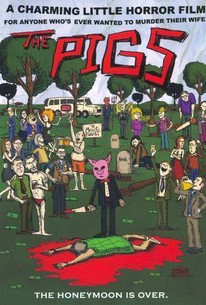 AUDIENCE SCORE
Critic Consensus: No consensus yet.
Movie Info
An escaped mental hospital patient teams up with a swineherd to go on a murderous rampage. The pigs provide a perfect means of disposing with the ensuing bodies. This story is both gory and violent.
Rating:
R
Genre:
, ,
Directed By:
In Theaters:
On DVD:
Runtime:
Studio:
D&R Productions
Critic Reviews for Pigs
All Critics (1) | Fresh (1) | Rotten (0)
Pigs [plays] like a Shake-N-Bake version of A Touch of Satan, or any number of early 70s excuses for morose middling macabre...

Audience Reviews for Pigs
I like Troma movies. They may be outlandish, weird and freaky, but that's all in the appeal. They don't aim to be cinematic classics, opting instead to entertain the audience with trashy horror movies. In my opinion, there's nothing wrong with that. Not every movie has to do be ultra-serious oscar bait. It's okay for a movie to use explosions or fake kills or otherworldly plots to entertain the audience. After all, the main reason for films is to entertain. Pigs, however, isn't entertaining. Unlike some of the better Troma films (such as The Toxic Avenger & Sgt. Kabukiman NYPD), Pigs isn't trashy or glossy fun. Instead, it's dark and broody. The main selling point, the pigs, are barely featured (most of their screen time comes from close-ups). Instead, you get a drab plot about an abused woman , Lynn Hart (Toni Lawrence) snapping and killing men, with her boss, Zambrini (Marc Lawrence) taking advantage of this and feeding the dead corpses to his pigs (who crave on human flesh). There's no reason to drag this out into a longwinded review. Pigs is boring. There's nothing interesting about it. The plot's bland, the acting's terrible, the directing is horrendous, the editing is dreadful (many times cuts are used twice, which I though was the DVD skipping, but the sound was still intact) and the pigs are nowhere to be seen. Pigs is a boring film, plain and simple.
Justin Oberholtzer
This is one of those it's "so bad that it's kinda good" horror films, another Troma classic I suppose. It kinda reminded me of Manos, but slightly better (at least it has a plot of some sort) Like many of the Troma films, it featured bad acting, weird plot and dumb dialogue. Titular pigs were barely shown on screen as well as the whole set being so dark that you can't see anything Moral of the story: It's cheaper to feed pigs with corpse.
Sylvester Kuo
Super Reviewer
½
Toni Lawrence stars as a psychotic young woman who kills her father after he rapes her. This film is pretty bad; many scenes just don't make sense and some of them seem to come out of nowhere. On the plus side, a lot of the dopey characters are fun to watch (especially Zambrini), and the movie has a bizarre, dreamy (and sometimes nightmarish) quality throughout. The scene where Toni Lawrence hears loud pig squeals and then runs screaming through a field for what seems like an eternity is probably the best example of the weird, out-of-nowhere sequences that continuously crop up. Unprofessional filmaking at its best!
Cassandra Maples
Super Reviewer
Pigs Quotes
There are no approved quotes yet for this movie.
Discussion Forum
Discuss Pigs on our Movie forum!