Pigskin Parade
(1936)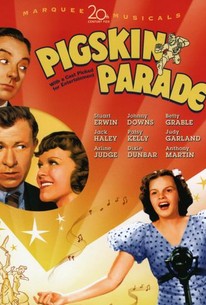 AUDIENCE SCORE
Critic Consensus: No consensus yet.
Movie Info
Pigskin Parade was the first of 20th Century-Fox's many college football musicals of the 1930s. Gridiron coach Jack Haley will lose his job if he doesn't find a football hero for his college team. Haley and his wife (Patsy Kelly) scour the countryside, until they finally a slow-witted farm boy (Stuart Erwin) who practices his throwing skills by tossing watermelons an astonishing distance - which convinces the couple that he could do the same with the pigskin and thus become a sports hero. The bucolic young man is enrolled in the college, where his classmates do everything short of cheating to keep him academically qualified for the team. Thanks to the boy's natural sports talent, the team makes it to the Yale Bowl. Pigskin Parade is distinguished by a blockbuster musical cast, including The Yacht Club Boys (a "gentile" variation of the Ritz Brothers.), Johnny Downs, Betty Grable and Dixie Dunbar. But the film is stolen by 13-year-old Judy Garland, making her feature film debut as Stu Erwin's kid sister, who belts out several songs with the virtuosity of an entertainer twice her age.
Critic Reviews for Pigskin Parade
All Critics (1) | Fresh (1) | Rotten (0) | DVD (2)
This clunky musical (a formulaic combo of football feature and campus comedy) is best known today for featuring two actresses who would become major stars in the 1940s: Judy Garland (then 13) and Betty Grable.

Audience Reviews for Pigskin Parade
½
A big cast in an entertaining college musical; Garland sings four songs in her first feature film including "The Balboa."
Michael Troudt
Yes, That Certainly Is a Musical About Football I was not able to remember who most of the characters in this movie were. They were introduced, most of them, but once. After that, you were supposed to remember them. However, since most of the characters are completely generic, there's nothing to hang an identity off of. And in fact, the movie is so old that I couldn't even reliably tell which one was Betty Grable, and I have seen and enjoyed her in several other movies. Judy Garland, a fourteen-year-old who had just renamed herself from Frances Gumm, was fairly distinctive, but few of the others were. The one thing I will say is that it's as true of the men as the women. It isn't just a bunch of girls blending one into the other and without much personality to distinguish them. It's a bunch of college students blending one into the other and without much personality to distinguish them. Which I guess is better? One day, the people in charge of football at Yale University decide they are going to have a football game against Texas University. However, there is no such place. The person who makes the decision chooses not the large University of Texas but tiny Texas State University. They've just gotten a new football coach, Slug Winters (Jack Haley) originally of Flushing, New York. He agrees to take Yale up on their challenge. Unfortunately, his wife, Bessie (Patsy Kelly), breaks the leg of quarterback I think Biff Bentley (Fred Kohler, Jr.). Since he's the only decent player on the team, this is a problem. However, they somehow, I missed how, find out about a local yokel, Amos Dodd (Stuart Irwin), who has a heck of an arm. They recruit him, bringing along his sister, Sairy (Garland), who's the one who talks him into going to college because she wants to go. They have to cheat the system to enroll him, but he's an even better football player than the one they lost. Yeah, you know, there are football games and songs, including a beauty about how they can't lose playing in the sun. Which is delivered as a blizzard begins to overtake the game, naturally, because it's wacky! We seem to be building up to a running joke wherein Sairy offers to sing and is rejected, but a running joke takes three iterations, and this only happens twice. And while good follow-through would be having everyone acknowledge that she does, indeed, have a pretty good voice, there's no comment of any kind after. It just falls flat, like pretty much everything else in the movie. There are several places where the movie seems about to build up to something interesting, but it never quite gets there. It becomes clear that Bessie is a better coach than her husband, but even that doesn't go anywhere. We get about two seconds of it, and then, we move on to the rest of the story. Such as it is. And that doesn't really go anywhere, either, except where we all know from the beginning that it's going to. There's also, naturally, the obvious statement that football games don't work this way. I mean, I'm not an expert on collegiate sports; my alma mater doesn't even have a football team. In fact, it doesn't even have anywhere to put a football team. However, I know that these games are actually scheduled. Not by the individual schools, either; the NCAA exists for a reason. I know that Stanford had individual dealings with BYU back in the '70s, but I know there were extenuating circumstances involved. And at that, it was to refuse to play games. I don't think they're even really allowed to randomly schedule games with whatever school they want to. I'm pretty sure it's against the rules. I'm also not sure why they chose the school they did, come to that. Did the people at Yale really think that they needed publicity at all? And if they did, did they think that a football game against some random college in Texas was the way to go? I literally do not understand the underlying plot of this movie. Here's the other thing that bewilders me. Stuart Erwin was nominated for Best Supporting Actor for this. 1936 is not a year in film that I know a lot about, and a look through the year's winners doesn't much help. But [i]After the Thin Man[/i] came out in 1936. Jimmy Stewart did a better job in that than Stuart Erwin did in this, and he wasn't nominated. [i]The Petrified Forest[/i]--there were some fine performances in that. Several other movies probably could have produced nominees more qualified than Erwin. Okay, so he didn't win. However, I really don't think his performance was all that interesting. There are plenty of performances in bad movies, and mediocre movies, and so forth, that I have still thought were worthwhile--heck, Robert Downey, Jr., in [i]Chaplin[/i] was a brilliant performance in a mediocre movie. But this was a mediocre performance in a mediocre movie, and I don't think that merits an Oscar nomination, and it got one.
Edith Nelson
Judy Garland's first movie. She is not the lead role but still when se appears on screen either acting or singing she lights up the movie. It's basically a story about college football Texas vs. Yale... The cool thing for me is that Texas wins and Judy is on that side of the team =D
Stefanie Rizzi
Pigskin Parade Quotes
There are no approved quotes yet for this movie.
Discussion Forum
Discuss Pigskin Parade on our Movie forum!