Pink Smoke Over The Vatican
(2010)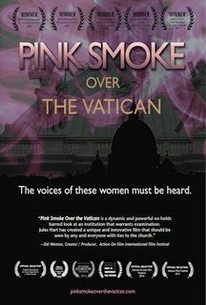 AUDIENCE SCORE
Critic Consensus: No consensus yet.
Critic Reviews for Pink Smoke Over The Vatican
There are no critic reviews yet for Pink Smoke Over The Vatican. Keep checking Rotten Tomatoes for updates!
Audience Reviews for Pink Smoke Over The Vatican
Reaching Into History The advice I will give you on this historic week is "never trust anyone who tells you things have always been a certain way." Especially if that's their excuse for why they can't be different. Someone told me this week, while arguing against the government's being involved in marriage at all, that marriage started as a religious institution and should be left as one. And I pointed out that marriage is so old and so universal that we really have no idea what it was "originally." Similarly, there are plenty of religious people (even ones who aren't Catholic!) who will tell you that Christian religious leaders have "always" been male. They are wrong. Yes, arguments that women should not be religious leaders appear in the New Testament, but so do examples of women who are religious leaders. Archaeology and theology can provide all sorts of examples, as can the fact that we know of rules instituted against it that are much newer than the Church. Naturally, in any situation wherein a group of people is excluded from positions of power, there are members of that group who are trying to change things. In this specific case, we are discussing women who want to be ordained as priests in the Catholic Church. This film, made before Benedict retired, reminds us that even discussing it was pretty much forbidden by the Church. Several of the people interviewed have, in fact, been excommunicated for their determination to speak out on the issue. It seems, too, that there are renegade bishops out there going around ordaining women--in international waters, which aren't part of any diocese, so that no one can stop it from happening. Naturally, both those bishops and the women they've ordained have been excommunicated. Weirdly, a few woman have even been ordained as bishops, which conflicts with my prior belief that all bishops were of somewhere and appointed by the Pope. It seems to me that Catholics these days are damned if they do and damned if they don't, in the public eye. If they speak out on injustices within the Church, they're asked why they stay in it. If they don't, well, they're going along with evil. They're asked why they don't change the Church, as if it's possible for any ordinary parishioner to do anything, as if the Pope actually has to listen to anyone but himself. I mean, I actually rather like the current Pope, the more I learn about him, and it's certainly true that "better than Benedict" was a bit of a low bar. However, we had no way of knowing if the new Pope would be good or bad, and my mother, for one, had absolutely no say in it. And once there's a Pope, well, the Pope's in charge. Francis can, if he chooses, reopen the discussion, but the decision is entirely up to him. And, of course, there's the issue that Catholics who don't speak up let non-Catholics say the whole faith is bad, even though Francis himself is starting to change some of the bad bits. The film also touches a bit on the celibacy issues, and in some of the same context, in fact. Namely, we spent a few minutes looking at the early history of the Church. For the first few centuries, there were female priests. There were married ones for even longer. In fact, we are shown the tomb of a female priest at Hippo, where St. Augustine was bishop. I don't think it's actually supported with what's presented here that she was in the church at the same time as Augustine, however. It's possible that she was, but that's one of the places the film is rather lacking--historical context. It's mostly a bunch of women talking about their vocations to the priesthood and why they're angry that those vocations aren't taken at all seriously. And don't get me wrong; I think they're right to be angry. However, I think that the historical evidence is probably more likely to have any effect whatsoever on the Church, not that I'm sure it will have any. Oh, and one of the people interviewed is referred to several times as having been a 2010 Nobel Peace Prize nominee. The simple fact is, nominations aren't released for decades. Never trust anyone who tells you that they were nominated for a Nobel Prize less than I think it's fifty years ago. I think it's intended to give his opinion more weight, but either the argument holds up or it doesn't. I think it does, but there are a lot of people out there who disagree. Including, obviously, those whose opinions matter most. I mean, Sojourner Truth's "And Ain't I a Woman" speech is quoted, and that doesn't hold any weight in the Catholic Church, either. Because, you know, she wasn't Catholic, for starters. It raises a legitimate point--Jesus may have been a man, but he came from a woman and God with no other man involved--but I'm not sure how much weight anyone will give it. This is a lightweight documentary that will not, I suspect, convince anyone opposed to the ordination of women.
Edith Nelson
Pink Smoke Over The Vatican Quotes
There are no approved quotes yet for this movie.
Discussion Forum
Discuss Pink Smoke Over The Vatican on our Movie forum!