964 Pinocchio (Screams of Blasphemy)
(1992)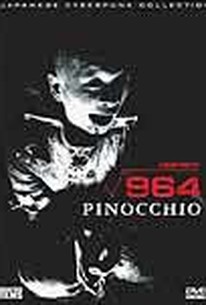 AUDIENCE SCORE
Critic Consensus: No consensus yet.
Movie Info
Frequently compared to maverick Japanese experimentalist Shinya Tsukamoto's hyperkinetic cyberpunk masterpiece Tetsuo: The Iron Man, director Shozin Fukui's Pinocchio 964 weaves the dark tale of a cybernetic sex android that escapes into society with no memory of the past and a desperate instinct for survival. When Pinocchio makes the acquaintance of amnesiac Kyoko, the pair offer support to one and other as they attempt to piece together their fragmented pasts and forge on into an uncertain future. As Pinocchio and Kyoko slowly begin to make sense of the mysterious forces that drew them together, Pinocchio's nefarious architect sends a team of agents to bring back his prototype before the world discovers his true potential -- setting into motion a hallucinogenic fight for survival that must be seen to be believed. ~ Jason Buchanan, Rovi
Rating:
NR
Genre:
, ,
Directed By:
In Theaters:
On DVD:
Runtime:
Critic Reviews for 964 Pinocchio (Screams of Blasphemy)
There are no critic reviews yet for 964 Pinocchio (Screams of Blasphemy). Keep checking Rotten Tomatoes for updates!
Audience Reviews for 964 Pinocchio (Screams of Blasphemy)
I am not even sure what to say about this movie. I watched it last night with my usual cast of movie watchers, and at the end, we were not quite sure what we had witnessed. I am generally a fan of Japanese Cyberpunk, but this was even more incoherent than usual. It did have a few good set pieces, one of which is particularly stomach churning. If you are looking for story, plot, etc., then don't even bother, but if you don't mind some mind-warping, oddball, Japanese mayhem, then give it a go.
Todd Staruch
firstly, it wasn't necessarily a horrible film, it was just weird as hell and extremely disgusting. normally i have a strong stomach, and the majority of this film wasn't even that bad, but one scene was just way too much and actually caused me to get a little queasy (first time in years). but if you can get past the ten minute vomiting/insanity sequence, you may find something very artistic and symbolic, somewhat like Tetsuo: The Iron Man... just this isn't as good as Tetsuo, and its 10 times more disgusting. the first 30 minutes are brilliant, slightly bizarre, but simply brilliant. it follows Pinocchio 964, a sex android, after being discarded from his owners and having his memory wiped. he is set out alone in the world and comes across Himiko who promises to take care of him. she teaches him his name (which is tattooed on his back) and she seems very caring of him and eventually he remembers how to speak, and meanwhile, the creators of Pinocchio are trying to search for him to reprogram him, because if he were to get out to the public eye some form of trouble would occur (which i didn't understand entirely). it started out very much like a Japanese version of Eraserhead, except there was some literal human feeling between the two main characters. THEN, out of nowhere, things turn for the worst: some weird unexplainable shtuff happens to Pinocchio, Himiko goes insane and tortures him, and basically from that point forward we see a bunch of screaming degenerates freaking out over literally everything, and things become bizarre in a very humorous way (but still very disgusting, and some may find it disturbing as hell). this film is more of a visual treat than anything else, every single sequence is shot masterfully, and the use of natural light (and artificial) adds to the artistic feature of this film. i definitely think this is a film that is worth checking out, but the only problem is that it's out of print and is reasonably hard to find. the copy i bought was the only one available at the store, and it was set aside, and coming across it was merely by chance. every DVD renting places i've checked (including online ones) don't have it. but if you can find it, and your a fan of cyberpunk films or J-horror films in general, check this one out, it may be worth the price of buying.
Trevor Cameron
El Hombre Invisible
Super Reviewer
Discussion Forum
Discuss 964 Pinocchio (Screams of Blasphemy) on our Movie forum!