Pinprick
(2009)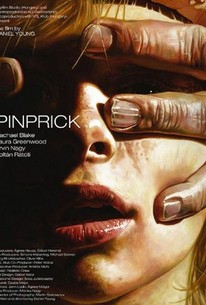 AUDIENCE SCORE
Critic Consensus: No consensus yet.
Movie Info
A criminal gradually integrates himself into a broken household by methodically asserting control over a teenage girl and her lonely mother in this off-beat thriller from first-time director Daniel Young (screenwriter of the 2006 horror comedy Black Sheep). It started as an innocent friendship: a desperate criminal with no place to run, and a teenage girl recovering from her parents' recent separation. Before long, however, the desperado grows tired of hiding out in the young girl's closet, and focuses his attention on her isolated mother, abandoned by her husband following an extramarital affair. By the time the stranger has secured an invitation from the mother to live in the house it's already too late, and the daughter is forced to pretend that she's never met him. Betrayed but unable to find a means of expressing her anger, the daughter bides her time while awaiting her father's return. Now, with the two women of the household firmly in his grip, the intruder prepares to make his final move.
Critic Reviews for Pinprick
There are no critic reviews yet for Pinprick. Keep checking Rotten Tomatoes for updates!
Audience Reviews for Pinprick
½
A creepy thriller with a somewhat unexpected ending that detracted slightly from the effect of the film. Strong performances by Rachael Blake as the teenager, Miriam, Laura Greenwood as the mom, Charlotte, and Ervin Nagy as the interloper, Paul. Weaknesses include Paul's unexplained presence in Miriam's closet, Dad's seeming lack of concern over the presence of a stranger in his ex-wife's house, and the ease with which Paul talks Charlotte into letting him stay in the house "for a few days" after he comes out of hiding and "meets" her at the college where she seems to teach a continuing education course. And that wasn't the only unexplained continuity issue. Interesting, but disappointing and not as intense as it could have been.
Mark Abell
Super Reviewer
Excellent movie. It reminded me a lot of The Swimming Pool for some reason, even though they are very different movies. It's a good foreign film; a strong dialogue driven drama, a concentrated isolated setting, with a quiet atmosphere and a small cast of characters. I'll keep the plot synopsis to a minimum, as that is easy to find almost anywhere. It's a story of a felon living in a teenage girl's closet, her rebellion against her mother, her mother's separation from her husband, and how all of their existences mix together. The initial premise seems ridiculous on the surface; a stranger to the family living in the girl's closet? .. but somehow it works. You'd expect some misses along the way in the story, holes and such, but other than how he got there originally there are no glaring loose ends. It's not a story for everyone.. but it is a good story none-the-less. It was well written, good direction/pace/cinematography, solid acting, no major flaws, and took a few big swings that worked out.
Nick Grimm
Super Reviewer
Pinprick Quotes
There are no approved quotes yet for this movie.