Pioneers of Primetime
(2005)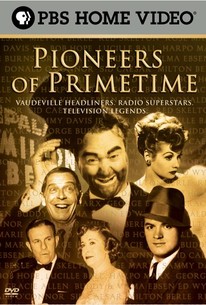 AUDIENCE SCORE
Critic Consensus: No consensus yet.
Movie Info
Rating:
NR
Genre:
, ,
On DVD:
Runtime:
Critic Reviews for Pioneers of Primetime
There are no critic reviews yet for Pioneers of Primetime. Keep checking Rotten Tomatoes for updates!
Audience Reviews for Pioneers of Primetime
Vaudeville to Radio to TV I suspect few people my age even know what vaudeville was. Even people my mom's age would have mostly known about it from their parents, and my dad would have turned seventy-five today. Mom and Dad were of an age where they went to the movies or listened to the radio when they were little, and as they were older, they watched TV. We know what burlesque was, because that's been getting a revival lately, but vaudeville? That was dead when Barbara Stanwyck played not-at-all Gypsy Rose Lee in 1943, long dead. However, more of our popular culture than we realize is descended from vaudeville for all that. Stand-up comedy, for example, is just a vaudeville act that's gotten its own theatres. And when it moved onto television, as it did, it was full of the stars of vaudeville who were looking for a new way to pay the bills. It kept some of them going for some time, too. You know their names; it's pretty much impossible not to, even in this day and age, after almost all of them have died. Milton Berle, of course, and Bob Hope. Sid Caesar and Rose Marie, the only two interviewed here who are still alive. Steve Allen and Buddy Ebsen and Red Skelton. Sammy Davis, Jr., and Donald O'Connor. Many of them were members of show biz families--Milton Berle once babysat Steve Allen backstage when Steve Allen's mother, Belle Montrose, went next door for a drink. They all have stories, though, because whether or not their families were in show business, they all were from when they were fairly young. Rose Marie was three, though apparently, a lot of her audiences thought she was a midget or something. Anyway, though this is only an hour long, it gives a pretty decent overview of exactly how these people went from being recurring vaudevillians to being the eponymous pioneers of primetime. I mean, when most of them got their start in television, no one even knew what television was going to be. The documentary seems to have been limited to people they could interview. I mean, when you think the early history of television, you don't think Sammy Davis, Jr. And yeah, Buddy Ebsen brings to mind TV, but [i]The Beverly Hillbillies[/i] didn't debut until 1962. Even his stint as George Russel, companion to Davy Crockett, was later than this. He did some of the variety shows the show covers, but only a few of them, perhaps fewer than a dozen episodes of anything. What's more, there are the people we don't have. Oh, of course, Ed Wynn was dead, and so was Jackie Gleason. However, while they talk a bit about Burns and Allen, they didn't get George Burns--and he didn't die for at least a few months after this aired! However, quite a few people from the famous [i]Your Show of Shows[/i] writers' room are still alive, and they didn't talk to any of them. No, they couldn't have gotten Woody Allen, but maybe Carl Reiner would have had things to say? But then, I don't think he did vaudeville. Of course, it's important that these stories be recorded, as it is important, at least to me, that all stories be recorded. As I said, out of nine people being interviewed, seven are now dead, and they're not exactly young. Carl Reiner is ninety-one. Even Woody Allen is seventy-seven. (Not that I care what Woody Allen has to say; I actually don't think he's funny. But anyway.) The story of how vaudeville became TV variety programming, and how that became the sitcom, and so forth, is an important one. At least, if you consider popular culture to be important, and I do, as I've explained before. I even think it's worth examining why some people went into the movies and some into television and so forth, which the film basically doesn't touch on. Of course, I'm sure there are plenty of memoirs which touch on it; I keep meaning to read [i]Harpo Speaks[/i], for example. I know there wasn't enough room here, but maybe we could have lost Buddy Ebsen instead. It is interesting to consider that, in the days of vaudeville, people did the same material for years. Milton Berle refers here to vaudeville as "a place to be lousy," because if your act wasn't good, you could improve it. And then, when you had a good act, you just kept doing it. You'd go from town to town, theatre to theatre, honing your act. And when it was good enough, you just kept doing it. For years. Maybe you'd change partners and maybe you wouldn't, but there was no reason to change, since you weren't going to see the same people any time soon. You'd do the circuit, and that would mean traveling from town to town. The travel conditions weren't great--no planes, unreliable trains and buses, and few people able to afford cars--and you'd be doing several shows a day. See also [i]Gypsy[/i]. Television was a horrible grind for different reasons, but if you made it, you were remembered. Milton Berle is dead, and I've never actually seen any of the show, but I know who he is anyway.
Edith Nelson
Pioneers of Primetime Quotes
There are no approved quotes yet for this movie.
Discussion Forum
Discuss Pioneers of Primetime on our Movie forum!