Pippin
(1981)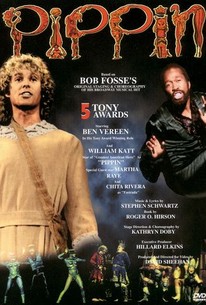 AUDIENCE SCORE
Critic Consensus: No consensus yet.
Movie Info
This made-for-TV movie is a filmed version of the Bob Fosse musical hit of the same name. William Katt stars in the title role of this fictionalized story of Pippin, the son of Charlemagne who sets out to find meaning in life and discovers his true self along the way.
Critic Reviews for Pippin
There are no critic reviews yet for Pippin. Keep checking Rotten Tomatoes for updates!
Audience Reviews for Pippin
½
Rivers Belong Where They Can Ramble A brief glance into the life of the real Pepin the Hunchback, on whose life this musical is theoretically based, leads me to several conclusions. The first, I think, is that there are too many figures in the approximate time period in which this is set named Pepin/Pippin. There's the father of Charlemagne. The eldest son. A younger son. The nephew. The grandson. I am given to understand that this makes research a little confused, because the first thing you have to work out is which one any given source is talking about. The second problem, somewhat relevant to tonight's discussion, is that we don't entirely know how accurate any source is when discussing Pepin the Hunchback, who was the eldest son. We are, at least, pretty sure he was a hunchback. We know he was disinherited, but we're not completely sure why. And we know he rose in revolt against his father, and it didn't go well. This Pippin (William Katt) isn't a hunchback. He's tall and strong and built, and he's got lovely blonde curls. However, he's still dissatisfied with life despite being considerably better off than his historical counterpart. He has just graduated from university, and in the way of young university graduates for centuries, he doesn't know what he wants from life. He tries to find meaning in war, but he's not too good at it. He's good at sex, but he doesn't find it all that meaningful. He decides perhaps he should try fighting tyranny, specifically in the person of his father, Charlemagne (Benjamin Rayson). Only he finds out that being king is actually hard work. You can't please everyone, and the harder you try, the more they seem to resent you for it. So he conveniently resurrects his father, then he leaves. Sort of a Wandering the Earth kind of deal, until he encounters Catherine (Leslie Denniston), a widow with an estate and a son (Carmine Rizzo) who likes the arch of Pippin's foot. There is no secret made among the characters that they are in a musical. When Pippin gets advice from his grandmother, Berthe (Martha Raye), she presents it to him in a singalong--and demands that the entire audience join her. There is also Random Ginormous Sheet Music (with her name on the copyright line, of course) for them to follow. Pippin interacts most often with The Leading Player (Ben Vereen, who at no point shrinks to the size of a lima bean unless you're watching on your phone). He is confronted angrily about his refusal to participate in a finale, and let's face it, you can't get more fourth wall-breaking than all of that. Half the cast makes asides to the audience, when they don't have entire monologues or musical numbers directed at them. There is unnecessary heckling of Catherine about how bad the actress is, which does make me a bit uncomfortable, but it also made me have Thornton Wilder flashbacks. I have those more often than I like, really. It's actually a fairly moral picture in ways that I think would surprise most people. Probably the most famous song from it is "Corner of the Sky," which is all about how Pippin should be allowed to do what he likes. He doesn't want to be just an obedient son. He wants to be fulfilled. This also, it strikes me, prevents him from learning the lessons he ought to if he's supposed to take the throne, which would make his life easier. I mean, he might not run away, though in that case, he'd probably have to deal with his ambitious half-brother, Lewis (Christopher Chadman), and scheming stepmother, Fastrada (Chita Rivera). And he doesn't seem all that inclined to do that, either. However, because he focuses so much on himself instead of what's best and right, he doesn't really get much done on the throne or off. He's an idealist who hasn't the faintest idea how to accomplish his ideals, and that isn't a helpful thing to anyone. Ideals are great, but what you accomplish matters more. Who the historical Pepin the Hunchback was doesn't really matter to this story. It might as well be a fantasy, full of nothing but invented characters (instead of half-full of invented characters). Normally, that kind of thing bothers me quite a lot, and I'm not entirely sure myself why it doesn't here. Part of it, I think, is that no one really knows much of anything about the historical Pepin the Hunchback anyway. We know he was disowned, but we don't know if he was ever considered legitimate. We know that he revolted against his father, but I don't think we know why other than that it's a thing royal sons do occasionally. (See also [i]The Lion in Winter[/i].) We don't know when he was disinherited or why. We know his half-brother Carloman was later christened Pepin, but we don't know if the elder one had been disinherited yet. There's so little known about the historical Pepin that you can project anything onto him, even singing and dancing with Ben Vereen.
Edith Nelson
All alone on a stage, Pippin is surrounded by the Leading Player and the various troupe members. They all suggest that Pippin complete the most perfect act ever: the Finale. They tell Pippin to jump into a box of fire, light himself up, and "become one with the flame." Pippin is reluctant, but agrees that perhaps suicide is the best way to go ("Finale"), but he is stopped by his natural misgivings and also by one actress from the troupe?the woman playing Catherine. Catherine and her son Theo stand by Pippin and defy the script, the Leading Player, and Fastrada. Pippin comes to the realization that the widow's home was the only place where he was truly happy ("Magic Shows and Miracles") "....I never came close my love". After removing the sets, lighting, makeup, and costumes from the stage (to no success at dissuading Pippin), The Leading Player becomes furious and calls off the show, telling the rest of the troupe and the orchestra to pack up and leave Pippin, Catherine, and her son alone on an empty, dark and silent stage. Pippin realizes that he has given up his extraordinary purpose for the simplest and most ordinary life of all, and he is finally a happy man.
Mary Jane Prothro-Jones
½
I can't really think of a case where I would consider the movie version of something better than the play. I love plays and musicals and they are definitely best seen on the stage. This one is no exception, but seeing this on DVD was a decent enough substitute for the real thing. Nothing particularly special. They just seem to have filmed the play being performed. The cast mostly do a good job though there were a few points where I was a bit disappointed, for example the song (probably my favorite on in the whole show!) sung by Pippin's grandma. I think it lacked some of the liveliness and excitement it deserved. The biggest disappointment wasn't anyone's fault (except the previous people who checked out the DVD) when the ending came the DVD began to skip horrible and by the end it had an error and refused to work. so basically the ending couldn't be watched! I am familiar enough with it and have seen it before but it was sad not to get to see it on the DVD. Anyway, I would recommend this for people who love musicals but I don't think it is going to be everyone's cup of tea. Some parts might offend and for many it might all just be too weird. Still, it is a fun time and definitely shows it's age at times which makes for some laughs!
Okkay Warner
Pippin Quotes
There are no approved quotes yet for this movie.
Discussion Forum
Discuss Pippin on our Movie forum!