Pirates of the Caribbean: At Worlds End
(2007)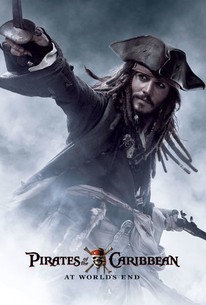 TOMATOMETER
AUDIENCE SCORE
Critic Consensus: POTC: AWE provides the thrilling action scenes, but mixes in too many characters with too many incomprehensible plot threads.
Pirates of the Caribbean: At Worlds End Photos
Movie Info
Director Gore Verbinski and the crew set sail once again for this, the third chapter in the swashbuckling Pirates of the Caribbean trilogy. Captain Jack Sparrow (Johnny Depp) is hopelessly trapped in Davy Jones' locker after a harrowing encounter with the dreaded Kracken, and now Will Turner (Orlando Bloom) and Elizabeth Swann (Keira Knightley) must align themselves with the nefarious Captain Barbossa (Geoffrey Rush) if they hold out any hope of saving their old friend from a fate worse than death. The East India Trading Company and its fearsome leader, Lord Cutler Beckett (Tom Hollander), have taken control of the ghostly Flying Dutchman and its captain, Davy Jones (Bill Nighy), and now the baleful Admiral Norrington (Jack Davenport) has taken the helm in a relentless bid to destroy every pirate ship in his path and bring the Age of Piracy to a violent close. Meanwhile, Will, Elizabeth, and Captain Barbossa navigate treacherous waters and face bitter betrayal as they set sail to gather the only army that can stand up to Beckett -- The Nine Lords of the Brethren Court. But Captain Jack Sparrow is one of the lords, and as long as he's stuck in Davy Jones' locker, Beckett and his nefarious armada are sure to emerge victorious. There's still hope, however, if the heroic team that includes Tia Dalma (Naomie Harris), Pintel (Lee Arenberg), and Ragetti (Mackenzie Crook) can reach exotic Singapore and convince vulpine pirate Sao Feng (Chow Yun-Fat) to provide them with charts and a ship. But even the powerful Brethren Court may need a bit of help from volatile sea goddess Calypso in order to weather the coming storm. With the entire future of the pirate way at stake, everyone will be forced to choose sides while drifting precariously to the edge of the earth for one final, spectacular battle.
News & Interviews for Pirates of the Caribbean: At Worlds End
Critic Reviews for Pirates of the Caribbean: At Worlds End
Audience Reviews for Pirates of the Caribbean: At Worlds End
½
Big budget films that gain a sequel that makes even more money than its predecessor is bound to become a franchise, regardless if there is a story to be told. In this case, a story was left open at the end of Pirates of the Caribbean: Dead Man's Chest, but this film doesn't embrace it in the proper way. This is a franchise that progressively loses steam as each film is made, but I personally think the overwhelming amount of hate these sequels receive is a bit much. Pirates of the Caribbean: At World's End is the type of film that relies too much on dialogue and too little on the action, and some films work with that wonderfully, but at nearly three hours, that becomes tiresome. This film has always been my least favourite of the franchise and here's why. At the end of the previous film, the premise sets itself up to be an expedition to find Jack Sparrow. Now, I know that Johnny Depp's portrayal of this character has always been the biggest highlight for fans, but I would've loved if they took a bigger risk, making the entire plot a quest to find him. Instead, we see him about 30 minutes into the film, he is reunited, and then a new plot sets itself in motion. Sure, this premise has been done before, and the premise of this film is very reminiscent of Star Wars Episode VI: Return of the Jedi. In no way am I comparing this film to Star Wars, but I'm simply pointing out that a film has pulled this off in a far better way. The most interesting portion of this film was waiting to see where Jack ended up, but he is found even before the first act ends. This alone makes it the weakest in the franchise for not showing any guts, but the action in this film is probably the best in the franchise. Personally, the promise of the first act is really what makes this film endurable. As soon as that storyline is through, the second act is pretty much entirely dialogue-driven, lasting for almost an hour and a half. Still to this day I find myself incredibly bored through the middle portion of this film, teetering on becoming an atrocious film. Happily, when the third act kicks into gear, it's very clear where they spent most of the budget for this film. If nothing else, the last 30-40 minutes of this film is everything that the action of this franchise should be delivering. When they reach the world's end and have the giant showdown, that was well worth the price of admission back in 2007, and still is today. The third act of this film alone is the reason I give this film a pass as a whole. What also contradicts this statement is the fact that this is an incredibly strange film at times. The characters throughout this franchise are all pretty unique in their character designs, but that's not where the strangeness comes from here. There are far too many bizarre visuals and over-exposed scenery that takes me completely out of the film. This may be getting nit-picky, but Pirates of the Caribbean: At World's End can be a very weird film sometimes. The uniqueness that each film goes for can be highly commended, but there is a border between what's weird to just be weird and what's weird to be clever and make the story more interesting. This is a film that goes for weird, just to be weird. Upon its initial release, less than a year after its predecessor, I was very excited, only to be severely let down. I quite enjoyed the second instalment, and I can only say that about half of this film. The action is some of the best this franchise will probably ever see and the opening premise in finding Jack Sparrow was very interesting. Aside from that, this is a very plotty film that wastes too much time on exposition and silly visuals that I loses my attention quite often. If you are a huge fan of the original film like many people are, then this is an average watch at best when going back to binge the franchise. Personally, I feel this film is just as boring and tedious to get through, as it is entertaining, which is incredibly frustrating. In the end, there are some nice moments sprinkled throughout an otherwise extremely messy film. Pirates of the Caribbean: At World's End still remains to be my least favourite of the franchise.
½
The third instalment of the saga of Captain Jack Sparrow sees him rescued from Davy Jones' Locker to help defeat Clark and The Flying Dutchman. World's End makes a lot of mistakes the previous film made; it concentrates far too much on spectacle and special effects rather than characterisation, the film again resembling a very elaborate cartoon in places. The amusing eccentricities brought to Jack's character by Johnny felt a lot more forced and there are too many characters vying for screen time. This results in Chow Yun Fat being completely wasted and Norrington's character development, which was the best thing about Dead Man's Chest, is completely ignored. But one mistake it does not make is in the pacing; although it is rather longer, it never drags or bores. There's a lot of fun to be had in the one-upmanship between Jack and Barbossa and the witty dialogue from the first film makes a welcome return. Again, like The Matrix and Bourne films, it makes the second film seem rather irrelevant, but as a whole it's an exciting and entertaining romp that won't disappoint Jack's fans.
½
At Worlds End has a satisfying and unpredictable ending, in addition to plenty of action and spectacle, but it also sports one of the most needlessly complicated plots I can recall, as well as several slow scenes that break up the movie's momentum at unfortunate moments.
Sam Barnett
Super Reviewer
Pirates of the Caribbean: At Worlds End Quotes
| | |
| --- | --- |
| Elizabeth Swann: | Our destinies have been entwined, Elizabeth.....but never joined. |
| Elizabeth Swann: | Our destinies have been entwined, Elizabeth but never joined. |
| | |
| --- | --- |
| Elizabeth Swann: | This is madness. |
| Jack Sparrow: | This is politics. |
| | |
| --- | --- |
| Jack Sparrow: | Did nobody come to save me just because the miss me? |
| | |
| --- | --- |
| Captain Barbossa: | The world used to be a bigger place. |
| Jack Sparrow: | World's still the same. There's just less in it. |
Discussion Forum
Discuss Pirates of the Caribbean: At Worlds End on our Movie forum!