Pirates of the Caribbean: At Worlds End
(2007)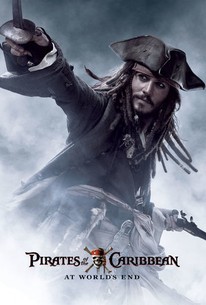 TOMATOMETER
AUDIENCE SCORE
Critic Consensus: POTC: AWE provides the thrilling action scenes, but mixes in too many characters with too many incomprehensible plot threads.
Pirates of the Caribbean: At Worlds End Photos
Movie Info
Director Gore Verbinski and the crew set sail once again for this, the third chapter in the swashbuckling Pirates of the Caribbean trilogy. Captain Jack Sparrow (Johnny Depp) is hopelessly trapped in Davy Jones' locker after a harrowing encounter with the dreaded Kracken, and now Will Turner (Orlando Bloom) and Elizabeth Swann (Keira Knightley) must align themselves with the nefarious Captain Barbossa (Geoffrey Rush) if they hold out any hope of saving their old friend from a fate worse than death. The East India Trading Company and its fearsome leader, Lord Cutler Beckett (Tom Hollander), have taken control of the ghostly Flying Dutchman and its captain, Davy Jones (Bill Nighy), and now the baleful Admiral Norrington (Jack Davenport) has taken the helm in a relentless bid to destroy every pirate ship in his path and bring the Age of Piracy to a violent close. Meanwhile, Will, Elizabeth, and Captain Barbossa navigate treacherous waters and face bitter betrayal as they set sail to gather the only army that can stand up to Beckett -- The Nine Lords of the Brethren Court. But Captain Jack Sparrow is one of the lords, and as long as he's stuck in Davy Jones' locker, Beckett and his nefarious armada are sure to emerge victorious. There's still hope, however, if the heroic team that includes Tia Dalma (Naomie Harris), Pintel (Lee Arenberg), and Ragetti (Mackenzie Crook) can reach exotic Singapore and convince vulpine pirate Sao Feng (Chow Yun-Fat) to provide them with charts and a ship. But even the powerful Brethren Court may need a bit of help from volatile sea goddess Calypso in order to weather the coming storm. With the entire future of the pirate way at stake, everyone will be forced to choose sides while drifting precariously to the edge of the earth for one final, spectacular battle.
People Who Like this movie also like
News & Interviews for Pirates of the Caribbean: At Worlds End
Critic Reviews for Pirates of the Caribbean: At Worlds End
Audience Reviews for Pirates of the Caribbean: At Worlds End
½
The third instalment of the saga of Captain Jack Sparrow sees him rescued from Davy Jones' Locker to help defeat Clark and The Flying Dutchman. World's End makes a lot of mistakes the previous film made; it concentrates far too much on spectacle and special effects rather than characterisation, the film again resembling a very elaborate cartoon in places. The amusing eccentricities brought to Jack's character by Johnny felt a lot more forced and there are too many characters vying for screen time. This results in Chow Yun Fat being completely wasted and Norrington's character development, which was the best thing about Dead Man's Chest, is completely ignored. But one mistake it does not make is in the pacing; although it is rather longer, it never drags or bores. There's a lot of fun to be had in the one-upmanship between Jack and Barbossa and the witty dialogue from the first film makes a welcome return. Again, like The Matrix and Bourne films, it makes the second film seem rather irrelevant, but as a whole it's an exciting and entertaining romp that won't disappoint Jack's fans.
½
At Worlds End has a satisfying and unpredictable ending, in addition to plenty of action and spectacle, but it also sports one of the most needlessly complicated plots I can recall, as well as several slow scenes that break up the movie's momentum at unfortunate moments.
Sam Barnett
Super Reviewer
½
Well shiver my timbers...this here be damn complicated!. The third and final part of the pirates trilogy (or so we thought). I've never until now have not understood the plot of a Disney film. Yep its long long long, overdrawn, CGI filled complicated mess with so many sub plots and double crosses I forgot what the film was about. This film is also, apparently, the most expensive film ever made ever! how fitting that its the worst in the trilogy. In short you have to know the back story for the last two films relatively well to keep up. The plot is even more convoluted than the second film and unfortunately it no longer has the wow factor, originality or nice fantasy element either. To be honest whilst watching I got a distinct sensation that I was watching deleted scenes merely pieced together to create another film. The film really does have that slightly disjointed vibe about it. I think one of the things that got me was the fact the characters just didn't matter anymore. In the second film 'Davy Jones' was the terror of the seas with his firesome appearance, monstrous crew and pet Kraken (unadventurous end for that beastie), now in this film he is reduced to lingering in the background whilst people talk. A great character reduced to an extra virtually. 'Barbossa' of course was the terror of the first film and he has now been slowly reduced to 'Sparrow's' sidekick of sorts, then we have new character 'Sao Feng' who really doesn't matter. He looks good and its a nice touch to see the Orient in the film but the whole setup is wasted!. Again merely background fodder whilst we must watch Depp do his now overdone thing and the quite uninteresting love conflict between 'Turner' and 'Swann'. I might add that Knightly has been completely covered in makeup for this last entry, absolutely smothered on her face. She looks like an orange with thick eyebrows! its pretty bad and pretty obvious if you ask me, looks unintentionally amusing. Yet the sequences showing Sparrow's descent into madness whilst in Davy Jones locker I quite liked even though many didn't. I actually thought those scenes were quite original and well thought out giving us something fresh which is quite hard really, especially with the content you're trying to visualise here. The little moments of quirky insanity with Sparrow felt a bit Raimi-esque if you ask me, reminded me of 'Army of Darkness' and 'Ash' going nuts whilst splitting in two. A bit of a stump in the films fluidity sure but it showed some ingenuity, giving some more uniqueness in-between the other bland action bits. Of course this being a modern day sequel the films gotta be BIG, REAL BIG!, you want overblown CGI enhanced action set pieces then voila!. I can't deny it all looks terrific and perfectly piratey but blimey gov! how overboard must they go...no pun intended. The perfect example? how about Turner and Swann in a blazing cutlass battle with hordes of bad guys in the midst of a booming sea storm. During this pitch battle to the death they shout out to Barbossa to marry them...he too is in the midst of a fight to the death. So that he does, we have n utterly ludicrous action sequence with all three exterminating every bad guy with ease whilst they get married. Now I realise this film is purely for fun and all ages, to a degree, but come on, did we have to go there? its sequences like this that totally remove you from the film. Sure you gotta have some suspension of disbelief and that's why its OK to have some slightly fantastical elements but at least give us some small note of emotion, a small drop of actual realistic danger for the characters. No point loading up a brand new video game only to slap on the invincibility cheat and play through. It takes us awhile but when we do eventually get to the pirate convention in Shipwreck Cove the film does perk up a bit momentarily. The introduction of the pirate city council as it were...was a nice touch, some great looking characters there. I liked how they show us pirates from various different countries, different backgrounds and cultures, they are all well crafted if a little bit cliched too just for fun. But all this leads me to another problem, why couldn't we see more of these guys and less of the rest? the finale sea battle builds up as if we will see every pirate and his crew fight...what happened there?!. We see Sparrow's Pearl go up against the Dutchman but what about the masses of other ships? all the other pirate ships? I thought they wanted to fight, instead they all watch?. I think Verbinski finally realised it was all getting out of hand and too big, I'll just conveniently let the other vessels disappear for the last bit. In all honesty I had to do some internet/wiki research after watching this film to actually understand what happened here and there, get to grips with the plot. The whole 'Calypso' thing had me floundered for some time I can't deny, had to pinpoint exactly what the hell was going on with that. The piratey dialog while sounding cool, didn't help with trying to follow various sub plots. There are lots of nice fun little touches throughout the film which remind you what the film was previously...before it became too big. We all know the film is just too flippin busy, too much going on, I think they could of left a lot out or at least leave some characters out, have them tied up and done in the second film or early on. The whole franchise is terribly bloated when it didn't have to be. Its still a solid set of films with a good story, but the first film is the only one which is looked upon favourably, shame really as these last two films could/should so easily have been classics too.
Phil Hubbs
Super Reviewer
Pirates of the Caribbean: At Worlds End Quotes
| | |
| --- | --- |
| Elizabeth Swann: | Our destinies have been entwined, Elizabeth.....but never joined. |
| Elizabeth Swann: | Our destinies have been entwined, Elizabeth but never joined. |
| | |
| --- | --- |
| Elizabeth Swann: | This is madness. |
| Jack Sparrow: | This is politics. |
| | |
| --- | --- |
| Jack Sparrow: | Did nobody come to save me just because the miss me? |
| | |
| --- | --- |
| Captain Barbossa: | The world used to be a bigger place. |
| Jack Sparrow: | World's still the same. There's just less in it. |
Discussion Forum
Discuss Pirates of the Caribbean: At Worlds End on our Movie forum!