Pirates of the Caribbean: On Stranger Tides
(2011)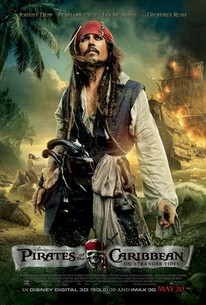 TOMATOMETER
AUDIENCE SCORE
Critic Consensus: It's shorter and leaner than the previous sequel, but this Pirates runs aground on a disjointed plot and a non-stop barrage of noisy action sequences.
Pirates of the Caribbean: On Stranger Tides Photos
Movie Info
Johnny Depp returns to his iconic role of Captain Jack Sparrow in an action-packed adventure. Crossing paths with the enigmatic Angelica (Penélope Cruz), he's not sure if it's love-or if she's a ruthless con artist who's using him to find the fabled Fountain of Youth. When she forces him aboard the "Queen Anne's Revenge," the ship of the legendary pirate Blackbeard (Ian McShane), Jack finds himself on an unexpected adventure in which he doesn't know whom to fear more: Blackbeard or Angelica, with whom he shares a mysterious past. -- (C) Disney
News & Interviews for Pirates of the Caribbean: On Stranger Tides
Critic Reviews for Pirates of the Caribbean: On Stranger Tides
Audience Reviews for Pirates of the Caribbean: On Stranger Tides
After the release of Pirates of the Caribbean: At World's End, a fews years had past before the announcement that the franchise would be receiving a fourth instalment. While I found myself not particularly being thrilled by that, due to the lacklustre film that would precede it, I went in optimistic, being a fan of the first two films. Not bringing anything new to the table in terms of story, choosing to leave out the classic characters played by Orlando Bloom and Keira Knightley, and bombarding the audience with a slew of new and uninteresting characters, really hurt the film as a whole. On its own as a film about people trying to find the fountain of youth, this is a decent flick, but it's a pretty bad Pirates of the Caribbean film. Right off the bat, this film feels very distant from the rest of the franchise. Sure, it picks up the premise left at the end of its predecessor, having Jack Sparrow on the search for the fountain of youth, but as always, others are as well. Instead of an ensemble film, this feels very much like the Jack Sparrow one man show. This definitely grows tiring and the premise itself begins to feel fairly sluggish, even being the shortest film up until this point. Everything about this instalment felt like a slapstick fest, meshed with a very hardcore action flick, including mystical elements and mermaids. Yes, its as jarring as that statement suggests. It became clear that Johnny Depp needed another character to become infatuated with, since the absence of Keira Knightley's Elizabeth Swan was very present. There are far too many new characters here and the fact that they all share a past with Jack, even though that element isn't explored nearly enough, became quite annoying. In a franchise that has become loveable for its characters throughout the first three films, it felt like a betrayal to the franchise to throw half of them under the bus here. Sure, it's not like those characters particularly needed to be on this adventure, but then why make the film in the first place? That being said, there are a few redeeming qualities to be had, like all of the sequels. Composing every score since the second instalment, Hanz Zimmer's musical touch to these films has been nothing short of wonderful. The music throughout these films is so distinct and this film is no exception to that statement. The music throughout this film was enough to keep a smile on my face. On top of that, the post-production and cinematography have always been the biggest accomplishment throughout this franchise, creating a beautiful and vibrant world. If nothing else, Pirates of the Caribbean: On Stranger Tides is wonderful to listen to and incredible to look at, but the film buried inside these elements is not all that impressive. In the end, this film does hold up as a decent adventure flick when you're not thinking about the rest of the franchise. As a Pirates of the Caribbean film however, it's a pretty large flop. The action, sense of adventure, and emotional core to the characters all seems absent here and not enough effort was put into it, which is a lot to say for these films, given they have always been about the characters. Overall, I don't throughly like this film enough to recommend watching it, especially if you aren't too keen on the previous three films. This film has worn down on me quite a bit, because I once thought this was an improvement on its predecessor, but even at almost three hours, the third instalment has a much more interesting premise. Pirates of the Caribbean: On Stranger Tides may not be the worst "film" in the franchise, but it's definitely the worst of its kind, if that makes any sense.
½
A movie that has no reason to exist but to make money, especially if you consider the unnecessary 3D. Everything is so silly and predictable, the characters are mostly annoying, and you know something is very wrong when even the action scenes feel repetitious and underwhelming.
Carlos Magalhães
Super Reviewer
½
Actually got a kick out of this 4th installment of the series, better than I cared for the 3rd, and Penelope Cruz is a big reason why. Well, and mermaids. Ships shooting fire? Over-the-top. But the rest? S'good pirate movie fun. Who woulda thought that this series would become Depp's big contribution to film? Did even Depp think it? He's great. G. Rush? Great. The whole magilla ... great. I had given up on the thing, but they pulled me back in.
Kevin M. Williams
Super Reviewer
Pirates of the Caribbean: On Stranger Tides Quotes
| | |
| --- | --- |
| Philip: | We are in a hurry yes? |
| | |
| --- | --- |
| Philip: | We are in a hurry yes? |
| Blackbeard: | Don't fall behind. |
| | |
| --- | --- |
| Captain Jack Sparrow: | Did everyone see that? Because I will not be doing it again! |
| | |
| --- | --- |
| Angelica: | What were you doing in a Spanish convent anyway? |
| Captain Jack Sparrow: | Mistook it for a brothel. An honest mistake. |
Discussion Forum
Discuss Pirates of the Caribbean: On Stranger Tides on our Movie forum!