Pit Pony
(1999)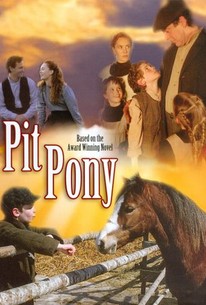 AUDIENCE SCORE
Critic Consensus: No consensus yet.
Movie Info
Gabriel Hogan, Richard Donat, and Ben Rose-Davis star in this drama about a young boy growing up in a coal mining community in Nova Scotia near the dawn of the 20th century. The boy learns many valuable lessons when he makes a new friend -- a wild horse captured and trained to work in the mines. The supporting cast includes Denny Doherty, best remembered as a member of the singing group The Mamas and the Papas.
Rating:
NR
Genre:
,
Directed By:
Written By:
In Theaters:
On DVD:
Runtime:
Studio:
Cochran Entertainment
Critic Reviews for Pit Pony
There are no critic reviews yet for Pit Pony. Keep checking Rotten Tomatoes for updates!
Audience Reviews for Pit Pony
Pit Pony (Eric Till, 1997) I've been trying to figure out how to review Pit Pony, an unassuming little made-for-TV movie that was popular enough to spawn a short-lived TV series. These days, when it is remembered at all (and there is precious little of that), it's because the movie was the first screen appearance of a spunky young actress then credited as Ellen Philpotts-Page. (She has since dropped the "Philpotts" and gone on to international superstardom.) But even given that, the movie seems to have faded into a kind of obscurity reserved for YA-themed historical-fiction made-for-TV movies. This is criminal, as Pit Pony is a simple tale, brilliantly told, with a top-notch cast and director. The plot revolves around daily life on a hardscrabble island off the coast of Nova Scotia called Glace Bay at the turn of the century. Specifically, while the main plot points involve young Willie MacLean (Ben Rose-Davis, who never acted again) and the titular pony, who develop a strong bond over the course of the picture, the slice-of-life film is impossible to keep with one person, and so we get to know the facts and foibles of the entire MacLean family-Rory (Haven's Richard Donat) and Nellie (Lives of the Saints' Jennie Richmond), dad and mum; irrepressible, happy-go-lucky oldest son John (Hope Springs' Andrew Keilty in his first screen appearance); and sisters Maggie (Page) and Sara (Three Days' Anna Wedolock). The MacLean family have been miners for as long as MacLeans have lived on Glace Bay; that is their lot in life, or so they have always believed. But a visionary elementary school teacher goes to work on convincing Willie, who at ten is already working the mines as a trapper (one who transports mined coal to the surface; trappers were often children, and thus capable of getting through smaller tunnels adult miners were incapable of traversing), that he's got the brains to be able to leave the dangerous mining life behind and do something with his life that will likely increase his maximum age. But Willie's almost preternatural bond with Gem, one of the mine's "pit ponies", keeps him underground while he still pursues his education. Of course, mining being the profession it is, it is only a matter of time until the MacLean family is hit with a personal tragedy or two that makes Willie re-evaluate his position... Despite this being a slice-of-life movie, Till (perhaps best remembered on the YA front for directing the classic Fraggle Rock) never lets the subplots overwhelm the main story. "Keep it simple" seems to have been the overarching theme on the set here, and it worked; the action is straightforward, the emotion grows naturally from it, and because of that this is as genuine a movie as you're likely to run across. I cannot recommend this highly enough; if you missed it the first time around, see it at your earliest convenience. ****
Robert Beveridge
I enjoyed this series very much! The affection between the sibblings through the trials they endure is touching! And of course the story of Novia Scotia miners. But my favorite episdode has to be "To have and To hold." If you like fast passed movies, this probably isn't your type at all. But if you like mild, slightly slow, character building stories, about real life situations this is excellent set of episodes! (it is also very clean) --*****--
LaelAnn Hager
Nice made for tv movie, with a strong sense of place (Nova Scotia coal mines) and time (early 1900s). The story is fast-paced and does not pull its punches except, perhaps, for the very end. The acting is excellent and the message, of the need for families and communities to help each other through difficult times, is worthy. I especially liked the use of ethnic (Celtic) music in the soundtrack.
Cynthia S.
Super Reviewer
Pit Pony Quotes
There are no approved quotes yet for this movie.
Discussion Forum
Discuss Pit Pony on our Movie forum!