Placebo Effect
(1998)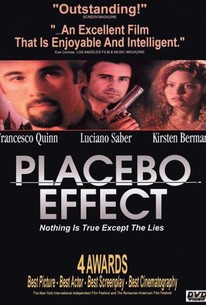 AUDIENCE SCORE
Critic Consensus: No consensus yet.
Movie Info
In this action thriller, Aleksander Ivanov (Luciano Saber) is an ordinary cab driver in Bosnia who is thrown into extraordinary circumstances when he is unwittingly drawn into a plot to murder the Vice President of the United States. By being in the wrong place at the wrong time, Ivanov is on hand when the assassin fails to show up and by picking up a fare he's dragged into this murderous scheme. While the assassination doesn't come off, Ivanov needs to clear his conscience and find out who was behind this plot and why. Leading man Luciano Saber also wrote the screenplay and produced the film.
Rating:
R (adult situations)
Genre:
, ,
Directed By:
Written By:
In Theaters:
On DVD:
Runtime:
Studio:
Cast
Audience Reviews for Placebo Effect
½
This is not a good film, but I can appreciate it for what it is. [u]The Placebo Effect [/u]is a shitty B knockoff of [u]The Usual Suspects[/u] (Bryan Singer, 1995). It stars the writer, Luciano Saber, as a cab driver, it seems, who stumbles upon a plot to kill the Vice President of the United States. He tells the story after having escaped, of how the conspirators awaited the arrival of "The Sphinx," a terrorist whose savagery has earned him this title of "half man, half lion." Nobody has ever seen the Sphinx, and are not sure he even exists, but their paranoia that one of them is the Sphinx causes them to turn on one another, a pot stirred by Saber's character. The film takes place largely in one room, with a couple others just for realism, and basically works like a play. And that in and of itself is not a bad thing. Think of this movie this way: you only have a small, finite amount of money - I don't know if these filmmakers even had a million dollars - and you have to come up with a movie that's shot on film (expensive). Could you do much better than this? Possibly, and indeed, I myself thought that with this budget I could have come up with a better film, but I don't know that for certain. [u]The Placebo Effect[/u] does the best it could, I think. The acting is okay (I've seen much worse in low budget), the direction does what it can with lighting (sometimes in obvious ways - there's one shot that comes to mind where the light is clearly visible), the music does what it can to make it cinematic - if anything, this movie is a decent lesson in the techniques of film and what it takes to make one, bare bones. While the story is derivative, at least there is a story that holds together, and it's a somewhat ambitious one at that. It is dialogue heavy, but again, with a limited budget, there's not much you can do with action. And the filmmakers do attempt to move their characters as much as they can, again, within the given constraints. Honestly, this would make a fun game of, "you have X dollars, and have to make a feature length film. Hop to it." And it's shot on film (or at least a digital camera that looks like film), which is pretty impressive. Again, as low budget movies go, it's somewhat inspiring, because given a better story, this could have worked. It doesn't, really, of course, because then it would be a better film, but I give it a lot of points for effort. Honestly, if you're looking to see the possibilities of low budget filmmaking, this is a good place to start. [u]El Mariachi [/u](Robert Rodriguez, 1992) is somewhat of an ideal, pie in the sky kind of low budget film, and pretty much speaks to the talent of Robert Rodriguez, a talent that only a handful will have. The rest of us are going to be more like Alejandro Seri, and with the right script, there's something to be said for that.
Aslum Khan
Placebo Effect Quotes
There are no approved quotes yet for this movie.