Plaguers
(2008)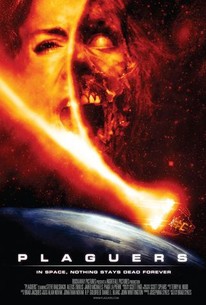 AUDIENCE SCORE
Critic Consensus: No consensus yet.
Movie Info
The crew of a spaceship fight for their lives after an alien energy source begins turning everyone aboard into rampaging mutants in this sci-fi shocker starring Steve Railsback. The year is 2241. Captain Holloway is the commander of the Pandora. She and her crew of six are transporting a form of alien fuel known as "Thanatos" to Earth when they receive a distress call from The Diana, a spacecraft that's become stranded amongst the stars. According to the distress call, space pirates have attacked the Diana, and the only remaining survivors are four nurses. But upon docking with the ship, Captain Holloway discovers the truth; the women who claimed to be nurses are in fact the pirates, and now they're about to take over the Pandora as well. Never one to go down without a fight, Captain Holloway instructs her crew to strike back with everything they've got. In the heat of battle, the container housing the "Thanatos" is ruptured, and one of the pirates is covered in the fuel. She's been infected, and now anyone she attacks will be infected, too. As the Pandora makes its way to Earth, Captain Holloway and her crew battle a horde of hungry mutants in a desperate effort to wipe out the "Plaguers" before they can wipe out all of humanity.
Rating:
R
Genre:
, ,
Directed By:
Written By:
In Theaters:
On DVD:
Runtime:
Studio:
Rockaway Pictures
Critic Reviews for Plaguers
There are no critic reviews yet for Plaguers. Keep checking Rotten Tomatoes for updates!
Audience Reviews for Plaguers
½
Really really awful. Zombie like alien creatures in space. This movie really had nothing going for it. The acting was bad. The story was bad. The creatures looked ok. It just sucked.
John Trifiletti
This one almost rises to the level of "so bad, it's good," but doesn't quite make it there. Borrowing liberally from the Alien franchise as well as zombie cinema, and perhaps just a little bit from John Carpenter's Prince of Darkness, Plaguers delivers contagious zombies on a starship created by an evil orb of mysterious green energy... or liquid... it's not too clear. There's even a "secret" android (you'll figure out who it is the first time the character appears), makeshift weapons, and even the climax of the film is lifted almost directly from the first Alien movie (no cat, though). The acting is humorously bad; you will laugh at some of the performances, especially those of some of the sexy space pirates posing as nurses. The astro-zombies are occasionally effective, but mostly come off pretty silly, which would have worked better if this flick didn't appear to be taking itself so seriously. Unless you have a fetish for zombies-in-space flicks done in a style that brings to mind someone ripping off a Roger Corman knock-off of a popular movie, you're not missing anything here.
Brian Seitzman
When I first started watching this movie the acting was so bad I did not think I would finish watching this movie. Either the actors improved or I got accustomed to the bad acting. I would say there is 3 parts to this movie. 1st part is the main spaceship and it's crew. The 2nd part is a stranded ship and their crew. The third part is a alien artifact that is recovered by the first crew. The greater part of the movie is centered around the artifact turning 1 person into a zombie like creature, who then attempts to turn others into a zombie like creature by infecting them with this green like substance. The two crews who have a conflict between them must work together to survive, and what we the audience get is a movie that is your typical zombie movie except on a spaceship. The acting was poor but improved, the CGI was horrid, at one point when the spaceship stopped it let out what looked like steam into space, you could tell the blow torch's was CGI and not real fire. The explosions was obvious CGI. The makeup was fine, but a few zombies looked like something out of a 1950 horror movies. When the zombies were chasing crew members it reminded me when you are playing with little kids and chasing the kids around the backyard, you swing your arms wildly saying I am going to get you, but you don't get them and the little kids laugh and laugh On the plus side this movie did not bore me, it just had very little going for it, and I would say the reason for that was the movie was obviously on a low budget, but I will give the director credit because he did a good job with the budget he was given.
james osswald
Plaguers Quotes
There are no approved quotes yet for this movie.
Discussion Forum
Discuss Plaguers on our Movie forum!