Flight of the Living Dead: Outbreak on a Plane (Plane Dead)
(2007)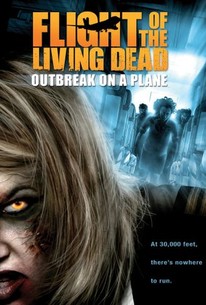 Flight of the Living Dead: Outbreak on a Plane (Plane Dead) Videos
Flight of the Living Dead: Outbreak on a Plane (Plane Dead) Photos
Movie Info
What was to be a simple flight from L.A. to Paris turns deadly when a genetically engineered zombie virus breaks out within the cabin of a fateful 747 jumbo jet in Flight of the Living Dead. Unbeknownst to the passengers and crew, a CIA scientist has stowed away a package on the flight that will endanger the lives of everyone onboard. As the plane makes its way through some heavy storm clouds, the package is jostled and a secret government zombie experiment is unleashed on the plane, infecting everything in its wake. Soon, every living being on the jet is fighting for their lives as the ravenous, gut-munching monsters give them little places to hide aboard this dreaded flight.
Rating:
NR
Genre:
Directed By:
Written By:
In Theaters:
On DVD:
Runtime:
Studio:
Videoville Showtime
News & Interviews for Flight of the Living Dead: Outbreak on a Plane (Plane Dead)
Critic Reviews for Flight of the Living Dead: Outbreak on a Plane (Plane Dead)
Audience Reviews for Flight of the Living Dead: Outbreak on a Plane (Plane Dead)
Like all the rest of course, looks OK with some good effects but its basically 'Snakes On A Plane' minus snakes and replace with zombies, abit too close really, almost a total rip off haha. Can't really recommend UNLESS your a HUGE zombie nut and can't get enough of them, other wise chances are you've seen it all before.
Phil Hubbs
Super Reviewer
½
Took a while to get going but once it does around the 40 minute mark it's non-stop fun all the way! Makes good use of its low budget providing decent make-up effects and gore, nothing too disgusting though - not much flesh stripping or intestine munching going on here. Entertaining silly enjoyment.
Nevermind that absolutely nothing in the movie is correct in the real world of physics or plane design, and you'll have fun. I do think you have to be predisposed to z-horror and suspend more than disbelief - common sense as well - to enjoy this flick. That's true for most of the z-movie genre, but especially applicable here. You can also expect not to give a damn about any of the characters. My biggest problem with the movie - and this is one that z-films really shouldn't attempt - is that it breaks its own rules about the zombies. First they can run superfast, then they are pausing and retreating all the time. They tend to attack (in the neck because they haven't the budget to do that many bites) and they take their food back to a safe place, which seems all too convenient as when the zombie breakout does begin, it allows for huge lapses between attacks, or at least larger than would be if these were truly bloodthirsty zombies. Also it seems that a concord flight would not be this empty and I chalk that up to a budget that can't handle all those extras and added extra zombie violence. All the characters suck except Frank who's got some decent one-liners. It's also very annoying how the characters can instantly produce extra weapons (note the extra handgun) after a sequence where one character just risked himself and the whole plane to retrieve a gun from the infested cargo hold. Still, this is fun for zombie fans. The makeup is cool and I like the contact lenses. The job done on the Bennett zombie is the most exceptional. Some of the CG is damn annoying, but when they haven't the budget for more than five squibs, I expect that. The bathroom scene actually jumpscared the crap out of me. Zombies flying out of the plane is really damn cool too. Still, I say avoid this unless you love ultimate cheese and zombie flicks as it won't be even worth the review if you don't dig this subgenre.
_kelly .King
Super Reviewer
Flight of the Living Dead: Outbreak on a Plane (Plane Dead) Quotes
There are no approved quotes yet for this movie.