Plaster Caster
(2001)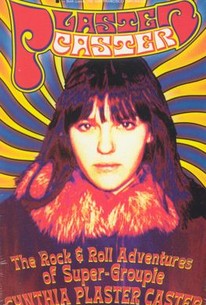 AUDIENCE SCORE
Critic Consensus: No consensus yet.
Movie Info
In the late '60s through mid-'70s, the world of pop music spawned the new phenomenon of "groupies," women who loved music and were inclined to physically express their appreciation for their favorite rock stars. While some groupies became fabled enough to attain a degree of public notoriety, few were more famous -- or infamous -- than Chicago's "the Plaster Casters," a handful of Windy City women who were bold enough to approach some of the best-known rock stars of their day and make plaster of Paris molds of their manhood in a state of excitement. Plaster Caster is a documentary that looks back at the long, strange trip of Cynthia, founder and leader of the Plaster Casters. Cynthia (who prefers not to reveal her last name, for fear her mother might still find out about her notoriety after all these years) discusses her hobby, shows off her collection of artifacts (including her fabled cast of Jimi Hendrix), discusses her legal battle to recover some of her statuettes from former associates, and reveals that she's still living up to her name, now following the punk and indie rock scenes and preserving for posterity anatomies of members of the Mekons, the Demolition Doll Rods, and 5ive Style -- the latter of whom even gets cast on camera. Veteran rockers Eric Burdon and Wayne Kramer also weigh in with their memories of the Plaster Casters and the late-'60s rock scene. Plaster Caster was screened at the 2001 San Francisco Docfest, a festival celebrating nonfiction films.
Audience Reviews for Plaster Caster
Remember back in wistful days of youth making plaster hand molds? Maybe signing your name or adding an inspirational quote... Now imagine instead of eight-year olds in Geranimals with tiny hands, the casting subjects are oversexed, egomaniacal rockstars with their genitals. Plaster Caster successfully fleshes out the history and challenges Cynthia has faced from the proposition, the preparation and capture. Even after watching, you may still be wondering why she or they do it, and for many it seems the main reason is to be like Hendrix. There are a few unrestrained moments, but there was some let down that there were not more behind the scenes raucous rockstars anecdotes. Despite the nature of the beast, it seems Cynthina was holding out. For anyone invited to visit Cynthia's house for dinner, you may want to bring your own cups and food containers depending on you personal reverence for rockstars.
P Davidson
Plaster Caster Quotes
There are no approved quotes yet for this movie.
Discussion Forum
Discuss Plaster Caster on our Movie forum!