Play Dirty
(1969)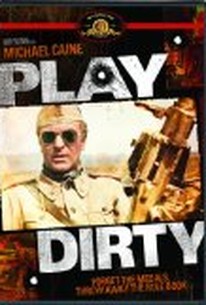 AUDIENCE SCORE
Critic Consensus: No consensus yet.
Movie Info
Captain Douglas (Michael Caine) is the British army leader who is ordered to lead a band of mercenaries into the desert. Their mission is to knock out an enemy fuel reserve. The inexperienced captain contends with a veteran Colonel (Nigel Green) who is enamored with using old history books to fight modern battles. Cyril Leech (Nigel Davenport) is the experienced mercenary hired by Brigadier Blore (Harry Andrews) to help guide Douglas and his group through the dangerous plot. Leech and Douglas have differences of opinion on how to successfully carry out the mission. As if the trouble with the Nazi wasn't enough, Brigadier Blore sells them out by tipping off the enemy through a spy. Douglas and the few men he has left must survive the sweltering heat and the enemy gunfire in order to insure their survival. ~ Dan Pavlides, Rovi
Rating:
PG
Genre:
, ,
Directed By:
In Theaters:
On DVD:
Runtime:
Critic Reviews for Play Dirty
All Critics (2) | Fresh (2) | Rotten (0)
A fine, memorable performance by Nigel Davenport, as a man who's as calculating as he is black-hearted. He works for the Brits, but one senses that if the Germans offered him more money, switching sides would pose no dilemma.
The pic more than holds its own with The Dirty Dozen , in fact I enjoyed it more and found it more subversive.

Ozus' World Movie Reviews
Audience Reviews for Play Dirty
I can't understand why this movie is listed on this website as being released in 1969. I'll just have to go with what I know to be true. As a '70's movie, Play Dirty reflects all of the bitter values of post Vietnam America. Michael Caine is a member of the British SAS, who you might have learned about, or rather not learned about even if you watched it, from the TV show The Desert Rats. I don't know that much more about this British WWII unit except, from the movie version, that their efforts, in contrast to the popular TV show about the same subject,and to which this movie is an obvious response, are very unsuccessful. After many setbacks, the leader of Caine's unit persuades Caine and their mutual commander to undertake a mission which will be of either potentially suicidal failure, for those undertaking it, or war wining success. I don't like war movies in general but as a fan of the cynical '70's movies I found Play Dirty to be immensely entertaining. The title says it all about the tactics Caine and his sidekick, who is actually his commanding officer, display. None on Caine's team exhibit the all-American gunghoness displayed by say, John Wayne, and it's not just that they are British. They follow their mission to the end and not without inner conflict. Outside of their own emotions is the fact that they have set something in motion that they can't turn back from, it's not No Retreat No Surrender in the Van damme way, they simply have no choice in the matter. The anti-climatic ending is Hollywood's tribute to the state of affairs in the United States at the time. WWII is here just Vietnam again. During the Korean war, Hollywood looked at WWII differently.
Naomi Gonzalostein
tougher, grittier and just better than 'the dirty dozen.' probably one of the best final films in any director's career
Stella Dallas
Super Reviewer
A politely edgy offering from director Andre De Toth, featuring the indomitable Mr. Michael Caine.
Randy Tippy
Super Reviewer