The Players Club
(1998)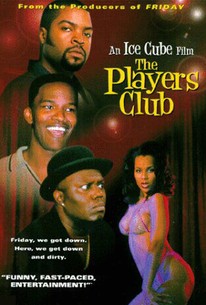 The Players Club Videos
The Players Club Photos
Movie Info
African-American single mother Diana aims for a career as a broadcast journalist. To finance her education Diana works as a stripper run by hustler Dollar Bill. When Diana's young cousin begins stripping at the club, people attempt to lead her into prostitution. Meanwhile Diana begins dating the club deejay.
Cast
Critic Reviews for The Players Club
All Critics (16) | Top Critics (6) | Fresh (5) | Rotten (11)

Entertainment Weekly
Top Critic
San Francisco Chronicle
Top Critic
New York Times
Top Critic
Audience Reviews for The Players Club
½
Funny but serious drama about a stripper and the life she hopes to get out of. Bernie Mac is his usual scene stealing self,
Barry Lyndon
I walked in a young lady and walked out a woman. Diamond is a struggling single mother that has to pay her way through college because she was adamant about going to a black college and her parents did not support her decisions. She also has a child and the dad is not in the picture. One day she is presented with an opportunity to work at a strip club to earn some extra income and she reluctantly takes the job. She quickly discovers life as a stripper has pitfalls around every corner. "He was the one that gave me the name Diamond; he said because I have a pretty face, but he never looked at my face." Ice Cube delivers The Player's Club in the only project he has directed. The storyline for this is just okay with some interesting dynamics and character situations they find themselves in. The plot suffers a little with trying to be serious with the strip club story with a mix of awkward comedic performances in a serious plot. The performances are a bit uneven but not bad and the cast includes LisaRaye McCoy, Ice Cube, Jaime Foxx, Bernie Mac, Michael Clarke Duncan, Charlie Murphy, Monica Calhoun, Terrence Howard, Big Boy, Master P, and John Amos. "Sometimes family brings you down faster than strangers." I found this on HBOGO and decided to watch it for the first time since college. It was fun because I had forgot a lot of the nuances of the picture. The overall outcome is fairly well done and I generally enjoy this movie. There are a ton of "could have been better" scenes, but I will say this movie is worth a lazy Sunday viewing. "Fuck all of you with a sick dick." Grade: C+
Kevin Robbins
½
had some funny moments, but bot great by any means
Discussion Forum
Discuss The Players Club on our Movie forum!
News & Features