Playing for Time
(1980)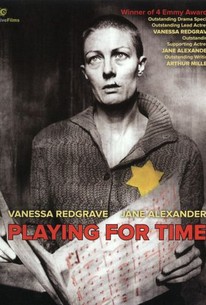 AUDIENCE SCORE
Critic Consensus: No consensus yet.
Movie Info
In this made-for-TV movie, Jewish cabaret singer Fania Fenelon is shipped to the Auschwitz death camp in 1944. Fenelon is certain that she is doomed, but SS camp matron Shirley Knight orders Fenelon and several other female inmates with musical ability to form themselves into a prisoner's orchestra.
Audience Reviews for Playing for Time
Intense, visceral performances by all but of course the story is so awful that it is a film that can only be appreciated not enjoyed.
½
"Playing for Time" is a tough watch but a necessary one. This true story of Holocaust survival is unlike any other Auschwitz story out there. It is hard to believe that this is a made-for-tv movie because the script and acting are so incredible. There are a few moments that are below cinema quality (usually the presentation of stock footage that could have been edited more consistently with the rest of the film), but "Playing for Time" is definitely worthy of the silver screen. Vanessa Redgrave gives an awe-inspiring performance as the singer/pianist Fania Fenelon, a half-Jewish supporter of the French Resistance who escaped death at the Concentration Camp. The historical accuracy of the book and film are accredited to Fenalon, who lived to tell her tale and helped to write the screenplay. Upon being recognized as a musician, she was placed in the Women's Orchestra of Auschwitz (conducted by Alma Rose, the niece of Gustav Mahler). These women would perform for the Nazi officers at Auschwitz (including Josef Mengele) and approached each performance with the realization that if they were no longer seen as valuable, they could face the gas chamber. Although Fenelon opposed the casting of Redgrave due to her height and personality, Redgrave's interpretation of the character captures the thematic trauma of this story. Barely unable to speak when she has to prove herself worthy to play in the orchestra, she locks in to a sense of desperation that most of us cannot imagine. The disdain of many of the non-orchestra members creates an interesting perspective, viewing these women as working for the Nazis when they are merely doing what is necessary to survive. Nothing about this film is easy to watch, from the shaving of the women's heads to the smoke from the chimneys as bodies are burned. The Holocaust is one of the darkest chapters in the history of the human race but this film is a tribute in memory of those who unjustly lost their lives and others who were placed in a survival situation and found a way to persevere.
Jonny Priano
Playing for Time Quotes
There are no approved quotes yet for this movie.
Discussion Forum
Discuss Playing for Time on our Movie forum!