Please Don't Eat the Daisies
(1960)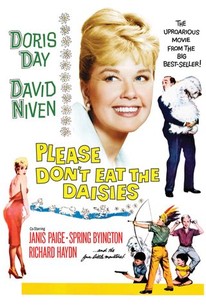 Please Don't Eat the Daisies Videos
Please Don't Eat the Daisies Photos
Movie Info
In this entertaining comedy by Charles Walters, everyone seems to get in on the act, even the dog and especially the four overactive kids in a wildly challenging family. David Niven co-stars with Doris Day as Lawrence and Kate Mackay, distinctive parents struggling with home, life, and family. Lawrence opts for leaving his job teaching at Columbia University in New York for a post as a drama critic for a Gotham newspaper, bringing new problems to the pile the family already owns. First, they are forced to move out -- far out -- to the countryside with their brood and canine. And next, while Kate handles home, hearth, and hellions, Lawrence proceeds to alienate one of his best friends with a shattering review. That unhappy beginning to his new career also brings in one of the actresses damaged by his cutting remarks (Janis Paige), who wreaks her own form of havoc on poor Lawrence. In the meantime, Day gets to sing some songs which add to the light-hearted attitude of it all. ~ Eleanor Mannikka, Rovi
Rating:
PG
Genre:
, , ,
Directed By:
Written By:
In Theaters:
On DVD:
Runtime:
Studio:
MGM
Critic Reviews for Please Don't Eat the Daisies
Audience Reviews for Please Don't Eat the Daisies
½
Please Don't eat the Daisies is a fun movie. It is extremely funny. Although, it has no distinctive plot. For this, I remove half a star. The first half of the movie, in the city, and the second half, in the country, feel like two different movies. The actors are talented, especially David Niven. The screenwriters get the job done quite well. Because of this, I consider it to be a success. (B-)
Caesar Smith
½
★★★ (out of four) Fun romantic comedy with Doris Day and David Niven in top form. Some of Day's movies, especially in teh 1960's can be hit or miss, but this one hits the right notes and produces some sharp and snide dialogue. It's one of her better films. Larry and Kate Mackay are a New York City husband and wife with four sons who are little monsters. Larry is a Broadway critic which earns him many enemies. Life in the big city gets too chaotic so they decide to buy a big rundown mansion in the country. Their relationship gets strained when Larry is unable to embrace the country life and longs for the city lights of Manhattan. Kate on the other hand takes hold of the rural life. Niven and Day have great chemistry together. The plot does wear a little thin after awhile, but the leads hold it together. [IMG]http://img.photobucket.com/albums/v48/Zeppo1/PleaseDontEattheDaisies_zps526676a3.jpg[/IMG]
Steve Smith
Suddenly Less Sexist in the Last Two Minutes I'm starting to think about giving up on Doris Day movies. I mean, there's the classic comment about having known her "before she was a virgin," and despite the fact that she's playing a housewife with four kids here, the whole point is how wholesome she is. Unfortunately, in 1960, "wholesome" can pretty well read to be synonymous with "repressed." Despite how meek and mild her husband is shown to be at first, there is still a silly subplot about how she's getting her own way on important family decisions and shouldn't. At least not in everyone's opinion. And while I suppose it's true that there should be agreement on those decisions, it's also flatly stated that they'd been discussing them and agreeing about them for a decade, and it's only as his circumstances change that things might be different. Yes, this gets thrown out in the last couple of minutes, but you still have to get through the rest of the movie to get there. Here, she is Kate Mackay, wife of Laurence (David Niven). Laurence has been a professor of theatre for years and years, and as the movie begins, he gets his first chance to be one of the seven dramatic critics who shape all of theatre in New York. Unfortunately, it is at the expense of Alfred North (Richard Haydn), an old family friend whose show is the first one Laurence reviews--and it's a stinker. Laurence writes fondly of Alfred's other productions, and he reserves the greatest of his distaste for the show's lead, Deborah Vaughn (Janis Paige). She decides to use it as free publicity and ramps it up to a full-fledged feud. His rebuttal, wry and snarky, catapults him up to being one of the most read columnists in New York. However, Kate isn't as interested in his fame, and there isn't much place for her in his new life. Instead, she would rather be at home with their four evil little sons. The reason I have been gone for as long as I have, as it happens, is that I was in the hospital last weekend, giving birth to my own son. The idea that he would be as awful as the children in this movie gave me pause for most of its runtime. However, I'm perfectly comfortable putting the blame on the parents. I suppose it's mildly amusing that Adam (Baby Gellert) calls not only every man he sees but the dog, his mother, and random items of household furniture "daddy," but it doesn't seem to me as though his actual daddy is much a part of his life even when they're all crammed into a two-bedroom apartment in Manhattan, much less when Daddy is commuting seventy-five miles or so each way. Certainly discipline is lacking in that household--these are children who are perfectly content in putting a baby into a window so he'll take their blame. One is a ridiculous rules lawyer, who will do anything he isn't specifically forbidden from doing. The other two seem to be egging each other on pretty much continuously. It's true that I spent pretty much the entire movie contemplating turning it off, and the reason I left it on was my own new parenthood; it seemed an appropriate place to start back up again. However, because I stuck it out, I did see probably one of the most subversive moments in any Doris Day film I've seen thus far. Her character's mother, Suzie Robinson (Spring Byington), tells Laurence that his mistake was letting Kate think she was smart. She then let loose one of the most awful, sexist tirades I've heard in any Doris Day movie so far; she ranted about how, in recent months, Laurence was finally stepping up as head of his household. Bear in mind, everyone who cares about him has spent pretty much the entire movie lamenting his change of personality, and here, his mother-in-law basically tells him that he's finally become a man and is no longer under his wife's thumb. Now, of course, no one is ever under Doris Day's thumb ever, but even insisting that they buy a house in the country instead of being homeless is too much authority. Okay, it doesn't sound subversive, but think about this. In 1960, it was considered appropriate for the husband to control the household. What Kate's mother was saying was not unlike what a lot of other people believed at the time. Now, as the movie goes on, we get to like Laurence less and less, and his irritation about how his wife pretty much is no longer at his beck and call is something I've seen in other movies--including other Doris Day movies--in all seriousness. However, here, being told that it's what he's doing is what sends Laurence over the edge, what finally makes him realize how genuinely awful he's being to everyone, but especially his wife. Success isn't as important as his family. While having an apartment on Park Avenue would be nice for his career, he's actually willing to do what's most important for his family. Even if his sons are little hellions who should all be sent to military school. Even the baby.
Edith Nelson
Please Don't Eat the Daisies Quotes
There are no approved quotes yet for this movie.
Discussion Forum
Discuss Please Don't Eat the Daisies on our Movie forum!