Please Murder Me
(1957)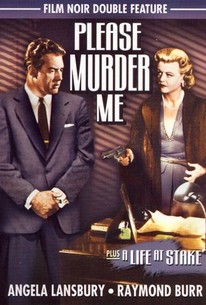 AUDIENCE SCORE
Critic Consensus: No consensus yet.
Movie Info
In this thriller, an attorney is appalled to realize that the lovely client who he got acquitted is indeed guilty of killing her husband. He feels guilty for being so gullible and arranges for the woman to murder him so she will get caught. The woman, now interested in a young artist, is more than happy to oblige him.
Rating:
PG
Genre:
,
Directed By:
Written By:
In Theaters:
On DVD:
Runtime:
Studio:
DCA
Audience Reviews for Please Murder Me
Low budget reworking of Double Indemnity works better than it should thanks to the quality of its cast. Burr, Angela Lansbury and John Dehner all give performances better than the ordinary script warrants.
½
Men (or gals?)...When and if you ever fall in love with a client, try not to make it Angela Lansbury. Not only is she not worth it, she shoots to kill every time. Never in a movie has so unappealing a woman star as Lansbury make me shake my head that Raymond Burr want her. It can't be her face, it must be the total package. Old Army buddies get involved with the same dame, Lansbury. After two years of marriage, the other buddy, Raymond Burr, finds himself not only in love with his best friends wife but defending her in court as her lawyer. The entire film is a flashback. The soundtrack, if you want to call it that, is that weird sci-fi stuff we have all heard before. No music usually. See it free at: http://www.youtube.com/watch?v=_KGb3Rn3aMI This one is a legal piece of work. Raymond Burr plays a successful, admired lawyer. He takes on the case of a woman, Angela Lansbury, that he became quite fond of, even though she is married. But married only 2 years. And to make it even more interesting, she has had a romance going way before that in college with an artist. On reflection, this movie is just too incredible to believe. While the acting is great by the two leads, you come away thinking how in the world can this happen? The trial scene that we think can only end up in a guilty verdict instead..... well watch the movie yourself. One reviewer gave the film sarcastic high marks: "Murderous, Tawdry Fun! High Camp Hilarity! I give this one a 10 and dub it a diamond in the rough, worthy of rediscovery by today's gay cynics. After this one gets going it pays off with unintentional laughs again and again. The acting is stilted, to be sure! The plot is preposterous, and Angela Lansbury's performance will have you in stitches (too good to be true - isn't it true she has the mouth of a truck driver in real life?)." Reflections on the Title, Please Murder Me: The only thing I could possibly think relates to the title is that the lawyer, Raymond Burr, arranges for his own death by setting up Angela Lansbury in the final scene of the film. By murdering him, she gets sent to hell as she should of early in the film. He takes a bullet for her to get justice. Notes about the film: 1. The entire film is a flashback. Burr predicts his death on a tape recorder in the opening scene. 2. "A lawyer wins an acquittal for his client, a woman accused of murder. After the verdict, he finds out that she indeed did commit the murder and manipulated him to win her acquittal. Guilt-ridden, and knowing that she can't be tried again for the murder, he devises a plan to bring her to justice."---- Written by frankfob2@yahoo.com 3. THE DEADLIEST PACT EVER MADE! (original print ad - all caps) "The strangest request, (ie Please Murder Me) you have ever heard makes the most startling picture you have ever seen!" (tagline for the film) Director: Peter Godfrey Writers: Al C. Ward (screenplay), Donald Hyde (screenplay) Cast overview: Angela Lansbury ... Myra Leeds Raymond Burr ... Attorney Craig Carlson Dick Foran ... Joe Leeds John Dehner ... Dist. Atty. Ray Willis Lamont Johnson ... Carl Holt Robert Griffin ... Lou Kazarian Denver Pyle ... Lieut. Bradley Alex Sharp ... Sgt. Hill Lee Miller ... The Patrolman Russell Thorson ... The Judge (as Russ Thorson) Runtime: 78 min Sound Mix: Mono Color: Black and White .
monsieur rick
Solid film noir, great cast. Raymond Burr and Angela Lansbury are both terrific. Good courtroom scenes. Suspenseful. Weak supporting cast though.
James Higgins
Discussion Forum
Discuss Please Murder Me on our Movie forum!