Please Remove Your Shoes
(2010)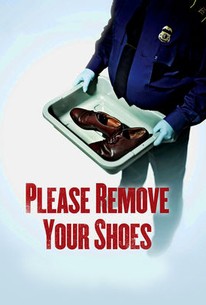 AUDIENCE SCORE
Critic Consensus: No consensus yet.
Please Remove Your Shoes Videos
Please Remove Your Shoes Photos
Movie Info
Troubled by the realization that the ballooning size and influence of the Transportation Security Administration (TSA) has failed to make air travel any safer than it was before 9/11, pilot and aviation publisher Fred Gevalt teams with director Rob DelGaudio to expose the incompetence and corruption within the increasingly powerful federal agency. Formed in late 2001, the TSA is an organization dedicated to ensuring that the skies over the United States remain safe and secure. Yet despite increasingly restrictive rules that make airplane travel a nightmare for the average American, the TSA has failed to become the effective force it was envisioned as thanks to power abuse, secrecy, overt failure to follow the agency charter, and deplorable mismanagement. Candid conversations with federal air marshals, airport security agents, and various others who have worked in and around the TSA reveal why the agency is entirely deserving of its reputation for being completely superfluous.
Rating:
NR
Genre:
,
Directed By:
Written By:
On DVD:
Runtime:
Studio:
Critic Reviews for Please Remove Your Shoes
All Critics (3) | Fresh (2) | Rotten (1) | DVD (1)


A chilling expose' revealing the TSA's approach to protecting the public as little more than an elaborate, ineffective facade.

Audience Reviews for Please Remove Your Shoes
Sober and Thoughtful Analysis Until the Racism There is little I find more frustrating in a documentary than hearing something analyzed at length as a statement of absolute fact that I first heard abut on Snopes . . . as false. Those of you who have read my review of Michael Moore's [i]Fahrenheit 9/11[/i] will remember that I took him to task for his claims about the bin Laden family's post-9/11 flights. Similarly, I must once again link to Snopes here. (Specifically http://www.snopes.com/politics/crime/skyterror.asp.) What's worse, in the five minutes the film spends talking about the alleged incident, the fourteen musicians who flew on Flight 327 are repeatedly referred to as Arabs, and we are supposed to be alarmed by the fact that several of them were wearing clothing with writing in Arabic on it. Surely, if air marshals try to blend in, so, too, would terrorists? Neither Annie Jacobsen nor the makers of this film seem to have considered that. Still, the heart of the film is important to consider. We are discussing the security of air travel in the United States, starting long before September 11 and continuing until just a couple of years ago, when the film was made. The film points out that, when security was handled by the FAA, it was largely geared toward making sure that security didn't take too long and got people onto flights as quickly as possible. This, in the long run, did not work out so well. In the last ten years, Americans have gotten deeply concerned about the safety of their air travel, and despite the fortune spent on the Transportation Security Administration, we can't be sure that we are safer. Failed tests are swept under the rug. Millions are spent on technology that we can't even prove works. The main accusation seems to be that the TSA is so busy focusing on how they did things last time that they aren't thinking about how they'll be done next time. This has long been my argument against the crazed levels of airport security, for what it's worth. No, no one fought the terrorists on three of the four hijacked flights that day twelve years ago, but what was different about the fourth? It was that the passengers were able to find out what was going to happen to them. When I was a kid, a few planes were hijacked, and mostly, they sat around on tarmacs while negotiations happened. If you kept your head down, you were probably safe. The attacks were successful because the passengers weren't expecting what happened. Once they found out that they wouldn't survive no matter what, they fought back. The success of those attacks means that such attacks will never be successful again. Every time we learn a new thing to look for, the odds that such a thing will be used again decrease dramatically. It's silly to keep checking everyone's shoes, because it's unlikely anyone will try a shoe bomb again. After all, it didn't work at all when they tried it. This isn't getting into the civil rights issue, which the film doesn't, either. It's an extremely complicated issue, after all, and no matter how you present it, you're going to make someone angry. It's arguably true that civil rights don't even apply here; you do not have a right to take an airplane instead of a train or a bus or your own car. I'm not making that argument, mind, but it's just one way that the whole issue is too complicated to get into if that isn't the point of your piece. Civil rights definitely aren't the point here. They're never mentioned. The film is much more interested in the fact that the methods the TSA is working toward are ineffective. The money is mishandled. The tests that show how "successful" screenings or equipment are have pretty much always been rigged. The way air marshals are expected to travel makes them obvious targets. You can argue liberty versus increased security all day, but the issue here is that security isn't even increased. I don't agree with all the film's conclusions--for one, it suggests that more local control is one of the solutions. To me, increased local control just means more agencies are involved, and we can't get the ones we have now to talk to one another. (It's why I automatically disregard any conspiracy theory that involves interagency cooperation. That's just not how the system works.) Frankly, figuring out how to get agencies to talk to one another would be a lot more successful. The film mentions a few horror stories along those lines--it seems the US diplomatic service knew enough about the Lockerbie bombing in advance that various members of it didn't fly that weekend, but they didn't tell any other government agency--but does not seem to recognize how much worse the problem would get if you divided airport security among more agencies. I'm not in favour of increased local control at the best of times, but in this case, it seems like a recipe for disaster. Another disaster.
Edith Nelson
Before 9/11, self-serving FAA executives & bureaucrats repeatedly suppressed any alerts or action by rank-and-file regarding a woeful lack of security measures for commercial aircraft. After 9/11, self-serving TSA executives & bureaucrats repeatedly suppressed any alerts or action by rank-and-file regarding a woeful lack of security measures for commercial aircraft. There, I've saved you 90 minutes.
TonyPolito Polito
Please Remove Your Shoes Quotes
There are no approved quotes yet for this movie.