Please Vote for Me
(2007)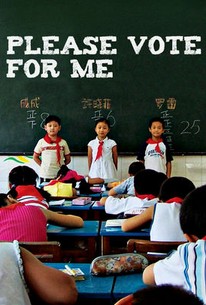 AUDIENCE SCORE
Critic Consensus: No consensus yet.
Movie Info
While China remains the largest Communist state in the world, the nation does have one sanctuary for free and open democracy -- grade schools, where class officers are chosen through elections just as they are in the United States. Filmmaker Weijun Chen offers a witty and telling look at a political campaign in one Chinese elementary school in the documentary Please Vote for Me. Evergreen Primary School is located in the Chinese city of Wuhan, and the third-grade class is being asked to choose between three candidates for the position of Class Monitor, who will help the teacher maintain order in the classroom and keep an eye on his or her fellow students. The children -- two boys and a girl -- who are running for office take this election very seriously, and use all manner of schemes to win votes, from lobbying among their friends to heckling the speeches of the other candidates. In newly prosperous Wuhan, many of the students at Evergreen Primary are only children, and their parents take no small amount of interest in their youngsters' precocious interest in the political system, using their own means to sway votes toward their offspring. Please Vote for Me received its North American premiere at the 2007 SilverDocs Film Festival, a festival for documentary cinema sponsored in part by the American Film Institute. ~ Mark Deming, Rovi
Rating:
NR
Genre:
, ,
Directed By:
In Theaters:
On DVD:
Runtime:
Critic Reviews for Please Vote for Me
All Critics (3) | Fresh (2) | Rotten (1)
To be sure, the student voters in Please Vote for Me are a capricious bunch. It's difficult to tell, though, where clever editing has been employed to create false drama.

The result [in the film] is a campaign that uses name-calling and favor-giving that would make the old Tammany Hall crowd proud.

The teachers have decided which three eight-year-old third-graders will run [and] Director Weijun Chen has captured all the politicking of American democracy in this microcosm...

Audience Reviews for Please Vote for Me
½
This Is What Democracy Looks Like? Bad enough, I think, to get into student government in a country where you're used to the idea of voting. It's preparation for adult life in a place where voting actually happens, where you choose your own leaders. It's worth mentioning that these kids aren't even volunteers. When I ran for student body office in sixth grade (and lost miserably), that was part of life. If I'm doing the math right, that was the same time as my older sister was working for an actual Presidential campaign. (I would go on to be just as disappointed that the candidate for whom she was working lost, probably because I was too young then to have known that he was almost certainly going to.) I had had my first discussion of voting years before that, when I was about the age of these kids, and it was about who was going to run our country, not who was going to run our classroom. The whole thing must be kind of weird to these kids. The teachers at Evergreen Primary School in Wuhan, China, have decided that their third-graders are ready to experiment with democracy. Instead of choosing the class monitor (which seems to be some sort of equivalent to class president), they are going to let the students choose their own. They choose three candidates, and they run an election. The three candidates are Luo Lei, Xu Xiaofei, and Cheng Cheng. (In my head, they are "the one who's done it twice already," "the other boy," and "the girl.") They are each permitted to choose two assistants, and they all get advice from their parents. We follow them as they attempt to convince their classmates that they are best for the job. I'm not sure their parents have ever voted for anyone before, and surely the kids have not. I'm not sure how long the election period lasts from the announcement of candidates to the election, but it's clearly an emotional experience for the children. The fun thing is that they seem to invent almost every form of political corruption there is. I believe it's Xu Xiaofei who is going around promising offices to various people so long as they'll vote for him. He and Luo Lei extract promises from one another to vote for each other, and when Xu Xiaofei admits during a debate that he will probably vote for himself, Luo Lei uses it to paint his opponent as a liar. One of the boys gets friends to disparage Cheng Cheng's performance at the class talent show, and much hay is made over the fact that she cries. The parents serve as speechwriters, whether the kids want them to or not. At the beginning, Xu Xiaofei seems amiable on the subject, willing to run a clean campaign and let people vote for whoever they want to, but as the campaign goes on, he plays just as dirty as Luo Lei. Cheng Cheng and her friends compile lists of everything that's wrong with her opponents. In short, they invent dirty tricks. It kind of bothers me that the teachers chose Luo Lei as class monitor two years in a row and then nominated him as a candidate in the third year. It doesn't seem fair. If I thought he were doing an outstanding job, that would be one thing, but I don't; he's a bully. Oh, I think Xu Xiaofeng's accusations of outright fascism and dictatorship are probably hyperbole taught to him by his parents, but it's still true that about half the class raises their hands when Xu Xiaofeng asks those who have been beaten up by him to raise their hands. Xu Xiaofeng raises his own hand, which is why he's asking the question in the first place. It's obvious that the kids are willing to put up with his bullying, but it seems the teachers are willing to go along with his assertion that he's just being firm because it's what a good class monitor should be. He's able to beat up the other kids, and the consequence is that they make him class monitor again and then put him in the running a third time. Perhaps the most interesting aspect of the film is the view we get of an aspect of China that I hadn't really thought about before. We see into the homes of all three children, and while the Chinese government might not like the designation, these kids are middle class. They also appear to have the kind of parent that is so familiar to Western eyes--the kind of parent who is determined that their kids will achieve as much as possible, whether the kid wants to or not. One of the parents actually arranges a trip on the monorail for the entire class as a bribe to get the other students to vote for his kid. He coaches his son to tell them that the trip is on him. Xu Xiaofeng wears clothing with Mickey Mouse on it. I mean, this story could be translated and dropped into half the schools in the US without losing all that much. I'm sure it would be dismaying to a lot of people in both countries to know that, but I actually would find it pleasing if some of the behaviour weren't so reprehensible.
Edith Nelson
½
An interesting and charming film from China where they introduce democracy in a 3rd grade class in terms of campaigning to become the Class Monitor.  What these kids and their parents get up to to win the election is fairly shocking, but not near as depressing as the final outcome.  Well worth a watch.
Christopher Brown
Super Reviewer
[font=Century Gothic]"Please Vote for Me" is a short documentary about a school election. What makes this one special is that for the first time a class monitor is being chosen from three candidates by the students, not the teachers, at the Evergreen Primary School in Wuhan, China. On the surface, it is like a lot of other school elections with the exception of the talent show. However, it should be mentioned that eight years old is too young to be put under such stress and two of the students ask out. What keeps them in is their parents who all take an active role for better or worse. Meant as a lesson on the subject of democracy(none of the students know what it is but one of the parents remarks that it is the choosing of one's masters), it is one the students learn too well, especially in how the results are swayed.[/font]
Please Vote for Me Quotes
There are no approved quotes yet for this movie.
Discussion Forum
Discuss Please Vote for Me on our Movie forum!