The Plot Against Harry
(1989)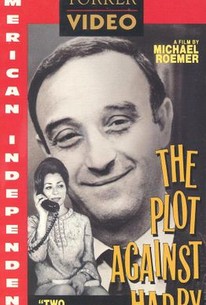 The Plot Against Harry Videos
The Plot Against Harry Photos
Movie Info
A Jewish gangster leaves prison only to find New York life has changed a great deal while he was behind bars. But when tries to go straight, he only succeeds in making matters worse.
Audience Reviews for The Plot Against Harry
The Plot against Harry is hilarious and often poignant. It was shot in 1969 but was held up because of a lack of completion funding. B&w pic is a sociological fossil of manners, mores and life in the 1960s.
Lee Mayo
A slice of life film along the lines of movies like "Shadows", "The Killing of a Chinese Bookie", and "Killer of Sheep". The story is fairly loosely structured, though with a more clear beginning, middle, and end then the aforementioned movies. It really hinges on the performance of Martin Priest as Harry, a Sad Sack of a second-tier Jewish mobster, who slowly and mostly accidentally ingratiates himself back into the life of his estranged family. It's really Priest's performance that makes this so enjoyable. His hang-dog "Why me?" expression makes you root for him even though he is a bit of a heel. It's also another great example of the great independent filmmaking of the '60's and '70's that Harry's moment of clarity is a subtle one; in a modern movie, it would probably be accompanied by a swelling score and over-the-top waterworks to make it beyond obvious that we're seeing Harry's redemption, but thankfully here the filmmakers trust the audience to make that discovery on their own. A quick, satisfying watch.
J Dean
The Plot Against Harry Quotes
There are no approved quotes yet for this movie.
Discussion Forum
Discuss The Plot Against Harry on our Movie forum!