Plymptoons - Complete Early Works of Bill Plympton
(2006)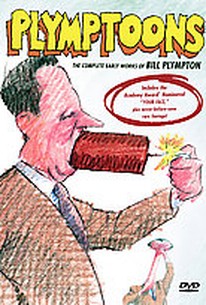 AUDIENCE SCORE
Critic Consensus: No consensus yet.
Movie Info
Rating:
NR
Genre:
Directed By:
On DVD:
Runtime:
Critic Reviews for Plymptoons - Complete Early Works of Bill Plympton
All Critics (1) | Fresh (1) | Rotten (0)
You can dream up whatever you want, write whatever you want, paint whatever you want, sculpt whatever you want, film whatever you want, but make sure Plympton is one of your stops on whatever artistic kick lifts you.

Audience Reviews for Plymptoons - Complete Early Works of Bill Plympton
The Evolution of a One-Man Industry I probably first became aware of the work of Bill Plympton when it appeared on [i]Liquid Television[/i]. For all my generation laments about remembering when MTV played music videos, there were also several iconic shows which were other things, and that was one of them. I remember watching it with Elaine and Raul--and even my mom, who was not much into [i]Aeon Flux[/i] but did enjoy some of the other things that aired on the show. (She'd watch some of the stand-up specials with us--if anyone knows where I can find the Greg Proops bit about candy, let me know--and even sometimes [i]Remote Control[/i].) But I remember watching the Bill Plympton cartoons and being struck by how visually distinctive they were. Even when I didn't laugh, which was sometimes the case, I still took note pretty much every time. Even though I'm not sure I could remember from one week to the next what the animator's name was. This is just over an hour's worth of his early work, which does not feature the bits I can remember as having aired on [i]Liquid Television[/i]. However, there's a perversely funny MTV PSA about acid rain, a collection of commercials for Trivial Pursuit and artificial sweetener, various things he did in college, unfinished bits and pieces, and what are essentially animated one-liners. There's a great one about an escalator that turns out to be a roller coaster, for example. Some of the shorts are just that whole Bill Plympton playing with faces thing, which I find intriguing, if not funny. If I had seen any of the pieces in isolation, just about, I would have known whose work they were with only a few exceptions. There's a clip from something he did for Amnesty International and a couple of bits that had been stuck in drawers for decades, and that's about it. Everything else is that very distinctive Bill Plympton animation, and it's in all other ways exactly what you'd expect. The main reason his work is so distinctive is that it is exclusively his. I didn't know that, when I was watching it on MTV in the early '90s. By then, I knew more about animation than the average high school student, because by then, we had a copy of [i]Chuck Amuck[/i], by Chuck Jones, which gives an insight into how studio animation works. I knew Bill Plympton wasn't working for a studio, of course; if he were, he wouldn't be on MTV. However, if I'd thought about it, I would have said that [i]of course[/i] he was working with other people to make his cartoons. What kind of crazy person does all those drawings alone? To which, of course, the answer is "Bill Plympton." He has animated an entire feature by himself, the only person to have done so. I also remember, from those long ago days, being familiar with the distinctive wobbling lines and incomplete colour that marked one of his cartoons, and I suppose at least part of the reason for that is that it's easier. I have this mental list of DVD rules, and the disc violates several of them. Okay, I can understand that, when you go into "select a short," it doesn't automatically play the next short after you've watched one. It is possible that you'd only want to see a single one. However, that meant that, when I ended up spending two hours hanging out with Heather after watching the first fifty minutes or so of this, I had to just hit play and then skip every short I'd already watched, which is tedious. Worse, though, is that in the "select a short" menu, there is no cursor. You have to kind of guess what hitting the enter button will do. When I rule the world, this will be illegal. There's no excuse for it. You should always, always, [i]always[/i] be able to know for sure what hitting the button will send you to, and I am severely displeased that it was not the case here. Also kind of confused, because there's a cursor on the main page. It's only when you get deeper in that it goes away. Because of the nature of animation, there aren't a lot of distinctive animators. That's in part because there isn't a lot of room for them anymore, now that we don't get a cartoon with our movies except in rare circumstances. And even when we do, those cartoons, like the ones on TV, are primarily done in a corporate style. I watched the two discs of Pixar shorts not long ago (no, I didn't review them; they aren't in the database), and while I do love most of them (except Mater), they're all, well, Pixar-y. (Except "La Luna," which I assume is in the style of the picture book!) Sixty years ago, you could still tell if you were watching a Chuck Jones short or a Friz Freleng one, though Disney had already developed a house style. The advantage to working as an independent, as Bill Plympton does, is that no one will ever confuse his work with anyone else's. At least, not anyone who has seen it once, even if they are only in eighth grade or so.
Edith Nelson
Bill Plympton is the king of surrealist animation. Although all of his shorts are not stand outs, enough are that this collection is well worth the watch!
Michael Wilson
Plymptoons - Complete Early Works of Bill Plympton Quotes
There are no approved quotes yet for this movie.