Pocket Ninjas (Triple Dragon)
(1997)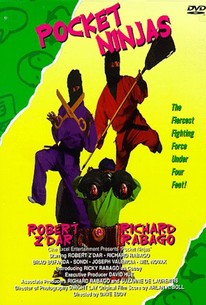 AUDIENCE SCORE
Critic Consensus: No consensus yet.
Movie Info
The evil Cobra Khan rises from the underworld and begins polluting the environment. The Whit Dragon tries to stop him but is injured so must pass the job onto his three teenage students.
Critic Reviews for Pocket Ninjas (Triple Dragon)
There are no critic reviews yet for Pocket Ninjas (Triple Dragon). Keep checking Rotten Tomatoes for updates!
Audience Reviews for Pocket Ninjas (Triple Dragon)
Pocket Ninjas takes bafflingly inept filmmaking to heights so impossibly high Tommy Wiseau's The Room actually begins to make more and more sense. It's not so much the bad acting and horrible dialogue here; many films commit those sins. What makes this film a colossal disaster is that director Dave Eddy can't even piece together at least two cohesive shots to what is, on paper, a fairly simple plot. It's all a jumbled up mess that leads to a final conflict that is not only not resolved, but kinda left hanging as if Eddy and writer Mark Williams forgot that stories typically come with an ending. Oh, well... Cue another training montage! Full review at http://silverscreenfanatic.com/2015/02/09/what-the-hell-were-they-thinking-58/
Benjamin Marlatt
I have said it a few times on here (and it is vastly over used by everyone) but this could possibly be the worst movie ever made. I have said that to a few movies and held that they were not beatable but Pocket Ninjas has surpased them and left them in the dust. The only thing that didn't make me take this netflix disc out of the DVD player and burning it and paying a fee was the fact that the choreography of the fights was acceptable (not good...acceptable). Wow this movie just was BAAAADDDD.
Jonathan Porras
WORST MOVIE OF ALL TIME. I think my eyes and ears bled throughout the whole thing. How was this allowed to be a movie?!?! It isn't even a good bad-movie! The acting is so terrible that at first it's laughable fun but eventually it grows tiresome. The plot is basically just a lot of repeated training scenes backed by corny as hell fanfare music. Have fun with that. There was only one part in the movie that made me laugh so hard that my stomach hurt (laughing AT it, not with it, mind you), but other than that, don't waste your time.
Anna Lee
Pocket Ninjas (Triple Dragon) Quotes
There are no approved quotes yet for this movie.
Discussion Forum
Discuss Pocket Ninjas (Triple Dragon) on our Movie forum!