Poetry
(2011)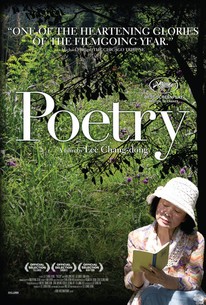 Movie Info
A sixty-something woman, faced with a crippling medical diagnosis and the discovery of a heinous family crime, finds strength and purpose when she enrolls in a poetry class. Lee Chang-dong's follow-up to his acclaimed Secret Sunshine is a masterful study of the subtle empowerment - and moral compass - of an elderly woman. -- (C) Kino
News & Interviews for Poetry
Critic Reviews for Poetry
Audience Reviews for Poetry
½
An uneven, overlong drama that wants to discuss many subjects but gets lost among ideas that are not fully developed or well explored, and so it is clear that it should have been better edited and focused more on the protagonist's fascination with poetry and inspiration.
Carlos Magalhães
Super Reviewer
I hate it when I hear a movie is inspirational and then you realise it is really just an ass-kissing fest towards somebody who has done something that society deems great. Poetry is a truly inspirational film, one with a power that may change the way you look at the world. The film sees the return of actress Yun Jeong Hie, as a grandmother who joins a poetry class after she finds she is forgetting simple words. Things become complicated when her grandson is accused of raping a girl and she must raise some hush money for the victims family. It's a strong and unforgettable film that never slaps you about with how you should be feeling. The moments where the film examines poetry are enough to make you want to grab a pen and paper, or just stare at a tree. The performances are consistently amazing, capturing those heartbreaking situations without a huge song and dance. This is one of Lee Chang Dong's greatest achievements, and coming from the man who gave us Oasis, that is no small feat. Beautifully shot, contemplative, with a delicate tone about it. A film I wanted to instantly watch again.
Luke Baldock
Super Reviewer
½
It is hard to put in to words, but originally when I read the synopsis of this film I was very apprehensive. An ailing woman begins to take poetry classes while her grandson is caught up in up a event that could compromise his future. I assumed that this poetry class would awaken something inside her that would equip her for this trial in life. All the while serene and beautiful images float across the screen to delicate strings. Sweet but manipulative. Well, I have to say I was wrong. Dead wrong. In fact, for a film that SHOULD have been wrought with sentimentality, it was surprisingly austere. The film was adorned with very little music, and no fancy camera work. The woman's artistic journey is sincere and shows that even though you may be feeling the emotion, most people cannot translate that to the page. Oddly enough, as this woman continues to toil in her tragically poetic life, I found myself wanting to write the poetry for her. Every scene became a new stanza in my mind and I tried to make up for the protagonist's inability to capture the moment in words. Rather than create unexpected inspiration, Lee waits for understanding, which takes time. This isn't a film to rush through. It must unravel before you if you are to make any sense of her journey. They state in the film that to write poetry is to seek beauty, which I find Lee marvelously accomplishes.
Poetry Quotes
There are no approved quotes yet for this movie.