Point Blank
(2011)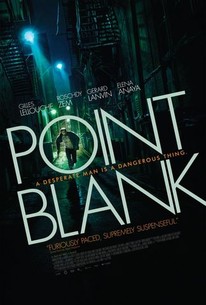 Movie Info
Produced by Cyril Colbeau-Justin and Jean-Baptiste Dupont, Point Blank also stars Roschdy Zem, Gerard Lanvin and Elena Anaya. Gilles Lellouche plays Samuel, a nurse working at a hospital when his pregnant wife (Anaya) is kidnapped before his very eyes. Knocked unconscious, he comes to and discovers that a dangerous criminal named Sartet (Zem) is responsible, and if he's ever to see his wife again, he must do Sartet's bidding. Samuel quickly finds himself pitted against rival gangsters and trigger-happy police in a deadly race to save the lives of his wife and unborn child. -- (C) Magnolia
News & Interviews for Point Blank
Critic Reviews for Point Blank
Audience Reviews for Point Blank
Gangsters kidnap a medical assistant's pregnant wife to force him to spring their injured comrade from a hospital; complications arise and he's drawn into a web of conspiracy and murder. Fast-paced French thriller with a classic "cops think the good guy is the bad guy" hook.
½
At a lean and mean 84 minutes, "Point Blank" moves quickly and efficiently, providing excitement at a serviceable pace. Despite the French subtitles, this isn't art house cinema. It's about thrills, not script. Director Fred Cavayé' clearly has one eye on Hollywood. The story unfolds very much like one of Liam Neeson's recent vehicles like Taken or Unknown. The director's debut, 2008?s Anything for Her, was even remade as The Next Three Days. Ironically that remake actually featured Liam Neeson in a supporting role. There is little doubt in my mind that this picture will be remade as well, but don't wait for the substandard remake. See the original in all it's glory for the cast is quite good here. There's a surprising amount of character development for a genre movie of this sort. Actor Gilles Lellouche stars as the likable protagonist pushed to break the law to save his wife. Roschdy Zem, a French actor of Moroccan descent, is Hugo Sartet, the thief he is forced to secure. I kept seeing Vin Diesel in the part, but Sartet is no indestructible action hero, his part is more subtle than that. Their interaction is a big part of what makes the plot so compelling. Also rounding out the main roles is Spanish actress Elena Anaya as his wife/damsel in distress and Gérard Lanvin as crooked Paris police commander Patrick Werner. Point Blank is an above average action thriller. It's not the first time you'll watch an ordinary man in extraordinary circumstances, but it's always a solid basis for a script. Director Fred Cavayé started as a fashion and advertising photographer. His training imbues the operation with style and flair. It's probably only a matter of time before he's invited to the U.S. to start making pictures there. Based on his first and only two films, I'd say sooner is better than later.
Mark Hobin
Super Reviewer
½
"A desperate man is a dangerous thing." Samuel Pierret (Gilles Lellouche) is a nurse who saves the wrong guy -- a thief (Roschdy Zem) whose henchmen take Samuel's pregnant wife (Elena Anaya) hostage to force him to spring their boss from the hospital. A race through the subways and streets of Paris ensues, and the body count rises. Can Samuel evade the cops and the criminal underground and deliver his beloved to safety?
REVIEW
Samuel, a nurse-in-training at a Parisian hospital is suddenly in the middle of a conspiracy, and he has no way out until he can get his wife back. Simple enough? Not quite, but here is a movie that is like "The Fugitive" on steroids, powered by dynamic direction, and a very charismatic couple of lead actors. Samuel, find himself, avoiding bullets, thugs, cops, killers, cars, trains, security cameras, and that's just the background. He is also dealing with a very personal crisis, and there are a couple of sensational scenes that take place in the middle of a very busy train station, and if you have ever been in one of those European transportation hubs, you can almost feel his pain, as he is trying to avoid being captured and killed. The second scene involves a hectic police station, and some very creative plot twists. Here is a film many should see in its original version (I'm already thinking it will probably go through a least creative American reworking), but it is perfectly enjoyable the way it is; actually it's quite a thrill to see that in addition to films like "Tell No One", French filmmakers are producing some very interesting films, with non-stop action. You will feel your heart beating almost out of your chest.
Lorenzo von Matterhorn
Super Reviewer
Point Blank Quotes
There are no approved quotes yet for this movie.