Veneno para las hadas (Poison for the Fairies) (The Evil Fairies)
(1984)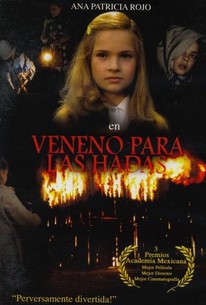 AUDIENCE SCORE
Critic Consensus: No consensus yet.
Movie Info
In the folklore of the children in this dark fantasy, fairies are the traditional enemies of evil, and the two aspiring witches in this story want to be evil. Told entirely from a child's perspective (so that adults are never shown in their entirety but usually appear as a miscellaneous jumble of arms and legs), this story explores the girls' search for a poison to use against the fairies and which will enhance their own evil powers. Dreams and nightmares amplify the story and help the viewer understand why each child is deliberately seeking out this dark path. This unusual drama won five Ariel awards, Mexico's equivalent for the Oscar. ~ Clarke Fountain, Rovi
News & Interviews for Veneno para las hadas (Poison for the Fairies) (The Evil Fairies)
Critic Reviews for Veneno para las hadas (Poison for the Fairies) (The Evil Fairies)
There are no critic reviews yet for Veneno para las hadas (Poison for the Fairies) (The Evil Fairies). Keep checking Rotten Tomatoes for updates!
Audience Reviews for Veneno para las hadas (Poison for the Fairies) (The Evil Fairies)
Great acting by Ana Patricia Rojo and beautiful cinematography BUT it turns to be a decent drama with horror elements about two young girls from a catholic school who are interested in witchcraft although they don't know the basics about it. The directing was ok and I really like the idea of not showing the faces of the adult people. It was showed just with the intention of scaring when randomly.
½
Mexican director Carlos Enrique Taboada has become a cult-figure in the history of Mexican cinema due to his four entries in the Gothic horror genre, a style not very well explored in Mexico's cinematography. While he never achieved fame while alive, nowadays his films are quite popular and modern Mexican filmmakers like Guillermo Del Toro often cite him as a big influence. Completed almost 20 years after his last horror film, "Veneno para las Hadas" ("Poison for the Fairies") was his final work and while probably less known than the previous three, it's a fitting closure for the career of who is probably the most important figure of Mexican horror cinema. Set in the late 50s, "Veneno para las Hadas" is the story of the strange friendship between two little girls. Flavia (Elsa María Gutiérrez) is a very rich girl who has just moved to the city and in her first day of school befriends Verónica (Ana Patricia Rojo), a very smart girl who is fascinated with witchcraft and claims to be a witch herself. What at first is an innocent friendship soon becomes a nightmare as the gullible Flavia is tortured psychologically by the possessive Verónica and her threats of using her witchcraft against her. Written by Taboada himself, the film moves away from his previous horror films ("Hasta el Viento Tiene Miedo", "El Libro De Piedra" and "Mas Negro Que la Noche") where the supernatural had a predominant presence, and focuses on a subtler and slightly more realistic kind of horror. The story unfolds at a very slow pace (at times too slow for its own sake), but it carefully develops the bond between the two girls and the details of their bizarre relationship. Completely told from the point of view of the two girls, the story focuses only on the two main characters with the development of the supportive characters being almost non-existent. While this approach leads to a definitely less shocking horror, its very appropriate and its portrait of childhood is frightening and very realistic. The film strongest point is its beautiful cinematography, and no matter if its in interior or in exteriors Taboada manages to create haunting Gothic images that show an influence from Italian filmmakers. Children's powerful imagination is a recurrent theme in the movie and the film makes use of surreal compositions of great beauty to portray it successfully. As the story is told from the children's eyes, Taboada makes sure that we rarely see an adult's face, keeping us inside the girls' world of fantasy and magic. Given that the film focuses on only two characters their performances are vital for the film, and while a mixed bag, the overall result is positive considering that children who can act are a rare thing. Elsa María Gutiérrez as Flavia is the weakest of the two and many times seems wooden and unprepared. Ana Patricia Rojo is the total opposite as her performance as Verónica is an absolute joy to watch. She makes her character both adorable and hateful at the same, and displays a lot of talent for her young age (no wonder why she has had a somewhat successful career in her country). Taboada's final film may be disappointing to fans waiting for another pack of his grandiose Gothic set pieces. The horror in this film is even subtler than in his previous films and it's incredibly slow pace makes it more akin to a melodrama with traces of psychological thriller than a horror in the strict sense of the word. This slow pace is probably what hurts the film the most, as at times it makes it drag a bit too much and may turn off some viewers. The fact that it focuses on children and their fears may also make it look as childish or silly, but the film offers an interesting study in the nature of evil and the powers of imagination. While nowhere near as famous as "Hasta el Viento Tiene Miedo", and definitely nowhere near as wonderful as his Gothic masterpiece "El Libro De Piedra"; this little gem is a nice entry in the Gothic horror sub genre and a wonderful film to introduce children to the genre while being entertaining enough for adults. A fitting closure to a great director's career.
Cassandra Maples
Super Reviewer
This almost has the feel of a "made for television" movie. Which in this case is not necessarily a bad thing as it makes the (horrifically bleak) ending all the more surprising. It has a slow, but creepy pace and the two main children are actualy pretty good little actors. The story is simple, but interesting (in a twisted sort of way). It strings you along under the guise of a rather sweet "coming of age" story, but the things that are going on "beneath the surface" are actually pretty dark. One of the things I liked best about this film is the way that the faces of all of the adults are only ever seen as a means to shock or frighten, other then that they are only shot in the half-light or from behind. Which is fitting when you think of the fact the ultimately it's the mundane little stories that these girls have heard from the adults in their lives that ultimately lead to the breakdown of their little worlds. It is also very easy to see some religious analogies here as well, in as much as "words" are a way of making you think and of broadening our minds. In the hands (and minds) of the innocent that is all that they would do. But those same words in the hands of the self-righteous can cause all hell to break loose. As my Flixster friend "divinetrash" (who turned me on to the film) pointed out it is more a "fairy tale gone wrong" then a horror film. I would definitely file this under "fractured fairy tales".
Veneno para las hadas (Poison for the Fairies) (The Evil Fairies) Quotes
There are no approved quotes yet for this movie.
Discussion Forum
Discuss Veneno para las hadas (Poison for the Fairies) (The Evil Fairies) on our Movie forum!