Pokemon: Giratina and The Sky Warrior
(2008)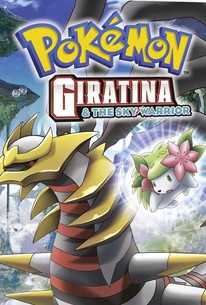 AUDIENCE SCORE
Critic Consensus: No consensus yet.
Pokemon: Giratina and The Sky Warrior Photos
Movie Info
This feature length movie from the Pokemon franchise finds Palika and Dialga engaged in a battle so fierce, that it ruptures the time-space continuum, and transports them to the Reverse World. The Reverse World's only Pokemon, Giratina, is none too pleased with their intrusion. Soon, the whole gang is involved in a plan to save it from a power hungry man named Zero, who has plans to harness Giratina's power and control Reverse world - destroying the real world in the process!
Rating:
NR
Genre:
,
Directed By:
In Theaters:
On DVD:
Runtime:
Studio:
GAME FREAK Inc
Audience Reviews for Pokemon: Giratina and The Sky Warrior
It follows a nice gameplay of being a middle chapter of the DP trilogy in a continuing, connected pattern with the same charms and a little more filling to the story, but it seems to be slightly less-spirited. (B+) (Full review coming soon - with better wording probably)
Kyle Mobray
Of the 14+ and counting Pokemon movies, this one ranks among the bottom for me. Why the writers decided to devise a story around an obnoxious personality like Shaymin (ironically named the grateful Pokemon while being the least grateful character in the entire film) is beyond me. This awful character gives children nothing to learn or aspire to. The rest of the cast only encourages the bad behavior.
Johnny Li
This is a good Pokemon movie that I was shocked by, I really didn't expect this to be good. This movie is a direct sequel of sorts from Rise of Darkrai. We see Giratina trying to get revenge of Palkia and Dialga for messing up the time world in a place called the Reverse World. Ash, Brock, and Dawn get involved when a pokemon named Shayman comes into their lives and who at that point stumbled on the reverse world when it was near Dialga getting captured by Giratina. This leads Giratina to follow Shayman and has Ash and his friends get trapped in the Reverse World where they meet a a professor by the name of Newton Graceland who has been there for several years studying the reverse world. Although, things between Shayman and Giratina aren't the only thing they have to worry about. A power hungry man in the reverse world named Zero wants to use the power of Giratina to keep the reverse world to himself. What will this mean for Ash and his friends? This is a good movie, with intriguing story, good action, and well defined characters. My only beef with this film is why is Ash Ketchum always the problem solver? Other than that I give this film a 10 out of 10.
Zachary Rivard
Pokemon: Giratina and The Sky Warrior Quotes
There are no approved quotes yet for this movie.