Pokemon the First Movie - Mewtwo vs. Mew
(1999)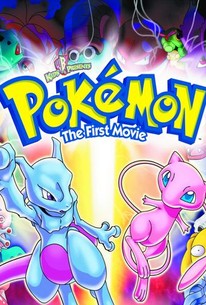 Movie Info
Pokémon, the lovable little characters who have become favorites in video games, TV cartoons, comic books, and toys, comes to the big screen with this animated feature film. In a fantastic alternate universe, there are 151 different varieties of the creatures called Pokemon, each with its own unique talents. Many humans attempt to capture the Pokemon and train them; the top trainers can teach the critters how to capture and train other Pokemon, making them Pokemon Masters. Ash Ketchum is one of the leading Pokemon Masters, and with his friends Misty, Brock, and Pikachu (a Pokemon with electrical powers), he discovers Mewtwo, a super-powered Pokemon created through biological engineering. Mewtwo has powers of which a mere Pokemon can only dream, and when he uses his skills to create even more super-Pokemon, Ash and his Pokemon friends must join forces to battle for survival. A major box-office success when released in Japan in 1998, Pokemon the First Movie was accompanied for its 1999 U.S. release by a 22-minute short subject, Pikachu's Vacation. ~ Mark Deming, Rovi
People Who Like this movie also like
Critic Reviews for Pokemon the First Movie - Mewtwo vs. Mew
Audience Reviews for Pokemon the First Movie - Mewtwo vs. Mew
This movie came out when I was 8 and I loved it then and I love it now. Yes, I was a huge fan of the pokemon tv show and that may have skewed my opinion on it. BUT I recently watched it with a date. I haven't seen it in years and my date hasn't seen it EVER. We both fell in love with the characters and enjoyed the story. Mewtwo is probably to perfect villain. He had a great background story and had a reason to his mayhem. But he also learned a lesson in the end and can really be a lesson everyone can relate to. There's one scene in the film, without giving any spoilers, where I cry every time I watch it and, if you watched the tv show, you would too. I can understand why someone who isn't into the show could just tune out of this movie, but I believe this film deserves a higher score on this website. Atlease for the great story and great script. To the critics who gave this film a rotten score, please give this movie another watch, I think if you watch it with an open mind you can respect and may even enjoy this film... also the short film before it is freakin adorable.
Joshua Wilburn
Super Reviewer
½
Unless you are a fan of the show or a child, this movie is not going to do anything to broaden your horizons about the Pokemon TV show. The plot is essentially an extended episode with bland characters, cheesy dialogue (complete with cringe-worthy humor), and an ending that essentially turns the whole affair into a shaggy dog story. Even as a kid I forgot about this movie in a matter of two weeks, the only aspect of the film that stuck with me was the villain Mewtwo, and that is only because he looks cool. In the U.S. release of the film, the distributors try to instill a"fighting is wrong" message that is almost hilariously squeezed into the film's climax. The message is ironic coming from a show in which humans force monsters fight each other in every episode. Not only that, but the movie essentially hits the reset button in the end, erasing the characters recollection of the film's events. The Japanese version of the movie is no better, except they develop Mewtwo's character more in a prologue that was deleted in U.S. theatrical release. The prologue traces Mewtwo's origins, and it is actually a pretty interesting film-within-a-film that only exemplifies Mewtwo's wasted potential. Overall, an incredibly bland animated feature that only existed to sell products.
Christopher Heim
Super Reviewer
I had big expectations for the batlle between these two characters as im a fan of the games. But the film is terrible. It suffers from bad animation, bad dialogue, little tension and no heart. This im sure would be the reaction to fans of the games and filmgoers in general.
Directors Cat
Super Reviewer
Pokemon the First Movie - Mewtwo vs. Mew Quotes
Discussion Forum
Discuss Pokemon the First Movie - Mewtwo vs. Mew on our Movie forum!