Pola X
(2000)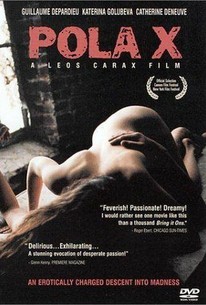 Movie Info
Eight years after Les Amants du Pont Neuf (1991), which failed at the box office, Léos Carax returned with Pola X, a French/German/Swiss co-production with Catherine Deneuve and the young Guillaume Dépardieu in a story of love, incest, and descent into hell. Pierre (Dépardieu) lives with his mother in Normandy, not far from the banks of the Seine River where Victor Hugo's daughter drowned with her lover. The good-looking mother and son are happy, healthy, and wealthy, and they love each other deeply. Pierre is romantically attached to the beautiful and delicate Lucie (Delphine Chuillot) and visits her every morning with the motorcycle he has inherited from his father. One summer night, his mother tells him that she has chosen a date for his wedding. Overexcited, Pierre rushes through the night to break the news to Lucie. As he is speeding down the road, a strange creature with a familiar face suddenly leaps from the dark. She tells him in broken French that she is his sister. Pierre is shocked, but he decides to believe her and make up for the mistake of his father. The film took its inspiration from Herman Melville's Pierre, or, the Ambiguities, which Carax read when he was 18, the same age as the hero of the story. The first part of the film sets an idyllic tone with a fairy tale atmosphere of life among the rich and beautiful. This is in sharp contrast to the world Pierre plunges into when he meets Isabelle (Katerina Golubeva), who claims to be his half-sister. Carax, who has been against nudity in his films, shows the two literally engaging in mutual oral sex onscreen, although this was not included in the original script. (One may insert here that Golubeva, who is known from Sarunas Bartas and Claire Denis films, was the girlfriend of Depardieu in real life.) The fusion of the two leads to the creation of Pierre's book. This is a highly stylized film that is at times reminiscent of German expressionism. It is constructed in opposites: black and white, high and low, good and bad. Elements of fantasy are mixed with reality. Carax tries to introduce a new film language, often at the expense of the emotional quality of the film. Despite its weak points, it is still a work that exhibits the exceptional talent of its director. Golubeva exudes a certain magic in depicting the half-real, half-imaginary character of a vulnerable and somewhat lost Madonna. The title is an acronym of the French title of Melville's book, Pierre, ou, les Ambiguites. The film screened in competition at the 1999 Cannes Film Festival.
Critic Reviews for Pola X
Audience Reviews for Pola X
½
Pola X is based on Pierre:, or the ambiguities , written by Herman Melville in the 1850s, in a departure from what he is best known for (namely, Moby Dick). In my opinion, it is a story truly ahead of its time, a forerunner of so many introspective yet combative writers and poets of the 20th century avant-gardes. In this adaptation it is set in the 2000s: a young writer who has a close to idyllic lifestyle: he was born into a wealthy family and is about to marry his lovely girlfiend, Lucie. He comes and goes from his decadent, widowed mother's country house at will. He writes and rides his motorcycle across the outskirts of Paris. His first book is a cult sensation among the young audiences. Leos Carax draws him as a spoiled Rimbaud at the brink of a creative outburst that is bound to happen, only we still don't know how or why.
One day, after a series of strange, ambiguous episodes, he meets Isabelle, who claims they are half-brothers separated at birth. She speaks with an Eastern European accent, and is dressed in rags, emaciated; she represents fragility and helplessness in a way that is irresistible for Pierre. He, who has had everything, is suddenly in the position to transfer his security -to support- someone else. He finds inspiration in the prospect of beginning a new existence, away from luxury or familial ties.
Brotherly tenderness and a strong sexual desire intertwine and give shape to an appropriately ambiguous co-dependent relationship. Pierre leaves his mother and his fiancée behind, and tries to make a living for Isabelle and himself. The two of them go live in a strange residence for marginal artists. Pierre decides that he will write a novel about the ugly truth of the world, but perhaps it is too much for him to take.
Pola X is a film of very dense substance that finds itself at odds, sometimes, with an almost too obvious attempt at reproducing a gritty, somber aesthetic. At times it borders on dreary pop-goth. It is totally postmodern in that it tends to go too many places at once; tries to be intellectual but also anti-intellectual, distant but sensual. The result is a very erotic, thought-provoking, but inconsistent film. It has moments of lush cinematography and a wonderful eye for human expressions, as well as Guillaume Depardieu's memorable performance as Pierre. A lesser actor would have made the film sink.
Luckily, because of its source material, Pola X is not a predictable film about a mad artist. Pierre's juvenile, innocent approach to the "ugly" truths of life and his intelligence, that falters under their weight, seem somehow new and authentic. His development, supported by Depardieu's performance, may not be completely unexpected, but it is natural in the same way that some people's self-destruction can usually be foreseen -although in the end we are always amazed that it actually happened. I don't even think it is necessary to talk about the rest of the characters, not even Isabelle (Katerina Golubeva) or Marie, Pierre's mother, played unceremoniously by Catherine Deneuve. For better or worse, they are by-standers, catalizers and/or witnesses of Pierre's confrontation with his own pyschological turbulence. He wanted to show the world its ugly side, but had not quite seen it himself.
Incest is apparently one of the polarizing topics in Pola X. The film would not be as unsettling and would not pose as many questions as it does without that theme, but I would hardly say Pola X is a film about two half-brothers in love. At least not exclusively. Pierre is torn by guilt and love, but this is not the cause of his fatal affliction. It starts way back, when he lies lazily on his mother's bed, being caressed, a grown man like a little boy, with a sense of being kept in the dark.
I have so little to say about Pola X's visual aspects. Art direction and cinematography are as good as they can be, there are never shortcomings, and although there was some awkward compostion at times, it was never a terrible thing. Some scenes of Pierre walking with a stick and wading against the winter weather come to mind as visually memorable...
But, as I said, I think I appreciate the film more for a story I could empathize with or found original and thoughtful than for its style. Or for having a pretty graphic sex scene. I don't know what or why anything was gratuitious -or whether nothing was. Many things seemed to be in disorder, but perhaps Leos Carax meant this disorder? It isn't easy to figure out whether there is a hidden logic, like with David Lynch films in which the structure exists but is too hiden. I would dare say Pola X was instinctively put together, but while I watched iIt just didn't seem to concern me. To me, it is an interesting, emotionally aggressive film, and that's what I would recommend it as.
A film about ambition & ambiguity made in an ambitious & ambiguous way,I guess
Pola X Quotes
There are no approved quotes yet for this movie.