Poltergeist
(1982)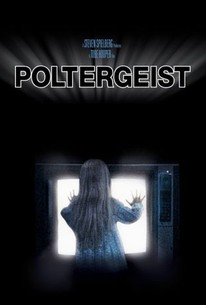 TOMATOMETER
AUDIENCE SCORE
Critic Consensus: Smartly filmed, tightly scripted, and -- most importantly -- consistently frightening, Poltergeist is a modern horror classic.
Movie Info
With Poltergeist, directed by Tobe Hopper, Steven Spielberg had his first great success as a producer. Released around the same time as Spielberg's E.T., the film presents the dark side of Spielberg's California suburban track homes. The film centers on the Freeling family, a typical middle class family living in the peaceful Cuesta Verde Estates. The father, Steve (Craig T. Nelson), has fallen asleep in front of the television, and the dog saunters around the house revealing the other family members -- Steve's wife Diane (JoBeth Williams), sixteen-year-old daughter Dana (Dominique Dunne), eight-year-old son Robbie (Oliver Robins), and five-year-old Carol Ann (Heather O'Rourke). Soon strange things begin to happen around the house; the pet canary dies, mysterious storms occur, and Carol Ann is summoned to the TV set, where a strange shaft of green light hits her and causes the room to shake ("They're he-e-ere!"). As curious events continue, Carol Ann is repeatedly drawn to the television, where she begins to talk to "the TV people." Soon Carol Ann is sucked into a closet, disappearing from this reality plane. Unable to find his daughter, Steve consults Dr. Lesh (Beatrice Straight), a para-psychologist from a nearby college. Lesh finds that paranormal phenomena is so strong in the Freelong household she is unable to deal with it and sends for clairvoyant and professional exorcist Tangina (Zelda Rubinstein) to examine the house in hopes of finding Carol Ann. Tangina makes a horrifying discovery: Carol Ann is alive and in the house, but is being held on another spectral plane. ~ Paul Brenner, Rovi
News & Interviews for Poltergeist
Critic Reviews for Poltergeist
Audience Reviews for Poltergeist
Poltergeist represents horror at it's top form in the early 80's. It's not the best horror movie out there, but it definitely deserves it's high praise. Relying on the cast and practical effects to drive this ridiculous story, "Poltergeist" becomes far more impressive than it should be. I loved Poltergeist almost to the point that it has become one of my favourite horror films, however, I am not too much of a fan of how off-the-rails it goes towards the end of the film. I liked leaving everything to my imagination. I jumped, felt the pain, and I was scared for the parents in this film. Every good element that a horror film should have is present here. With a great cast, a lovable and insane premise, everything about this film just feels right, as far as this genre goes. "Poltergeist" is one hell of a thrilling horror flick that I can watch anytime. Highly recommended to the horror junkies.
When researching Horror films, you will undoubtedly come across, "Poltergeist". You'll also notice that the film is often showered with adulation. I have no idea why. The attraction to this movie has always been lost on me. I didn't think it was scary when I was a kid, and after a recent viewing, I still can't establish a connection to the film. If anything, the recent screening caused me to dislike "Poltergeist" even more. The film's biggest weakness, is that all of the scares are derived through special effects. For me, this style always comes up lame. Although state-of-the-art at the time, 30 years certainly hasn't done the effects any favors. There isn't any tension or atmosphere to make the viewer uncomfortable, so once the special effects are rendered useless, all you're left with is annoying characters and poor acting. Speaking of the acting, it may unintentionally, be the most horrific part of the whole spectacle. What also makes "Poltergeist" suffer, is the fact that the film seems very impressed with itself. That's actually common in Spielberg movies, so it's not a surprise here. It also carries a constant hint of optimism, that ends up detracting from the horror. "Poltergeist" is corny nonsense. It might beat today's paranormal efforts, but that doesn't say much.
Jason Calvin
Super Reviewer
½
A suburban home is invaded by an evil presence which befriends the family's young daughter and draws her into its spirit realm. Although Tobe Hooper is credited as director of Poltergeist, producer Steven Spielberg's fingerprints are all over it. Hooper's pedigree within the cult horror fraternity as creator of The Texas Chainsaw Massacre is combined with Spielberg's consummate skill as entertainer to create a hybrid that contains many of the horror standards including living trees, evil clowns, self mutilation and corpses aplenty but maintains its mainstream crowd-pleasing sensibilities. It shares a lot of ingredients with Close Encounters Of The Third Kind but this snap shot of likeable suburban America is disturbed by something far less benevolent. The special effects have actually dated surprisingly well considering and there are some great moments, particularly the disturbing kitchen scene and a great finale when coffins literally start erupting out of the ground. Kind of like Jaws for ghosts, Poltergeist is warm and funny plus creepy and chilling when it means to be and succeeds at everything it sets out to do. One of the classic family-orientated horror films.
Poltergeist Quotes
| | |
| --- | --- |
| Tangina Barrons: | You can't choose between life and death when we're dealing with what is in between. |
| | |
| --- | --- |
| Dr. Lesh: | Would your family welcome a serious investigation of these disturbances by someone who can make firsthand observations? |
| Steve Freeling: | Look, Dr. Lesh. We don't care about the disturbances, the pounding and the flashing, the screaming, the music. We just want you to find our little girl. |
| | |
| --- | --- |
| Carol Anne: | They're here! |
| | |
| --- | --- |
| Steve: | [shouting in Teague's face] You son of a bitch! You moved the cemetery, but you left the bodies, didn't you? You son of a bitch, you left the bodies and you only moved the headstones! You-only-moved-the-headstones! Lies! Lies! |
Discussion Forum
Discuss Poltergeist on our Movie forum!