Popeye the Sailor Meets Sinbad the Sailor
(1936)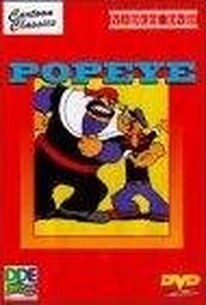 AUDIENCE SCORE
Critic Consensus: No consensus yet.
Movie Info
The first Popeye cartoon produced in color, Popeye the Sailor Meets Sindbad the Sailor was also the longest Fleischer production to date, and the first to be nominated for an Academy Award. In this colorful tale, Bluto plays the legendary Sindbad, introduced as the toughest and most remarkable sailor around. He lives on an island that floats on the back of a whale and that is populated by ferocious lions, deadly serpents, a two-headed giant, fiery dragons and an enormous bird, the Roc. Popeye, his pal Wimpy and the "irresistible damsel" Olive Oyl appear in the ocean near Sindbad's island. Stricken with desire for Olive, Sindbad sends the Roc to wreck Popeye's ship and to abduct the delectable damsel. Popeye, singlehandedly carrying Wimpy to safety, swims after the bird and his beloved. Once on the island, Popeye must battle with the various dangerous denizens before going one-to-one with Sindbad and proving -- with the help of a little spinach -- that no evil-doing sailor like Sindbad can get the better of him.
Critic Reviews for Popeye the Sailor Meets Sinbad the Sailor
There are no critic reviews yet for Popeye the Sailor Meets Sinbad the Sailor. Keep checking Rotten Tomatoes for updates!
Audience Reviews for Popeye the Sailor Meets Sinbad the Sailor
This is a more interesting film than others starring Popeye, as it borrows heavily from older adventure films like The Voyage of Sinbad. It ends with the familiar Popeye formula of solving all one's problems with spinach and punching, but the first half of the film felt like a fun adventure. I wanted to yell at my screen "Don't go in there!" when danger arose and cheer when the hero triumphed!
Michael Wilson
½
Popeye is cool. Bluto plays Sinbad the sailor, who takes on Popeye in a challenge of who is the better sailor in this colorful animated adventure. It was one of three or so special Popeye cartoons, and it is a lot of fun if your a fan of animation, especially old Fleischer style theatrical cartoons.
Ken Scheck
those one of my favorite shorts episode animated ever and include with 2 episodes "popeye the sailor meets ali baba's forty thieve" and "aladdin and his wonderful lamp" also. popeye the sailor is include with bluto aka. sindbad that he meet and fought sindbad (and include with two-headed goon and big bird that popeye turn like an thanksgiving turkey), olive oyl, and wimpy (one of he chasing duck is the funniest). i got this dvd that with studio by warner brothers volume 1: 1933-1938 with color version.
Johnny Star
Popeye the Sailor Meets Sinbad the Sailor Quotes
There are no approved quotes yet for this movie.
Discussion Forum
Discuss Popeye the Sailor Meets Sinbad the Sailor on our Movie forum!