Populaire
(2013)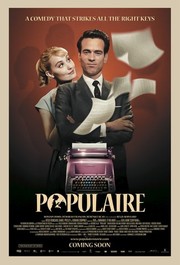 TOMATOMETER
AUDIENCE SCORE
Critic Consensus: The cheerfully frothy Populaire may lack substance, but its visual appeal -- and director Roinsard's confident evocation of 1950s filmmaking tropes -- help carry the day.
Tickets & Showtimes
Populaire Trailers & Photos
Movie Info
Spring, 1958: 21-year-old Rose Pamphyle lives with her grouchy widower father who runs the village store. Engaged to the son of the local mechanic, she seems destined for the quiet, drudgery-filled life of a housewife. But that's not the life Rose longs for. When she travels to Lisieux in Normandy, where charismatic insurance agency boss Louis Echard is advertising for a secretary, the ensuing interview is a disaster. But Rose reveals a special gift - she can type at extraordinary speed. Unwittingly, the young woman awakens the dormant sports fan in Louis. If she wants the job she'll have to compete in a speed typing competition. Whatever sacrifices Rose must make to reach the top, Louis declares himself her trainer. He'll turn her into the fastest girl not only in the country, but in the world! But a love of sport doesn't always mix well with love itself. -- (C) Weinstein
more
Cast
News & Interviews for Populaire
Critic Reviews for Populaire
Audience Reviews for Populaire
Rose (Francois) is an awkward but pretty girl living with her widowed father in a small Northern French town in 1958. When she applies for a position as secretary to handsome local insurance man Louis (Duris), her impressive typing speed gets her the job. Once in the position, Louis discovers Rose is a disaster, thanks to her clumsiness. Her one skill, that of typing at an incredibly rapid pace, intrigues Louis however, who insists she enter a local speed-typing competition. When she succeeds at this, Louis devises a rigorous training schedule for Rose, with the aim of entering the national championships.

The idea of taking an obscure sporting or competitive event as the backdrop for a comedy has been milked to death in recent comedies. We've seen figure-skating in 'Blades of Glory', ping-pong in 'Balls of Fury', and dodgeball in, well, 'Dodgeball'. None of those movies worked for one very simple reason; they revolved around one joke and died stretching it out to feature length. With this knowledge, I expected little from Roinsard's debut feature. Thankfully, he's used the concept of speed-typing as no more than a "MacGuffin". It's simply the backdrop to what is, essentially, a homage to the technicolor world of fifties Hollywood.

France never had this sort of cinema back then and there's a sense that Roinsard is trying to rectify this. The film is awash with references to that golden age of entertainment, from the primary colors of MGM musicals to a Saul Bass influenced credit sequence. There's even a 'Vertigo' homage which, unlike last year's 'The Artist', pays respect in the correct manner. Duris and Francois are playing the sort of roles Rock Hudson and Doris Day would have taken over half a century ago. Due to its fifties setting, accusations of male chauvinism may be leveled but, thankfully, Roinsard makes no concessions to modern sensibilities, (unlike Spielberg's 'Lincoln'). His film bears no resemblance to reality, instead it's set in the world of the cinema. In real-life, Normandy is a drab, grey region, lacking the brightness and color on display here. This is what movies of this nature do, they transport you from the humdrum of reality into a world where something as simple as a room of frantically typing secretaries can explode with the energy of a Busby Berkeley dance number. In French, the word "entertainment" literally translates as "diversion" and, as diversions go, 'Populaire' is one this year's best.
C'est le divertissement!
The Movie Waffler
Super Reviewer
A delightful and sweet film which oozes aroma of cinema how it used to be in the 50s and 60s: innocent and breezy bringing a sense of nostalgia to those who are 40+. It could have been a real gem if Romain Duris did not have the charm of a plasterboard.
Discussion Forum
Discuss Populaire on our Movie forum!
News & Features