Population: 2
(2011)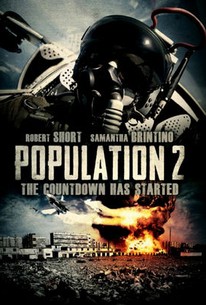 AUDIENCE SCORE
Critic Consensus: No consensus yet.
Movie Info
The sole survivor of a mysterious apocalypse wanders the desolate wastelands by day, and retreats to her subterranean lair each night. As the sun falls over the horizon, she reflects on her tragic past.
Rating:
NR
Genre:
,
On DVD:
Runtime:
Studio:
Critic Reviews for Population: 2
There are no critic reviews yet for Population: 2. Keep checking Rotten Tomatoes for updates!
Audience Reviews for Population: 2
A dystopian version of Lifetime Television brings you liberal art-school voyeurism at its best. A schizoid, psuedo-political film where the misanthropic nothing that happens will tempt you to watch it at x1.5 speed. Features the dilapidated housing of the Pacific northwest. If you like your uncomfortable abortion discussion shoehorned into railing against environmentally destructive corporate interests, this is your emotionally patronizing film. Sold at Wal-Mart in a package titled "The Road Fury Collection: 5 Movies". Well, you'll be Furious that the gas-masked buzzcut girl is given little more to do than endlessly pulling a little red wagon through a rain-soaked, abandoned subdivision. Her character is less the sort of endearing, awe-inspiring woman of the post apocalypse that the DVD's packaging was hoping to conjure up, and more of a vessel to be used for the producer's political agenda. Sort of anti-feminist if you ask me, but I get the impression that everyone who worked on this film thought they were delivering a one-two punch of woman power camp modern art. Do topics like abortion and industrial waste have a place in science fiction? Absolutely: no topic is unwelcome in science fiction. Do the two discussions lead necessarily one into the other? Yes, it was called the 1990's. And no, the movie does nothing to justify the segue except to hand them both to you and say "pleased to meet you, I'm modern art. I exist." My response is, "wow, great urban haut bourgeoisie cocktail party for the dispossessed children of the dispossessed 'Reality Bites' generation, except on the cover of the box we're promised 'road fury'. As in action." I get the further feeling that in some households this is the only thing the kids are allowed to watch, like some kind of guilt-tripping method of subordination. "I could have had you all killed, you know. You should all be thankful I brought you into this world." The really weird part is that the movie has its own built-in commercial interruptions, so that could actually work. Dystopian Lifetime. It gets half a star for existing.
Gabriel Arthur Petrie
Population 2 however, is nothing more than an empty meandering stroll through a world with a woman we don't know, and unfortunately because of a poor script, we never get an opportunity to know.
Lee Mayo
Surprising amount of dialog for a indie flick like this, but most of it is generic and uninteresting. It tries to look artful, but the effects are too amateurish to take it seriously. There's not much of a plot, yet the movie doesn't come off like a documentary either.
Wes Shad
Population: 2 Quotes
There are no approved quotes yet for this movie.