Pork Chop Hill
(1959)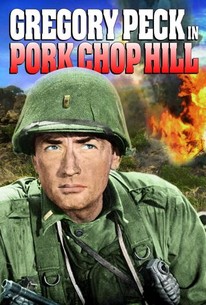 AUDIENCE SCORE
Critic Consensus: No consensus yet.
Pork Chop Hill Videos
Pork Chop Hill Photos
Movie Info
Pork Chop Hill was based on the eyewitness essays of ex-soldier S. L. A. Marshall. The film is set during the Korean "police action." While diplomats argue pointlessly over the shape of the negotiation tables at Panmunjon, United Nations troops bleed and die. Lieutenant Gregory Peck leads a 135-man unit on the attack of the Chinese-held Pork Chop Hill. When reinforcements finally arrive, only 25 of Peck's men survive (and they aren't the usual survivors we've come to expect from earlier, cliché-ridden war films). Among the American troops are such dependable performers as Harry Guardino, Woody Strode, Rip Torn, Barry Atwater, George Peppard, Robert Blake and Martin Landau. Former cowboy-star Bob Steele also shows up briefly as an American general. According to director Lewis Milestone, Pork Chop Hill was cut by nearly twenty minutes because the wife of star Gregory Peck felt that her husband made his first entrance too late into the picture. True or not, the film does show signs of post-production tampering, with flashes of several excised scenes showing up under the main title credits.
Rating:
NR
Genre:
, ,
Directed By:
Written By:
On DVD:
Runtime:
Studio:
MGM Home Entertainment
Cast
Critic Reviews for Pork Chop Hill
Audience Reviews for Pork Chop Hill
Welcome to the meat grinder. While the United States and Korean diplomats are working on negotiating an end to the Korean War, the troops for both countries remain at war on the ground. The American troops are given an impossible mission to take Pork Chop Hill for no other reason than moral victory. That doesn't feel like a good reason to the US troops who know the war could end any minute now; and even if they take the hill, once at top they can be easily surrounded and attacked. The troops reluctantly pursue the hill. "They're behind us. Every Where. Millions of them..." Lewis Milestone, director of All Quiet on the Western Front, Mutiny on the Bounty (1962), Ocean's 11, The Strange Love of Martha Ivers, Les Miserables (1952), and A Walk in the Sun, delivers Pork Chop Hill. The storyline for this is very compelling and has some interesting characters and scenarios. The acting is solid and the cast includes Gregory Peck, Rip Torn, Robert Blake, Harry Guardino, George Peppard, and Bob Steele. "When I get home I'm going to live in an elevator going up and down." I was excited to discover this was recently coming on Turner Classic Movies (TCM) and had to DVR it. This was a very solid war movie. It isn't my favorite war genre film, but Peck is excellent in his role. This delivers a unique perspective of the Korean War that makes it a must see but isn't good enough to be a must own for your DVD collection. "You're no good up here with one arm." Grade: B
Kevin Robbins
½
A company of American soldiers stationed in Korea suffer terrible losses when ordered to take a strategically unimportant hill from Chinese forces. Pork Chop Hill was directed by Lewis Milestone who was no stranger to the genre having directed the classic All Quiet On The Western Front and here he pretty much invented the modern war movie. Influencing everything from Zulu to Black Hawk Down, its power is in its gritty realism and unrelenting depiction of terrifying and seemingly meaningless violence. It was based upon real accounts and written by a veteran soldier which gives it a real authenticity and is very unsentimental in its representation of the soldier on the ground, avoiding the usual soap opera back stories of the central characters. Instead it jumps straight into the action and virtually the entire film is set in the blood soaked trenches. Woody Strode's sole dissenter adds a mild socio-political element which was expanded on the great effect in the Vietnam-based remake Hamburger Hill and solid performances all round make for a quality war film that won't change the mind of anyone who dislikes the genre but will be a potential favourite of those who do.
For the few films that focus on the Korean War, this film shows the best reflection of what times were like. The actors perform well, and the set is accurately grimy which is all due to Milestone's direction. For my full review of Pork Chop Hill (1959), check it out on this IMDB link: http://www.imdb.com/title/tt0053183/reviews-35
Nick Salvemini
Discussion Forum
Discuss Pork Chop Hill on our Movie forum!
News & Features