Jinruigaku nyumon: Erogotshi yori (The Pornographers)
(1966)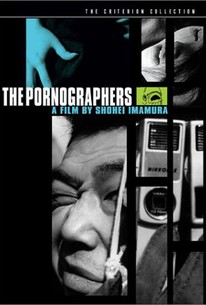 Jinruigaku nyumon: Erogotshi yori (The Pornographers) Photos
Movie Info
A small-time purveyor of blue movies has to defend his livelihood against thieves, authorities, and his widowed girlfriend and her family in Shohei Imamura's dark satire. The Pornographers concerns the exploits of the hapless Subu (Shoichi Ozawa), an impotent (in every sense of the word) middle-aged entrepreneur employing a small crew in the back room of a barbershop. When not staging stag films in garages and secluded fields, Subu lives with the unhinged Haru (Sumiko Sakamoto), her Oedipal, high-minded son Koichi (Masaomi Kondo), and her impudent teenage daughter Keiko (Keiko Sagawa). Though he lusts after Keiko, the girl -- all too aware of her sexual power over men -- rebuffs his advances in an increasingly cruel manner, leaving Subu to channel his frustrations into the plots of his movies. As Subu's life grows even more lurid than his profession, local yakuza, the opportunistic Koichi, and the police all struggle to get in on the action. All the while, the family's machinations take place under the watchful eye of a giant carp, whom Haru believes to be the reincarnation of her late husband. ~ Michael Hastings, Rovi
Critic Reviews for Jinruigaku nyumon: Erogotshi yori (The Pornographers)
Audience Reviews for Jinruigaku nyumon: Erogotshi yori (The Pornographers)
Shohei Imamura's "The Pornographers" is frustrating -- the director's arty, remote style fails to properly accent what should have been a droll black comedy. A livelier musical score would help, and Imamura has an odd pattern of distantly shooting interiors through windows. It's difficult to emotionally connect with characters -- much less laugh at them -- when we're not even in the room. Subu Ogata lives as a boarder with widowed Haru, her precocious daughter Keiko and her Oedipal son Koichi. He supports this makeshift family via producing low-budget pornographic films. A convenient romance is brewing with Haru, but her late husband's memory haunts her. She has promised to stay true to him and, in the film's strangest touch, she believes her pet carp is his vigilant reincarnation. "Whenever something bad happens, the carp jumps," she says. This motivates multiple insertions of the fish's "reaction" to events, plus some peculiar shots where the tank's undulating water acts as a filter between the camera and characters. Ogata also eyes the teasing Keiko, endures Koichi's competitive intrusions and has problems with a local crime syndicate who wants a piece of his action. And while "The Pornographers" has no nudity or explicit sex (sorry), we do see some of the troubles Ogata has while shooting his films. In the most twisted scene, he struggles to direct a mentally disabled girl who's capable of little beyond mechanically chomping lollipops. Ouch. The cast's faces are unfamiliar to most Western audiences, and can be confusing to distinguish. But Imamura makes his presence known with abrupt uses of freeze-frame (it's hard to tell what narrative purpose this serves) and an occasional dash of surrealism.
Eric Broome
Super Reviewer
a surreal and darkly comic exploration of taboo themes including voyeurism and incest, it's a good bet the mainstream audience still isn't ready for this 45 year old film, which i might add is in no way pornographic. in fact there's no sex or nudity to speak of. superbly directed, tho it probably helps to be acquainted with japanese culture and new wave cinema to a degree. i watched it twice and still feel as tho i missed stuff
Stella Dallas
Super Reviewer
It would be a bit strong to say I enjoyed this movie, but there certainly was something about it. Although it is at times painfully slow and long, it is interesting, and I liked how it was filmed to make the audience vouyers. (Shots through windows, down corridors etc).
Nicki Marie
Super Reviewer
Jinruigaku nyumon: Erogotshi yori (The Pornographers) Quotes
There are no approved quotes yet for this movie.