Possessed by the Night
(1994)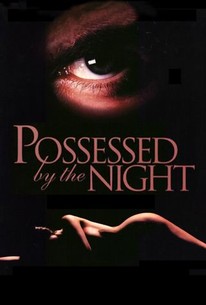 AUDIENCE SCORE
Critic Consensus: No consensus yet.
Possessed by the Night Photos
Movie Info
Independent filmmaker Fred Olen Ray, to whom tastelessness is an art form, strikes again in Possessed by the Night. Ted Prior plays Howard Hansen, a writer, happily married to Peggy (Sandahl Bergman), who comes in possession of a strange talisman. Exposed to the object's magic powers, Howard finds that he can't control his libido. Throwing his wife over in favor of Carol McKay (Shannon Tweed), the writer goes from bad to worse to YEEEOWWW!! Like many recent Ray productions, the R-rated Possessed by the Night is also available in a combustible non-rated version. Look for Kato Kaelin as a bus boy in the restaurant scene with Turhan Bey.
Critic Reviews for Possessed by the Night
All Critics (4) | Fresh (2) | Rotten (2)
Not bad erotic thriller. Tweed is great as a villainess, and Bergman makes a sexy innocent housewife.
July 14, 2003 | Rating: 3/5
Audience Reviews for Possessed by the Night
One thing can be said for Possessed by the Night: it's awful. Wait, wait, I mean one GOOD thing, you don't usually find a Skinemax plot device this weird. A writer buys some horrific blob of tissue in a jar which can best be described as "a brain with an eye" from an overacting Chinese guy's curiosity shop for no reason other than "I just felt like buying something." I think we found the world's worst possessor of bad taste if he thought this thing would enliven the ambiance. But hold on, this hideous blob in a jar is no ORDINARY hideous blob in a jar - it can control your mind! Baser urges are intensified, people are driven to commit acts of violence and crave sex - sometimes both - with whoever happens to be nearby. You probably know this is a Shannon Tweed movie, so you're really wondering, "How much does she get naked?" As an added insult to the dumb story and laughable acting, her required clothes-shedding time is very limited. Her three scenes are good but all regrettably short. There is a quality bonus scene of her working out in a tiny clingy crop-top, which I cannot decide is a result of the blob's influence on her mind or the writer's inability to find a rational way to show a sweaty Shannon and he just said, "Screw it, just get on the Bowflex." Tweed has appeared in many movies with much better stories, performances, and titillation, so leave this one until you've run through the rest.
Doctor Strangeblog
Super Reviewer
Possessed by the Night Quotes
There are no approved quotes yet for this movie.