Possible Loves
(2001)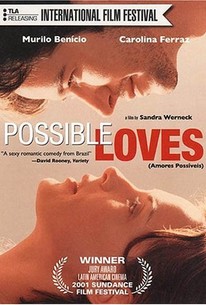 AUDIENCE SCORE
Critic Consensus: No consensus yet.
Movie Info
A man in his early twenties starts thinking about his future and where the woman he loves will figure into it in this romantic comedy-drama from Brazil. It's a cool and rainy night, and Carlos (Murilo Benicio) is waiting outside a movie theater for his girlfriend Julia (Carolina Ferraz) to show up for their date. As Carlos starts to think he's been stood up, his mind wanders, and he finds himself imagining three different scenarios of how Julia might fit into his future. In one, Carlos is a businessman who is married, though not very happily, to a woman named Maria (Beth Goulart). One day, Carlos happens to run into his former girlfriend Julia, and he's soon tempted into infidelity. But does Carlos have the courage to leave Maria and start his life over with Julia? In another daydream, Carlos and Julia were married, but he divorced her when he came out of the closet after falling in love with Pedro (Emilio de Mello). Pedro and Carlos are very happy together, much to the annoyance of Julia, who goes out of her way to make things difficult for her former husband and his new lover. And finally, Carlos imagines himself an overgrown adolescent layabout who still lives with his mom (Irene Ravache) and seems incapable of handling a long-term relationship, though that doesn't stop him from seducing as many women as his circumstances allow. Carlos is urged to consult a computer dating service in hopes of finding a woman he can settle down with; Carlos gives it a try, and discovers his first match is none other that his significant other from college, Julia. Possible Loves was awarded the Latin American Cinema Jury Prize at the 2001 Sundance Film Festival. ~ Mark Deming, Rovi
Rating:
NR
Genre:
, ,
Directed By:
Written By:
In Theaters:
On DVD:
Runtime:
Studio:
TLA Releasing
Audience Reviews for Possible Loves
Lighthearted, entertaining Brazilian romantic comedy. Nice for a cozy night in, some nice surprises there, too.
[FONT=Courier New]Who knew that single movie date could be so important. "Amores Possiveis," otherwise known as "Possible Loves," finds Carlos fifteen years later after being stood up for a movie by Julia. The film proposes three different lives for Carlos stemming from that one pivotal movie date. In the first life, Carlos is financial success stuck in a dull marriage. In the second life, Carlos has left his marriage with Julia, as well as their son, to pursue a gay relationship. And in the third life, Carlos is an immature bachelor living with his mother. In all three cases, Carlos finds himself reunited with Julia. While the concept behind the film may be gimmicky, the intentions to portray the complexities of love are honest. In addition, the acting is marvelously subtle. Murilo Benicio as Carlos and Carolina Ferraz as Julia are completely different characters in each of the three different lives. Not only do they look different, the actors successfully adopt completely different mannerisms. Yet, in essence, the character they play is still the same in the end. On the other hand, the editing is rather sloppy. From shot to shot, there are multiple, rather obvious, errors. The film also suffers from some inconsistencies in the script. In trying to create a new fifteen years in each possible life, explanations simply don't add up right. Then, of course, there is the fact that the film completely ignores some of the other issues that are far too prevalent to be dismissed. Due to this, "Amores Posseveis" really is reduced to fluff viewing. In the end, "Amores Posseveis" is marked with exceptional acting and mediocre storytelling resulting in a comfortable viewing experience.[/FONT]
Stephen Hoang
Possible Loves Quotes
There are no approved quotes yet for this movie.