Postmark Paradise
(2000)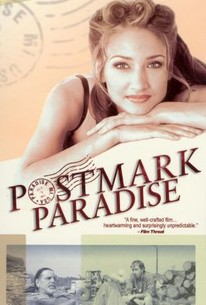 AUDIENCE SCORE
Critic Consensus: No consensus yet.
Movie Info
A Russian woman gets an unexpected crash course in small-town American life in this independent comedy drama. Jake (Vincent Angelini) lives and works in Paradise, a small town in southwestern Michigan. Jake is gruff and good-hearted when sober but can be mean-spirited and unpredictable when drunk. His close friend Chick (Randall Godwin) thinks Jake needs a wife, so when he reads a magazine report about Russian women making themselves available as mail-order brides, he poses as Jake to write several letters to an attractive woman from the Ukraine; he also raises money among Jake's friends to bring her to America. Viktoria (Natalia Nazarova) is puzzled by Jake's lack of enthusiasm when she first meets him, and is outraged by his alcoholic discourtesy to her; she storms out and ends up staying with Reenie (Tantoo Cardinal), the no-nonsense barmaid at the local tavern. The next morning, Viktoria realizes that Chick bought her a one-way ticket, leaving her stranded. Reenie takes Viktoria under her wing, giving her a job at the bar while they figure out a way to send her back home. Postmark Paradise marked the feature film debuts for both director Thompson E. Clay and screenwriter Dan Slider; the film was a prize-winner at the 2000 East Lansing Film Festival.
Critic Reviews for Postmark Paradise
There are no critic reviews yet for Postmark Paradise. Keep checking Rotten Tomatoes for updates!
Audience Reviews for Postmark Paradise
In "Postmark Paradise," Chick(Randall Godwin) reads about mail order brides from the former Soviet Union and launches a scheme to persuade one to marry his buddy Jake(Vincent Angelini) in their small town in Michigan. Letters are exchanged and $1200 raised for Viktoria's(Natalia Nazarova) airfare. But things do not work out well as she has to make a hasty escape from Jake's unwelcome advances. Luckily, she is rescued by Reenie(Tantoo Cardinal), a waitress with a story of her own, who lets her stay at her place. Despite the serious overtones, "Postmark Paradise" is a genial and unassuming movie about how people are pretty much the same all over. It's just a difference of opportunities and between vodka and beer for Viktoria. It helps that the characters also transcend their small town stereotypes, as the movie finds its legs through a series of subplots. And it does not hurt that Tantoo Cardinal has such a good part. For the record, I would take Yzerman and Messier over Fedorov but could never choose between Yzerman and Messier.
Postmark Paradise Quotes
There are no approved quotes yet for this movie.
Discussion Forum
Discuss Postmark Paradise on our Movie forum!