Powaqqatsi
(1988)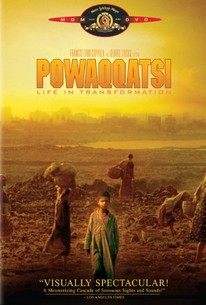 Movie Info
Powaqqatsi was the second of the feature-length "non narrative" films produced, directed and co-scripted by Godfrey Reggio. As in his earlier Koyaanisqatsi, Reggio utilizes a collage of sounds and gimmicked-up images to make a comment on modern life. And as in the earlier film, Reggio's onslaught of imagery is backed up by the music of Philip Glass. This time, Reggio concentrates on Third World cultures, and the way those cultures are perceived and sometimes exploited by the power merchants of the world. Powaqqatsi was supposed to be the second in a trilogy, but wasn't as eagerly embraced by viewers and critics as its popular predecessor.
Critic Reviews for Powaqqatsi
Audience Reviews for Powaqqatsi
½
Only So Much You Can Say I think this movie exemplifies most the difference in how I see the world versus how the filmmakers see the world. Despite the awful nature of some of what is filmed, I really still see most of what appears in this movie as inherently hopeful. Maybe I'm romanticizing. It wouldn't be the first time. However, I see beauty in much of the environment shown in the film, even the urban landscapes that we're probably supposed to see as inherently less than the natural ones. Yeah, there are also some places that are pretty awful--mines and so forth. It's not even as though I think there's something great to just the sight of seas of neon. What struck me about it was more the fact that we are able to create beauty out of things that aren't necessarily beautiful on their face. We are able to find beauty in places that aren't beautiful by themselves. Even if it's only for a moment. As with the other "Qatsi" films, there's no plot to summarize. It's all about imagery and music. The imagery in this one is mostly human, ranging from the Serra Pelada gold mines of Brazil to Mombasa to Cuzco to Cairo. Some of it is a bit depressing, like for example those gold mines. An injured man is carried out on the backs of his fellows. In the film's only staged shot (which was just repeating something they'd seen but not caught on camera), a boy walks by the side of the road and vanishes in a dust cloud as a truck passes him. There is a boat, possibly a dhow, with a beautiful, multicoloured sail. We see African villages, mosques, and people praying by the banks of the Ganges. The film primarily focuses on the Third World, but there are also shots of people such as Christie Brinkley and John Paul II. There aren't the financial landmarks of [i]Naqoyqatsi[/i] or the sweeping panoramas of [i]Koyaanisqatsi[/i]; this is, I think, the most human of the trilogy. However, my viewing of the trilogy is out of order and over an extended period of time. I must confess that I can't really compare them with any degree of certainty. It's a powerful series, but I've seen four movies of this ilk, if you include [i]Baraka[/i], and after four movies, remembering exactly which one any specific moment is from, assuming I can remember specific moments, is far from a certainty. And that's leaving out the fact that I see something like four hundred movies in any given year, counting movies I watch and don't review, either because I had nothing to say or because I've already reviewed it some time in the past. The images are floating in my head somewhere, and I've loved the music of [i]Koyaanisqatsi[/i], at least, since something like seventh grade. But perhaps because these are non-narrative films, they don't remain in the brain in the same way. This is not to say that they're forgettable; I watch a lot of forgettable films. But they are a lot more disjointed than other films. I suppose the theme I see in the Qatsi trilogy is that humans must find their place in the world, and what that place is must balance somehow. We cannot take everything out of the Earth and put nothing back. We cannot take everything from each other and give nothing back. Our lives in the industrialized world are built on the backs of those men in Brazilian mines, for example. The third movie of the trilogy, as I mentioned in my review of it, features the Enron logo. This one is, I believe, the only one of the three not to feature a mushroom cloud. As I said, there's a pretty negative attitude toward progress through the series. The movie seems of the opinion that all progress is necessarily at the expense of the natural world and the balance of humanity. I'm reasonably sure that the very idea that technology could improve the life of those miners would be shocking to the filmmaker, but I'd certainly prefer a machine to lifting all that dirt out of the pit by hand. I am a firm believer that there is a balance between science and nature. I believe that we need both. Filmmaker Godfrey Reggion felt guilty about using high-tech cameras to make this movie and had to convince himself that technology is just a part of our lives now. I find that perspective a little bewildering. Technology has been part of our lives as long as we've been recognizably human. We may not call it that, but even when it was just stone tools and control of fire, we were using technology. I am reminded of [i]Cave of Forgotten Dreams[/i], actually. Werner Herzog built his own 3D camera to film in a cave that had been important to people who were among the first to capture imagery using paints. The people who decorated the walls of that cave wouldn't have recognized the tools Werner used, but I believe they would have recognized the drive to do it. The same is true of flint-knappers and the people we see in one of these movies building cars on an assembly line. There's a difference between roast mammoth and Twinkies, but it's all the same drive.
Edith Nelson
½
Getting into the second film in the Qatsi Trilogy, I was struck by the fact that I wasn't as enamored of the images being slowed down, which sort of focuses the viewer on the largely more depressing images used this time around, allowing them to linger even longer than you might want them to. Watchable, but not as good as the first one. Rental.
Bill Bryant
Disappointing sequel to Koyaanisqatsi. The focus has shifted away from the marvellous wonders of Planet Earth and onto life in developing nations. Although a worthy, interesting portrait it doesn't capture my imagination nor hold my attention anywhere near as well its predecessor. The music is rather irritating too!
Ross Collins
Super Reviewer
Powaqqatsi Quotes
There are no approved quotes yet for this movie.
Discussion Forum
Discuss Powaqqatsi on our Movie forum!